Nordic Combined: Lamy Chappius Back on Top
Tweet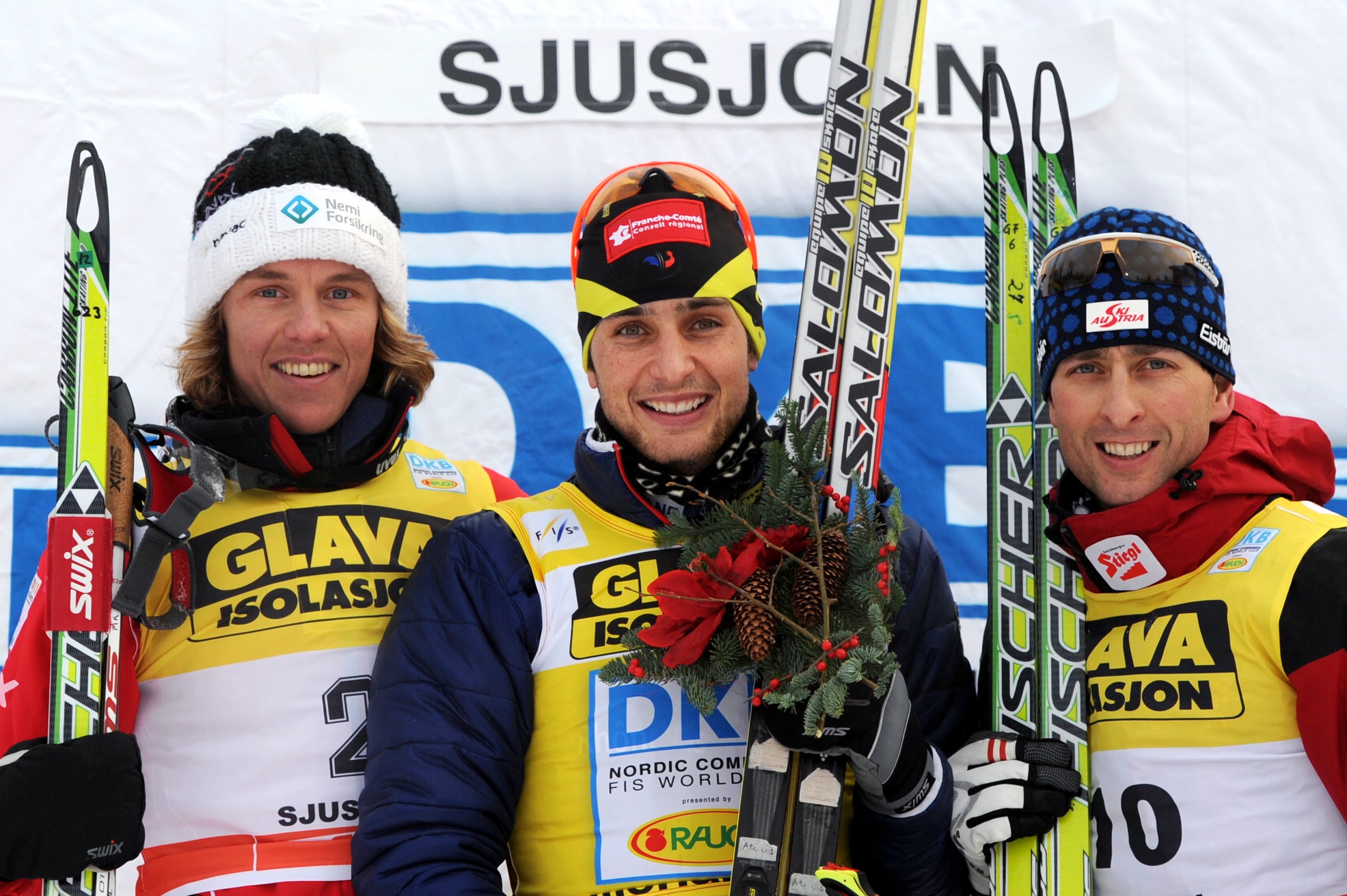 Olympic Champion Jason Lamy Chappuis of France celebrated his 13th career World Cup victory on the second day of competition in Lillehammer today (Dec. 5). He led yesterday's leader, Mikko Kokslien of Norway in second and Mario Stecher of Austria in third.
After the ski jumping section, Lamy Chappuis was ahead of the pack by a full 20 seconds with Eric Frenzel of Germany and Stecher following closely behind. Kokslien started from 20th place a full 1:21 minutes behind the leaders.
The cross-country race was highlighted by an exciting chase, led first by Frenzel who was caught by Stecher, teammate Johannes Rydzek and Akito Watabe of Japan. The pack was unable to catch Lamy Cahppuis and was soon joined by other racers from behind. At 6.5 km, Kokslien attempted to break ahead of the chasing group and catch Lamy Chappuis, but was unsuccessful, allowing the Frenchman his 13th career victory.
"It was a tough race because I do not like to ski alone that much. I did not know if my pace was appropriate compared to the rest of the field. But I gave my best and it worked out," said Lamy Chappuis.
Stecher and Kokslien sprinted to the finish together crossing the line with only one-tenth separation. Kokslien ended up second 9.7 seconds behind Lamy Chappuis with Stetcher behind by 9.8 seconds.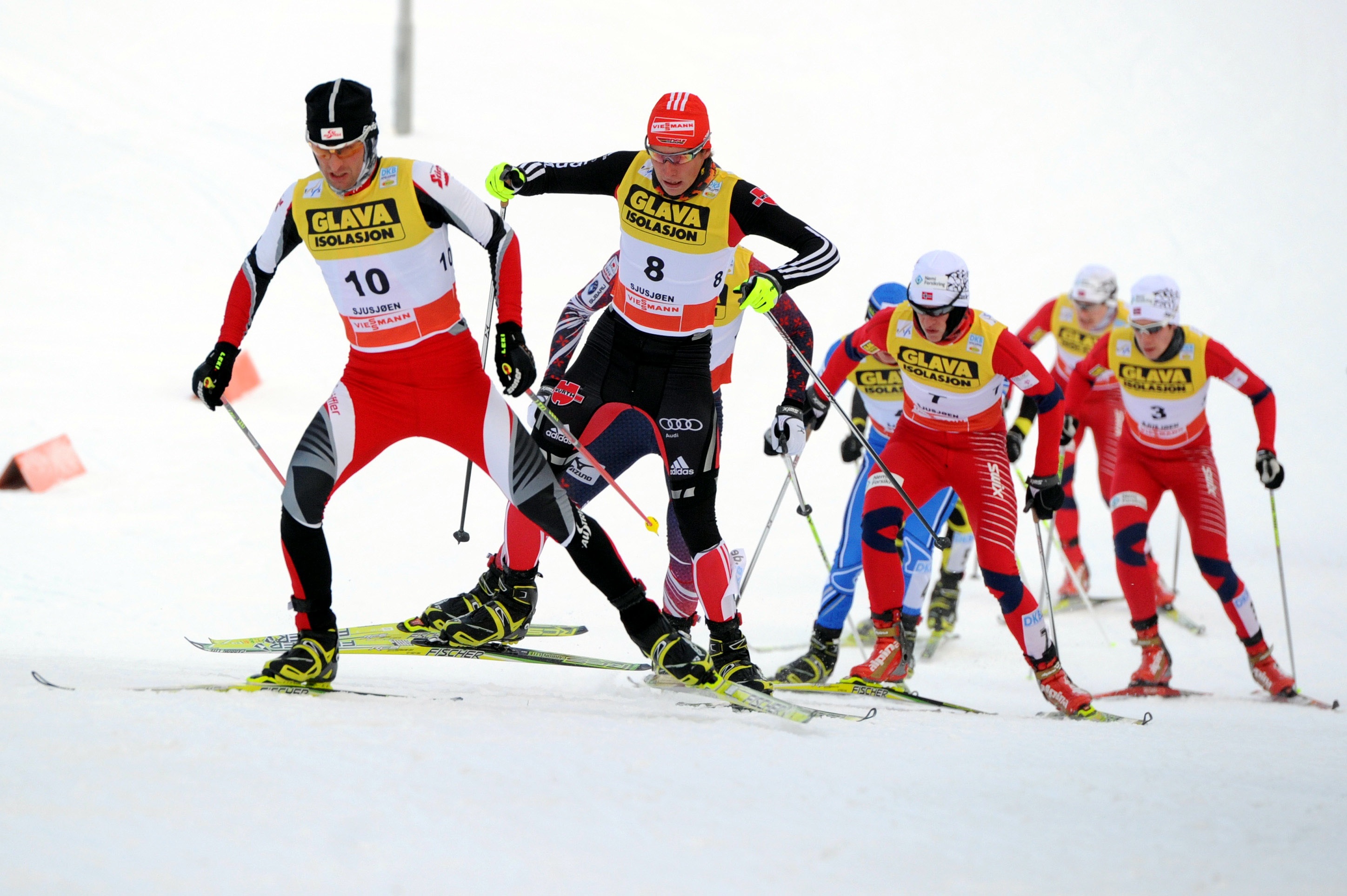 "I was excited before the race started. There were a lot of good racers around me and I thought: this will be a good fight between us, and so it was," said yesterday's winner, Kokslien.
Felix Gottwald delivered the fastest cross-country time once more and improved his mid-session rank from 36 to fourth. Gottwald posted the top time in the final three Nordic Combined cross-country races of last season, as well as the first four races of the season thus far.

Seppi Hurschler (SUI) finished fifth and posted the second best result of his career after a fourth place in Seefeld earlier this year. Akito Watabe (JPN) was seventh place and Miroslav Dvorak's (CZE) finished in eighth place. Overall, athletes from seven nations placed in the top ten.
The Americans were led by Bryan Fletcher in 26th, posting his second points finish of the season, followed by Bill Demong in 38th and Taylor Fletcher in 48th.
In the overall World Cup standings, Jason Lamy Chappuis maintains the lead with 340 points. He is 51 points ahead of Kokslien and 80 points ahead of Gottwald.
The World Cup circuit now heads to Central Europe with a pair of events next weekend in Ramsau.
Today's top three:
1. Jason Lamy Chappuis (FRA) 134.1 points (1)/24:35.5 min (33) 24:35.5
2. Mikko Kokslien (NOR) 113.9 points (20)/23:24.2 min (5) +9.7
3. Mario Stecher (AUT) 121.0 points (10)/23:53.3 min (12) +9.8

World Cup Standings: 1. Jason Lamy Chappuis (FRA 340, 2. Mikko Kokslien (NOR) 289, 3. Felix Gottwald (AUT) 260, 4. Eric Frenzel (GER) 210, 5. Mario Stecher (AUT) 186, 6. Tino Edelmann (GER) 140.

Rank Bib Name Year Nation Result
Comments
comments