Nordic Combined: Mikko Kokslien Celebrates First Career Victory in Lillehammer
Tweet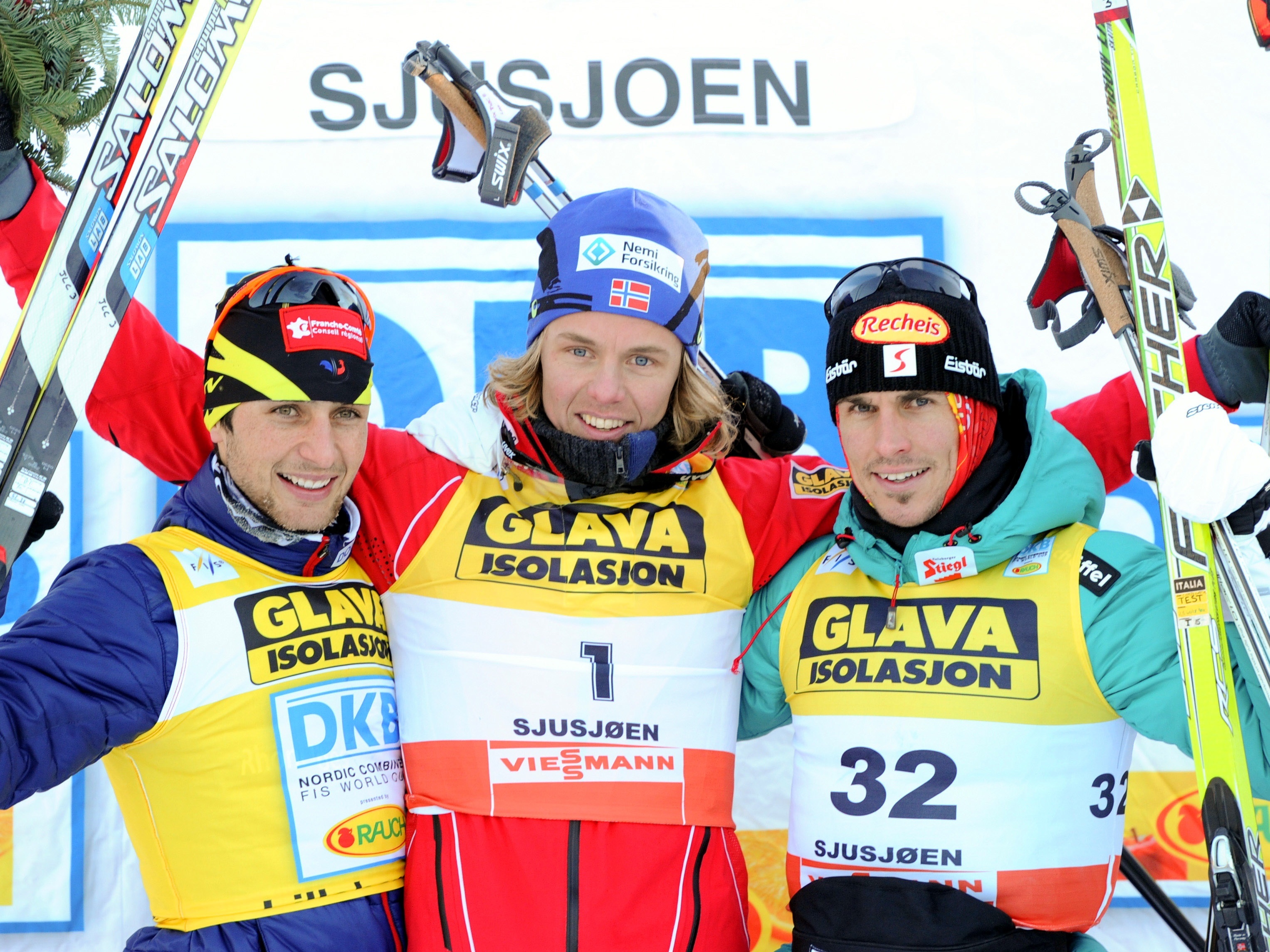 Norway's Mikko Kokslien celebrated his first World Cup victory today (Dec. 4) in front of a hometown Lillehammer crowd, with overall World Cup leader Jason Lamy Chappuis of France in second and Felix Gottwald of Austria in third.
Sub-zero temperatures for the second weekend in a row, and a distance of 20 km between venues made today's event difficult for the athletes, but Kokslien rose to the challenge coming from behind and overtaking the leaders. After the jumping portion he was in 16th, just 64 seconds behind ski jumping leader Francois Braud of France, but on the track, he successfully chased the pack and broke away securing his victory.
"I'm very satisfied with today's outcome. My jump was okay, and my tactic in the cross-country race worked out as well. I wanted to catch Jason, rest a little bit and then break away, and so I did," said Kokslien.
The cross-country race was dominated for more than six kilometers by Lamy Chappuis, Braud and Bernhard Gruber of Austria. After making up time in the first three laps, Kokslien caught the leaders at the beginning of the fourth and with less than one kilometer to cover attacked and skied alone to the finish.
Gottwald achieved the fastest cross-country time and skied from 32 to third. "My competition jumps are not that easy or as good as my attempts in training. Therefore, I am always getting myself into trouble," he said. "However, my cross-country race was really good again, I delivered the fastest time once more."
Brett Camerota led the Americans in 40th place, with Taylor Fletcher just behind in 41, Bryan Fletcher in 44th and Bill Demong in 45th.
In the overall World Cup standings, Mikko Kokslien moved up to third position with 209 points, and is just one point behind Felix Gottwald. Jason Lamy Chappuis leads with 240 points.

Today's top three:
1. Mikko Kokslien (NOR) 123.1 points (16)/23:12.6 min (6) 24:16.6
2. Jason Lamy Chappuis (FRA) 134.6 points (3)/24:07.0 min (28) +8.4
3. Felix Gottwad (AUT) 111.6 points (32)/22:39.9 min (1) +13.3

World Cup Standings: 1. Jason Lamy Chappuis (FRA 240, 2. Felix Gottwald (AUT) 210, 3. Mikko Kokslien (NOR) 209, 4. Eric Frenzel (GER) 170, 5. Mario Stecher (AUT) 126, 6. Tino Edelmann (GER) 118.
Today's Results:
Comments
comments