Nordic Combined: Norway wins Seefeld Team event
Tweet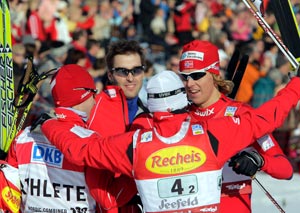 Norway's Nordic Combined squad posted an impressive victory today (Jan. 14) at the DKB FIS Nordic Combined World Cup team event in Seefeld, Austria.

Magnus Moan, Haavard Klemetsen, Jan Schmid and Mikko Kokslien came back from a fourth place start after the jumping portion of the event; skiing to an 11.9 second victory ahead of Austria's Felix Gottwald, Wilhelm Denifl, David Kreiner and Bernhard Gruber. Third place went to France with Francois Braud, Maxime Laheurte, Sebastien Lacroix and Jason Lamy Chappuis. The French team led after the jumping, but fell behind after Moan and Gottwald caught Braud in the first leg of the cross-country race.
In the end it was Norway and Austria who fought to cross the finish line first. With only kilometers to go, Kokslien broke away from Gruber and skied alone to victory.
"It was a very nice race, and my strategy to ski with Gruber first and to break away in the last kilometers of the race, worked out," said Kokslien. "Once more, we have shown that we are a strong team. This gives us confidence for the World Championship competitions in Oslo."
Germany chased France for the last spot on the podium waiting until the last leg to close the widening gap. With the finish quickly approaching, Edelmann closed a 10-second-gap against Chappuis, but the Frenchman won the sprint holding the Germans off the podium by only 1.4 seconds.
"It is a great feeling being on the podium not alone but with the teammates," said Lamy Chappuis. "We want to win a team medal at the World Championships, today, we proved that we are ready for this achievement."

In the training round, Nordic Combined overall world cup leader Mario Stecher suffered a laceration of the capsule of his right knee during a110.5 m jump. It was suspected that he would be unable to participate in the two individual competitions this weekend, but team officials have confirmed his entry.
The U.S. was seventh with a young and rebuilding squad, led by Steamboat Springs native, Bryan Fletcher. The team also saw the return of three-time Olympic silver medalist Johnny Spillane after a six-month rehab from a knee injury. Todd Lodwick and Taylor Fletcher rounded out the American team in Seefeld.

Results

1 Norway NOR 47:31.2
MOAN Magnus-H.
KLEMETSEN Haavard
SCHMID Jan
KOKSLIEN Mikko

2 Austria AUT +47:43.1
GOTTWALD Felix
DENIFL Wilhelm
KREINER David
GRUBER Bernhard

3 France FRA +48:19.1
BRAUD Francois
LAHEURTE Maxime
LACROIX Sebastien
LAMY CHAPPUIS Jason

4 Germany GER +48:20.5
RYDZEK Johannes
FRENZEL Eric
KIRCHEISEN Bjoern
EDELMANN Tino

5 Italy ITA +49:04.6
MICHIELLI Giuseppe
BAUER Armin
RUNGGALDIER Lukas
PITTIN Alessandro

6 Japan JPN +50:02.5
KOBAYASHI Norihito
KATO Taihei
WATABE Akito
WATABE Yoshito

7 United States USA +50:08.6
FLETCHER Taylor
FLETCHER Bryan
SPILLANE Johnny
LODWICK Todd
8 Switzerland SUI +50:47.8
&nbs
p; HUG Tim
SCHMID Tommy
HURSCHLER Seppi
HEER Ronny
9 Russian Federation RUS +53:51.4
MASLENNIKOV Sergej
PANIN Ivan
NABEEV Niyaz
MATVEEV Dimitry
Comments
comments