Nordic Combined Olympians to visit U.S. troops
Tweet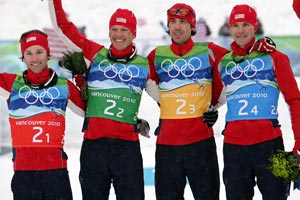 Following their historic performance at the Vancouver Games, American nordic combined Olympic medalists Bill Demong, Todd Lodwick, Johnny Spillane and Brett Camerota have teamed with Armed Forces Entertainment to take part in the Olympic Heavy Medal Tour. The tour will take the gold and silver medal-winning athletes to military bases in Southwest Asia and other locations around the globe to visit U.S. troops serving abroad.
No Olympic medalists have ever taken part in a tour of this kind, something USAF Colonel Ed Shock, Chief of Armed Forces Entertainment is very excited about.
"As these Olympians will tell you, there is an enormous sense of pride in representing your country at the Olympic Games," said Shock. "That same sense of pride is what drives the troops of the United States daily, and to bring these two teams together will be a real treat."
With their one gold and six silver medals at the Vancouver Games, the U.S. Nordic Combined team ended an 86-year American Olympic medal drought in the discipline. On the tour, the skiers will share their medals with soldier who the skiers call the real heroes.
"We're blessed to have the opportunity to compete on the world's largest sporting stage and return home from the 2010 Winter Olympics with a heavy medal load," said Spillane, a four-time Olympian, World Champion and three-time Olympic silver medalist. "Now it's time to show the world who the true heroes are."
The tour will begin in early April following the World Cup finals next weekend.
"We're bringing more than 35 pounds of gold and silver in the form of Olympic medals on this tour," said four-time Olympian, World Champion and Olympic gold and silver medalist Demong. "We're not coming home until we've met thousands of soldiers and crowned them the true gold medalists."
In addition to sharing their medals with the troops, the athletes will answer questions and distribute Under Armour performance apparel.
"Our goal is to see how many soldiers we can crown champions by placing our medals around their necks," says Lodwick, a five-time Olympian, two-time World Champion and Olympic silver medalist.
Visit www.armedforcesentertainment.com for more information.
Image by Gepa
Comments
comments