Nordic Combined: Olympic champion Jason Lamy Chappuis starts another season with a win
Tweet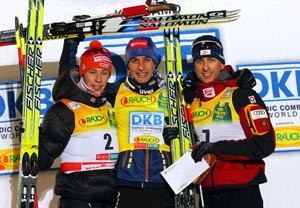 France's 24-year old Olympic Champion Jason Lamy Chappuis started the FIS Nordic Combined World Cup season with his twelfth career victory in Kuusamo, Finland today. Germany's Eric Frenzel was second and Austria's Mario Stecher was third. 
 

Lamy Chappuis, who also won in Kuusamo last season, lead the field after the jumping portion of the competition and skated towards the front of a strong cross-country race. After an aggressive comeback by Stecher with four 2.5 km laps to go, Lamy Chappuis staged a dramatic breakaway finishing 6.6 seconds ahead Frenzel and 11.7 seconds ahead of Stecher to secure his victory.


"I like these types of close races more than skating alone, with nobody in front and nobody chasing," said Lamy Chuppis. "Tomorrow, I will give my best again, but there are around ten athletes in the field who can win the competition."

The fastest skier on the course was Austria's Felix Gottwald, who was 21st after the jumping and finished fourth overall. After a disappointing jump, Olympic medalist Billy Demong led the Americans in 32nd with Taylor and Bryan Fletcher 35th and 37th, respectively. 


Their teammate Todd Lodwick will join the World Cup scene in December while three time Olympic silver medalist Johnny Spillane, still recovering from a knee injury, will spend some time at home with his new baby Hadley before joining his teammates on tour.
The competition in Kuusamo will continue tomorrow morning followed by just seven more events, with 14 competitions, on the FIS World Cup tour.
Today's top three:
1. Jason Lamy Chappuis (FRA) 135.8points (1)/28:33.5 min (11)
2. Eric Frenzel (GER) 135.2 points (2)/28:38.1min (14) +6.6
3. Mario Stecher (GER) 125.6 points (7)/25:32.3 min (4) +11.7

World Cup Standing:
1. Jason Lamy Chappuis (FRA) 100
2. Eric Frenzel (GER) 80
3. Mario Stecher (AUT) 60
4. Felix Gottwald (AUT) 50
5. Björn Kircheisen (GER) 45
6. Jan Schmid (NOR) 40
Rank
Bib
FIS Code
Name
Year
Nation
Result
1
1
610
LAMY CHAPPUIS Jason
1986
FRA
28:33.5
2
2
1050
FRENZEL Eric
1988
GER
28:40.1
3
7
8
STECHER Mario
1977
AUT
28:45.2
4
21
35
GOTTWALD Felix
1976
AUT
28:48.8
5
10
257
KIRCHEISEN Bjoern
1983
GER
29:05.9
6
11
1650
SCHMID Jan
1983
NOR
29:49.0
7
16
351
EDELMANN Tino
1985
GER
30:04.8
8
3
111
BIELER Christoph
1977
AUT
30:13.4
9
20
1149
KOKSLIEN Mikko
1985
NOR
30:17.4
10
4
606
BRAUD Francois
1986
FRA
30:21.7
11
12
1152
RYYNAENEN Janne
1988
FIN
30:46.0
12
26
459
LACROIX Sebastien
1983
FRA
30:49.8
13
25
590
RYDZEK Johannes
1991
GER
30:52.8
14
30
1660
WENDEL Ole Christian
1992
NOR
30:54.3
15
6
683
RIAN Espen
1981
NOR
30:55.6
16
23
203
HEER Ronny
1981
SUI
30:55.8
17
5
609
LAHEURTE Maxime
1985
FRA
30:56.9
18
14
416
SLAVIK Tomas
1981
CZE
30:57.0
19
22
1136
WATABE Akito
1988
JPN
31:01.5
20
19
252
GRUBER Bernhard
1982
AUT
31:05.9
21
13
419
KLEMETSEN Haavard
1979
NOR
31:09.6
22
9
1669
STORLIEN Gudmund
1990
NOR
31:28.7
23
31
137
KREINER David
1981
AUT
31:41.5
24
37
349
HURSCHLER Seppi
1983
SUI
31:42.2
25
24
623
HUG Tim
1987
SUI
31:44.5
26
8
214
DENIFL Wilhelm
1980
AUT
31:47.0
27
28
715
ORANIC Mitja
1986
SLO
31:56.4
28
18
1444
SCHMID Tommy
1988
SUI
32:03.5
29
17
1418
BERLOT Gasper
1990
SLO
32:12.9
30
15
1485
NURMSALU Kaarel
1991
EST
32:21.0
31
48
19
MANNINEN Hannu
1978
FIN
32:32.3
32
45
222
DEMONG Bill
1980
USA
32:42.9
33
29
1737
MORWEISER Janis
1991
GER
32:45.9
34
34
768
MINATO Yusuke
1985
JPN
32:53.1
35
38
1439
FLETCHER Taylor
1990
USA
32:56.9
36
41
1063
WELDE Ruben
1988
GER
32:57.5
37
35
1067
FLETCHER Bryan
1986
USA
32:59.4
38
32
216
TAKAHASHI Daito
1980
JPN
33:14.9
39
42
1168
KARJALAINEN Joni
1987
FIN
33:21.1
40
51
1029
PITTIN Alessandro
1990
ITA
33:34.0
41
44
1410
BAUER Armin
1990
ITA
33:45.4
42
52
1192
DRUML Tomaz
1988
AUT
33:47.5
43
39
1488
TIIRMAA Karl-August
1989
EST
34:14.7
44
47
1147
POCHWALA Tomasz
1983
POL
34:20.0
45
46
294
GUENTER Andreas
1988
GER
34:24.2
46
27
1462
CIESLAR Adam
1992
POL
34:27.2
47
53
592
KLAPFER Lukas
1985
AUT
34:32.5
48
56
205
KOBAYASHI Norihito
1982
JPN
34:56.6
49
59
643
MICHIELLI Giuseppe
1985
ITA
35:18.8
50
50
727
KATO Taihei
1984
JPN
35:28.2
51
57
705
KAEHKOENEN Ville
1984
FIN
37:07.0
52
55
1474
TUPPURAINEN Ville
1988
FIN
37:53.0
53
58
1001
KUTAL Petr
1988
CZE
37:58.7
Did not start
54
347
BEETZ Christian
1984
GER
49
1003
DVORAK Miroslav
1987
CZE
43
973
MOAN Magnus-H.
1983
NOR
33
215
CHURAVY Pavel
1977
CZE
Did not finish
40
989
CAMEROTA Brett
1985
USA
36
1482
VAEHAESOEYRINKI Eetu
1990
FIN
Comments
comments