Nordic Combined season closes as Rydzek captures first victory in Lahti
Tweet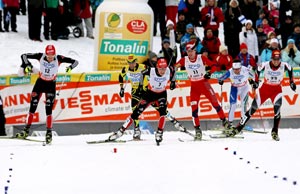 The World Cup nordic combined season came to a close today (March 12) with a final competition in Lahti, Finland as 19-year old German Johannes Rydzek won his first World Cup competition.
Germany continued its late season dominance of the FIS Nordic Combined World Cup as Rydzek and teammate Eric Frenzel finished 1-2 with a photo finish in the large hill, ahead of Austria's hard charging Felix Gottwald. Billy Demong led the USA in 19th.
Rydzek, the World Championship silver medalist on the large hill, was 12th in the jump and paired up with teammate Frenzel to challenge World Cup leader Jason Lamy-Chappuis of France in a second half battle. Lamy-Chappuis had worked his way up from nearly a one minute deficit after the jump to take the lead at the midway point. The final kilometers were a battle, with Austria's Gottwald challenging the leaders, posting the fastest cross country time.
"I never ever expected that the 2010/11 season would develop and end like this," said Rydzek. "I wanted to be better than in the last winter, but, wow, Junior World Champion, three times Silver medal winner at the Worlds in Lahti, winner of a World Cup event – that's amazing."
Demong, meanwhile, was saddled with nearly a two-minute setback going into the cross country leg. He blazed ahead and quickly cut nearly a minute. Saturday's winner Bjorn Kircheisen of Germany was just ahead of Demong and opted to go out hard to try to chase down Gottwald. Demong did not join the sprint, hanging back 10-15 seconds. Gottwald eventually went to the front, while Kircheisen dropped back. The group was not able to bridge up to the leaders with Demong finishing 44 seconds out in 19th with the eighth fastest time.
"It was still not quite a good enough starting point, said Nordic Combined Head Coach Dave Jarrett. "Billy skied well. I think everyone's pretty cooked from World Championships."
The Lahti Ski Games wraps up the FIS Nordic Combined World Cup season, which was dominated by Lamy-Chappuis (fifth today). He won 894-656 over Norway's Mikko Kokslien, picking up four wins over the 13 event season. Gottwald was third.
For the USA, which had a dominant Olympics in 2010, it was a frustrating season with injuries and illness playing a key role.
"It was a challenging year," said Jarrett. "We made the best of where we were going into World Championships and did a good job peaking. We just needed to start from a higher spot [after jumps]. From where it was with injuries and sickness, the goal was always Oslo. We did what we were planning on doing but just didn't get any medals."
With 23 career victories, Gottwald will now retire.

"This was my last race, and there were some emotions knowing that this was my last competition jump, and this was my last 10 km Gundersen competition race," Gottwald. "I'm grateful for my time in the Nordic Combined scene, I had good days and bad moments, I learned a lot – but now it is time to move on."

For complete results download the PDF below.
Image by Gepa
Final Nations Cup Standings:
1. Austria 2568, 2. Norway 2230, 3. Germany 2148, 4. France 1729, 5. Japan 653, 6. Italy 629, 7. USA 322, 8. Switzerland 305, 9. Finland 251, 10. Czech Republic 208, 11. Slovenia 85, 12. Poland 5, 13. Estonia 1.
Rank
Bib
FIS Code
Name
Year
Nation
Result
1
12
590
RYDZEK Johannes
1991
GER
24:35.3
2
7
1050
FRENZEL Eric
1988
GER
24:35.3
3
23
35
GOTTWALD Felix
1976
AUT
24:36.2
4
11
1650
SCHMID Jan
1983
NOR
24:36.3
5
8
610
LAMY CHAPPUIS Jason
1986
FRA
24:36.4
6
5
1464
RUNGGALDIER Lukas
1987
ITA
24:37.2
7
1
419
KLEMETSEN Haavard
1979
NOR
24:41.1
8
10
1136
WATABE Akito
1988
JPN
24:41.5
9
3
214
DENIFL Wilhelm
1980
AUT
24:41.6
10
6
1152
RYYNAENEN Janne
1988
FIN
24:47.6
11
4
606
BRAUD Francois
1986
FRA
24:54.4
12
9
416
SLAVIK Tomas
1981
CZE
25:05.4
13
20
1413
KROG Magnus
1987
NOR
25:08.6
14
2
609
LAHEURTE Maxime
1985
FRA
25:10.1
15
27
257
KIRCHEISEN Bjoern
1983
GER
25:16.6
16
36
1149
KOKSLIEN Mikko
1985
NOR
25:18.7
17
37
1029
PITTIN Alessandro
1990
ITA
25:18.9
18
16
459
LACROIX Sebastien
1983
FRA
25:19.2
19
28
222
DEMONG Bill
1980
USA
25:19.6
20
25
1003
DVORAK Miroslav
1987
CZE
25:20.0
21
24
349
HURSCHLER Seppi
1983
SUI
25:21.3
22
33
19
MANNINEN Hannu
1978
FIN
25:21.9
23
21
715
ORANIC Mitja
1986
SLO
25:22.3
24
15
252
GRUBER Bernhard
1982
AUT
25:33.7
25
34
137
KREINER David
1981
AUT
25:38.0
26
22
727
KATO Taihei
1984
JPN
25:39.5
27
18
1669
STORLIEN Gudmund
1990
NOR
26:00.0
28
31
768
MINATO Yusuke
1985
JPN
26:03.5
29
19
347
BEETZ Christian
1984
GER
26:03.9
30
17
1418
BERLOT Gasper
1990
SLO
26:05.2
31
13
1296
BOESL Wolfgang
1989
GER
26:27.9
32
41
100002
GRAABAK Joergen
1991
NOR
26:36.3
33
39
591
KAMMERLANDER Tobias
1986
AUT
26:45.2
34
38
1067
FLETCHER Bryan
1986
USA
26:47.2
35
32
215
CHURAVY Pavel
1977
CZE
26:58.3
36
30
1434
JELENKO Marjan
1991
SLO
27:03.9
37
46
1168
KARJALAINEN Joni
1987
FIN
27:11.3
38
44
1439
FLETCHER Taylor
1990
USA
27:12.6
39
29
1059
REUSCHEL Sebastian
1988
GER
27:14.8
40
43
205
KOBAYASHI Norihito
1982
JPN
27:22.7
41
50
592
KLAPFER Lukas
1985
AUT
27:24.3
42
47
1486
PIHO Kail
1991
EST
27:40.7
43
52
1796
JOHANSEN Truls Soenstehagen
1991
NOR
27:42.9
44
45
203
HEER Ronny
1981
SUI
27:46.6
45
35
1410
BAUER Armin
1990
ITA
28:01.3
46
51
623
HUG Tim
1987
SUI
28:13.0
47
48
1027
PESELJ Felix
1990
ITA
28:30.3
48
40
1482
VAEHAESOEYRINKI Eetu
1990
FIN
28:41.7
49
55
705
KAEHKOENEN Ville
1984
FIN
28:48.5
50
54
1649
HENDRICKSON Nick
1991
USA
29:52.7
51
49
1687
LEINONEN Mikke
1992
FIN
29:59.3
52
26
1689
NABEEV Niyaz
1989
RUS
30:00.7
53
53
100043
PELTOLA Jani
1994
FIN
31:11.9
Did not start
54
8
STECHER Mario
1977
AUT
15
1485
NURMSALU Kaarel
1991
EST
Did not finish
42
1552
JAEAESKELAEINEN Jesse
1990
FIN
14
216
TAKAHASHI Daito
1980
JPN
Comments
comments