Nordic Combined: Stecher dominates Ramsau, American Fletcher posts career first top 10
Tweet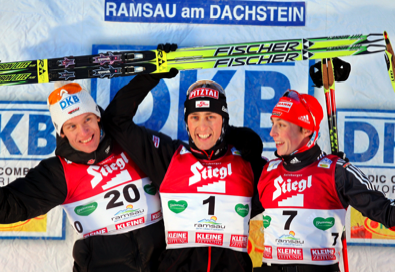 Austria's Mario Stecher did it again. For the second straight day (Dec.19), Austria's Stecher celebrated victory in the DKB FIS Nordic Combined World Cup in Ramsau, leading the ski jumping portion and remaining untouchable on the track. Second was Tino Edelmann more than 8 seconds back and third was Eric Frenzel (both GER) over 10 seconds behind the leader. Overall world cup leader Jason Lamy Chappuis (FRA) finished fourth and American Bryan Fletcher, posted a career first top ten finishing eighth.
In the ski jumping portion, Stetcher was dominant with 91 meters and 123.8 points, with teammate Bernhard Gruber in second with a 93.5-meter jump and 122.8 points. Third was Norway's Espen Rian with 92.5 meters and 121.7 points, leaving start times tight for cross-country. A gap of only 24 seconds existed between the leader and American Todd Lodwick in 10th.
During the cross-country race, Stecher led from start to finish, untouchable to chasers. After the first 2.5 km lap, he was ahead by 6.2 seconds, adding to his lead each subsequent lap. At the last lap, he was in the lead by 29.9 and at the finish, he led Edelmann by 8.6 seconds and Frenzel by 10.2 seconds. "At the start gate, I thought that Alessandro Pittin would close the gap in the first lap. This wasn't the case, and I made five very fast kilometers. This was the key to victory," said Stecher.
Fletcher led an optimistic and aggressive chase, setting the pace for a strong group of veterans, but fell behind Edelman and the rest of the pack in the last lap to bring home his first top ten, in 8th, in the points for the fourth week in a row. Austria's Lukas Klapfer delivered the fastest cross-country time, moving from 40th place to 12th with Akito Watabe of Japan in 6th.
In the overall World Cup standings, Jason Lamy Chappuis leads with 435 points, but Mario Stecher (AUT) moved in second position and is only 49 points behind. Mikko Kokslien is third (355).
"Now, there is some time for my family; after Christmas, we will start to train again in view of the next competitions in Schonach," said today's bronze medalist, Frenzel.
World Cup competition will continue in Schonach, Germany on January 8th, with World Championships in Oslo, Norway on February 26th.
Comments
comments