North Americans off to strong start in Paralympic skiing events
Tweet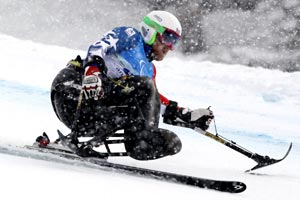 After poor visibility conditions postponed yesterday's downhill races, Paralympic alpine skiing action got underway today in Whistler with slalom races.
First up were the visually impaired women. Austria's Sabine Gasteiger, 53, took the gold ahead of Canadian Viviane Forest and guide Lindsay Debou in second and Australian Jessica Gallagher with the bronze.
"I'm really happy to have this medal," said Forest, the IPC Crystal Globe winner in slalom the past two seasons. "I'm not really realizing it yet, this is very special. Especially since it is happening in Canada."
American Caitlin Sarubbi straddled a gate and was unable to finish her second run. "It's kind of a bummer," said Sarubbi. "But Lindsey Vonn crashed in her slalom, so I guess that's a good sign, right?"
The sit-ski women then took the course as Claudia Loesch won gold. Defending gold medalist, American Stephani Victor was only .58 seconds back to claim silver while Japan's Kuniko Obinata took the bronze more than six seconds off the winning pace. Americans Laurie Stephens, Luba Lowery and Alana Nichols made the top ten, finishing 5, 7,8.
"Life is good. I can't complain at all. I would have liked it to have been gold for the U.S., but that's how it goes," Victor said. "A little hesitation cost me the race, but I wanted to make sure I was on my line and because I wasn't sure and hesitated, that ate up all my time."
Slovakia's Kanko Jakub took the men's visually impaired gold ahead of Spaniard Jon Santacana Maiztequi in second and Italian Gianmaria Dal Maistro in third.
Canadian Chris Williamson led the North American's in sixth while American Mark Bathum finished 11th.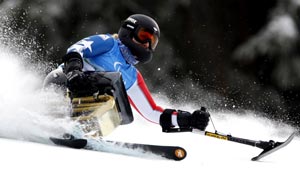 The sit-ski men were last on course as German IPC world slalom champion Martin Braxenthaler won with a combined time of 1:41.63. Canadian Josh Dueck took silver (1:46.29) ahead of Austrians Philipp Bonadimann, Andreas Kapfinger and Reinhold Sampl finished 3,4,5 within four seconds of each other.
"As soon as I saw that I was on the podium, that was it that was the moment where I lost my marbles," said Dueck. "Regardless of gold, silver or bronze, I am on the podium and that is the best feeling that I could have ever hoped for."
Carl Burnett and X Games mono cross gold medalist Tyler Walker finished ninth and tenth, respectively to lead the U.S.
"I'm super stoked," Burnett said. "I knew if I could just put the hammer down and blast through those ruts and bumps and keep the ski aligned, it would be good enough to move up a few spots – I didn't expect nine spots. I'm really happy."
Defending sit-ski silver medalist Chris Devlin-Young fell on his second run and did not finish.
The sitting cross country skiers were also in action at the Whistler Olympic Park with men's 15km and women's 10km races.
Russians Irek Zaripov and Roman Petushkov took the gold and silver in the men's race, followed by Italian Enzo Masiello with the bronze.
American's Chris Klebl, Sean Halsted and biathlon bronze medalist Andy Soule finished 8,9,10 to lead all North Americans.
"We were a little nervous about the weather, but it turned out to be awesome," said Halstead. "The tracks were super slick and firm, so they held up for the full four laps. I felt energized and very good about my performance. I put it all out there, which was just what I wanted to do."
Belarusian skier Liudmila Vauchok took the women's gold while Canadian Colette Bourgonje just less than a minute later for the silver medal. Ukrainian Olena Iurkovska claimed the bronze.
American Monica Bascio finished ninth in the 12-woman field.
Paralympic ski racing continues tomorrow with men's and women's standing slalom races.
Click here or complete results.
Images of Carl Burnett Stephani Victor by Gepa
Comments
comments