Northug claims 50k in final race of World Championships
Tweet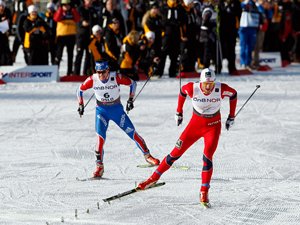 Russian Maxim Vylegzhanin just had no answer and Petter Northug pulled away entering Holmenkollen stadium enroute to the 50k mass start gold medal at Oslo Sunday (March 6). It was the third gold medal of the championships for Northug and he was joined on the podium by fellow Norwegian Tord Asle Gjerdalen as he took bronze.
It was the ideal wind-up for a World Championships that saw 35,000 people camping in the woods along race trails, 650,000 at nightly awards ceremonies and 270,000 tickets sold. Norway loves it's nordic sports.
Northug put the frosting on the cake with his charge to the finish that the Russian couldn't match.
Said FIS President Gian Franco Kasper, "The atmosphere at the new Holmenkollen National Arena was simply unforgettable. Besides the success of the host nation Norway that led the medals table, from an international perspective it is important to have a broad distribution of medals. With 12 nations winning a medal at Oslo 2011, FIS can be pleased about the development of our Nordic disciplines and especially with the progress of ladies' Ski Jumping."
The 50k was highly strategic with a relatively slow pace early. The first significant attack didn't come until the 35k mark. In the final lap Finland's Juha Lalluka launched an attack but was quickly reeled in by a group of five skiers, the medal winners, Sergei Dolidovich and Petter Eliassen.
Vylegzhanin led entering the stadium on the final leg, but on that final uphill, as he had in the relay, Northug attacked and the Russian could not meet the charge.
"This 50k race has been in my mind every hour of the last year," said Northug. "Winning this race feels like a heavy burden has been lifted off my back. During the race, everything was just right and the audience lifted my spirit."
Place
Oslo (NOR)
Discipline
50 km F Mst
Date
06.03.2011
Category
World Ski Championships
Race codex
2127
Gender
M
Valid for FIS Points
NO – Waiting reports
TD Name
Pekk Tiit (EST)
Rank
Bib
FIS Code
Name
Year
Nation
Time
FIS Points
1
4
3420239
NORTHUG Petter jr.
1986
NOR
2:08:09.0
0.00
2
6
3480013
VYLEGZHANIN Maxim
1982
RUS
2:08:10.7
0.31
3
15
3420023
GJERDALEN Tord Asle
1983
NOR
2:08:15.3
1.15
4
34
3420605
ROETHE Sjur
1988
NOR
2:08:17.0
1.46
5
14
3100110
HARVEY Alex
1988
CAN
2:08:17.2
1.49
6
19
1178162
ANGERER Tobias
1977
GER
2:08:17.2
1.49
7
2
3500015
RICKARDSSON Daniel
1982
SWE
2:08:17.5
1.55
8
38
1292234
LALLUKKA Juha
1979
FIN
2:08:19.4
1.89
9
11
1067291
DI CENTA Giorgio
1972
ITA
2:08:33.9
4.53
10
37
1125588
DOLIDOVICH Sergei
1973
BLR
2:08:35.9
4.90
11
33
3420280
ELIASSEN Petter
1985
NOR
2:08:36.9
5.08
12
8
3480314
CHERNOUSOV Ilia
1986
RUS
2:08:40.5
5.74
13
3
1217350
BAUER Lukas
1977
CZE
2:08:41.1
5.84
14
16
1248293
SOEDERGREN Anders
1977
SWE
2:08:41.5
5.92
15
5
3500139
HELLNER Marcus
1985
SWE
2:08:47.4
6.99
16
20
1283892
OLSSON Johan
1980
SWE
2:08:47.4
6.99
17
22
3100190
BABIKOV Ivan
1980
CAN
2:08:59.2
9.14
18
17
3200015
REICHELT Tom
1982
GER
2:09:31.2
14.97
19
21
1139459
PILLER COTTRER Pietro
1974
ITA
2:09:31.5
15.02
20
1
3510023
COLOGNA Dario
1986
SUI
2:09:58.7
19.97
21
31
1297957
MORIGGL Thomas
1981
ITA
2:10:18.6
23.60
22
18
1100077
VITTOZ Vincent
1975
FRA
2:10:40.9
27.66
23
36
1175058
KOUKAL Martin
1978
CZE
2:10:45.7
28.53
24
12
3420228
JOHNSRUD SUNDBY Martin
1984
NOR
2:11:12.0
33.32
25
28
1106867
BAJCICAK Martin
1976
SVK
2:11:25.1
35.71
26
25
3180054
NOUSIAINEN Ville
1983
FIN
2:11:31.3
36.83
27
35
3200001
GOERING Franz
1984
GER
2:11:49.4
40.13
28
10
3290016
CLARA Roland
1982
ITA
2:12:00.8
42.21
29
23
3480440
GLAVATSKIKH Konstantin
1985
RUS
2:12:46.0
50.44
30
43
3530489
HOFFMAN Noah
1989
USA
2:12:47.7
50.75
31
45
1292331
SIMILAE Tero
1980
FIN
2:13:28.3
58.14
32
46
1323468
REHEMAA Aivar
1982
EST
2:13:28.4
58.16
33
29
3190029
DUVILLARD Robin
1983
FRA
2:13:29.9
58.43
34
27
3200229
TSCHARNKE Tim
1989
GER
2:14:07.3
65.24
35
48
1218902
KATTILAKOSKI Teemu
1977
FIN
2:14:56.6
74.22
36
26
3300190
YOSHIDA Keishin
1987
JPN
2:15:27.3
79.80
37
30
1363141
FISCHER Remo
1981
SUI
2:15:29.3
80.17
38
50
3670006
CHEREPANOV Sergey
1986
KAZ
2:15:42.0
82.48
39
39
1196883
FLORA Lars
1978
USA
2:15:42.4
82.55
40
44
3530492
ELLIOTT Tad
1988
USA
2:15:45.8
83.17
41
24
3480081
SHIRIAEV Sergey
1983
RUS
2:15:55.6
84.96
42
62
3390074
VAHTRA Eeri
1988
EST
2:16:11.4
87.83
43
41
1175155
MAGAL Jiri
1977
CZE
2:17:08.9
98.30
44
9
1362947
PERL Curdin
1984
SUI
2:17:27.0
101.60
45
13
3190111
MANIFICAT Maurice
1986
FRA
2:17:36.6
103.35
46
56
1311925
VILARRUBLA Vicenc
1981
SPA
2:18:11.2
109.65
47
40
1282728
PINTER Juergen
1979
AUT
2:18:19.8
111.21
48
65
3050159
TRITSCHER Bernhard
1988
AUT
2:19:00.7
118.66
49
47
3390103
TAMMJARV Karel
1989
EST
2:20:01.1
129.66
50
51
3660065
SEMENOV Michail
1986
BLR
2:20:01.4
129.71
51
84
3530190
DEMONG Billy
1980
USA
2:20:06.9
130.71
52
60
3670017
MATVIYENKO Gennadiy
1988
KAZ
2:20:12.6
131.75
53
71
3670032
AKHMADIYEV Yerdos
1985
KAZ
2:20:13.0
131.82
54
58
1233452
RUIZ Diego
1977
SPA
2:21:00.1
140.40
55
32
1362656
LIVERS Toni
1983
SUI
2:21:12.2
142.60
56
42
3300021
NARUSE Nobu
1984
JPN
2:22:16.6
154.33
57
66
3490032
ROJO Ioseba
1988
SPA
2:23:00.1
162.25
58
53
3490026
GUTIERREZ Javier
1985
SPA
2:23:07.4
163.58
59
49
3220002
MUSGRAVE Andrew
1990
GBR
2:23:54.5
172.16
60
63
3050172
GRADER Thomas
1989
AUT
2:24:18.2
176.47
61
67
3690023
SHVIDKIY Oleksiy
1986
UKR
2:25:04.7
184.94
62
76
3410002
KOONS Benjamin
1986
NZE
2:26:54.2
204.87
63
55
3040011
SIM Ben
1985
AUS
2:28:16.2
219.80
64
54
3050098
DUERR Johannes
1987
AUT
2:30:05.1
239.63
65
64
3690014
BILOSYUK Ivan
1984
UKR
2:30:10.5
240.62
66
68
3040080
WATSON Callum
1989
AUS
2:30:43.9
246.70
67
78
3550001
ZIMELIS Raivis
1976
LAT
2:31:05.8
250.69
68
69
3020000
SOULIE Francois
1978
AND
2:32:33.7
266.69
69
72
1291070
THOR OLSEN Jonas
1978
DAN
2:36:06.1
305.36
Lapped
70
73
3170013
MOELGAARD Asger Fischer
1983
DAN
71
70
3550066
LIEPINS Arvis
1990
LAT
72
75
3040037
WATSON Ewan
1987
AUS
73
74
3040001
DARLINGTON Chris
1982
AUS
74
79
3550098
RIBAKOVS Pavels
1989
LAT
75
77
3170012
HULGAARD Jens
1989
DAN
76
80
3220013
PLATT Simon James
1989
GBR
77
81
3550061
TETERIS Janis
1975
LAT
78
82
3080013
LUTZ Leandro
1982
BRA
79
83
3920002
BAENA Cesar
1986
VEN
Did not start
85
3920005
BAENA Bernardo
1990
VEN
59
3660013
LASUTKIN Alexander
1983
BLR
52
3150000
NOVAK Petr
1982
CZE
Did not finish
61
3670049
VOLOTKA Denis
1985
KAZ
57
3300209
KIMURA Masaya
1986
JPN
7
1345875
GAILLARD Jean Marc
1980
FRA
Comments
comments