Northug, Kowalczyk win Tour de Ski day two
Tweet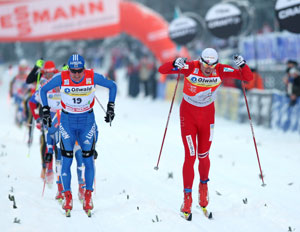 The fourth edition of the Viessmann FIS Tour de Ski continued today (Jan. 2) in Oberhof, Germany as Polands's Justyna Kowalczyk and Norway's Petter Northug won the second leg of the eight-stage event.
The women were tested in a 10km handicap start race, which Kowalczyk finished 2.8 seconds ahead of Finn Aino Kaisa Saarinen in second place. Norway's Kristin Stoermer Steira was 5.7 seconds off the winning pace to claim third place.
"It was not an easy race for me today, said Kowalczyk. "First half of the competition I did not feel well. I felt tired and could not get my pace."
With a third-place finish in yesterday's race, Kowalczyk is now in leading in the overall women's race by nearly three seconds.
Yesterday's winner, Slovenia's Petra Majdic fell behind the leading group and finished tenth.
"My plan for this afternoon is to get some rest, recharge my batteries," said Majdic, the tour sprint leader. "I will start thinking about tomorrow' race in the evening. I like the sprint leader bib very much but I want the tour leader bib back from Justyna."
Canadian Sara Renner once again led the North American women in 21st.
On the men's side, it was Northug with his second win in two days in the 15km classic handicap start race. It was a photo finish as Northug just edged Russia's Maxim Vylegzhanin by .1 seconds. Finn Matti Heikkinnen led for more than half of the race but couldn't last and finished third, .8 seconds behind the leader.
"I am very happy about my victory today. I knew from the beginning they will be chasing me," said Northug. "My tactics was to stay behind and save energy for the last lap."

Canadian skier Devon Kershaw led the North American men in tenth place, followed by teammates Ivan Babikov and Alex Harvey in 23rd and 27th, respectively.
American Andrew Newell finished 48th.
The Tour de Ski is an eight-stage event that crosses three countries over ten days. The overall winner gets 400 World Cup points and 150,000 Swiss francs (147,000 dollars). Competition continues tomorrow in Oberhof with a men's and women's sprint races.
Click here to go to the Tour de Ski website.
Image by Gepa
Men's Results


Women's Results

Comments
comments