Northug powers Norway to relay gold at World Championships
Tweet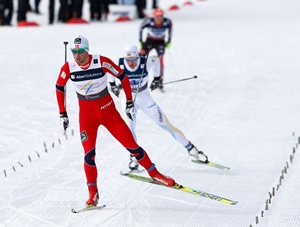 It was the gold medal Norway wanted more than any other and she got it dramatically as Petter Northug pushed by Swede Marcus Hellner on the final uphill at the edge of a sold out Holmenkollen Stadium and powered home for the men's relay gold.
Martin Johnsrud Sundby, Eldar Roenning and Tord Asle Gjerdalen made up the rest of Norway's team finishing the four by 10km challenge in an hour, 40 minutes and 10.2 seconds, a full second ahead of Sweden. A huge charge from Tobias Angerer brought Germany the bronze.
The Norwegians stayed in touch throughout the race, never ending a leg worse than fourth, but that fourth was handed to Northug for the final leg starting 11 seconds behind Finland, with Italy in second and Sweden third. Northug was not having any of that and quickly caught the leaders, tucked in with them and waited to the final kilometer before showing his strength.
When Northug decided to go he left no doubt as to the outcome of the race. He went by Hellner in three strides and powered to the finish continuing to put distance between he and his competitors. The race was not as close at the time made it appear. Northug did a bit of mugging as he approached the finish, standing sideways and sidestepping over the finish line to claim the win and his second gold medal of the World Championships having also won the 30k-pursuit.
The team celebrated with fans before joining King Harald and Queen Sonja in the royal box (along with most of the royal family, and Danish and Swedish royalty).
The win gives Norway six gold medals and 14 total for the event, leading Austria 14-8 in the total count and 6-5 in the gold harvest.
Gepa image
Place
Oslo
(NOR)
Discipline
Rel 4×10 km M
Date
04.03.2011
Category
World Ski Championships
Race codex
2125
Gender
M
Valid for FIS Points
NO – Waiting reports
TD Name
Pekk Tiit (EST)
Rank
Bib
Name
Nation
Time
FIS Points
1
NORWAY
NOR
1:40:10.2
JOHNSRUD SUNDBY Martin
26:05.7
ROENNING Eldar
25:44.7
GJERDALEN Tord Asle
24:22.4
NORTHUG Petter
23:57.4
2
SWEDEN
SWE
1:40:11.5
RICKARDSSON Daniel
25:43.5
OLSSON Johan
26:06.3
SOEDERGREN Anders
24:22.2
HELLNER Marcus
23:59.5
3
GERMANY
GER
1:40:15.9
FILBRICH Jens
26:13.7
TEICHMANN Axel
26:03.7
GOERING Franz
23:56.5
ANGERER Tobias
24:02.0
4
FINLAND
FIN
1:40:25.2
NOUSIAINEN Ville
26:38.6
JAUHOJAERVI Sami
25:35.2
LALLUKKA Juha
23:47.4
HEIKKINEN Matti
24:24.0
5
ITALY
ITA
1:40:41.5
CHECCHI Valerio
26:26.7
DI CENTA Giorgio
25:50.0
CLARA Roland
23:48.2
PILLER COTTRER Pietro
24:36.6
6
JAPAN
JPN
1:41:49.4
SHIMIZU Kouhei
26:26.0
YOSHIDA Keishin
25:51.1
KIMURA Masaya
24:54.7
NARUSE Nobu
24:37.6
7
RUSSIA
RUS
1:42:46.3
VYLEGZHANIN Maxim
25:43.0
VOLZHENTSEV Stanislav
26:26.8
LEGKOV Alexander
25:41.1
CHERNOUSOV Ilia
24:55.4
8
CZECH REPUBLIC
CZE
1:43:08.2
JAKS Martin
27:03.9
BAUER Lukas
26:08.0
MAGAL Jiri
25:12.7
KOUKAL Martin
24:43.6
9
SWITZERLAND
SUI
1:43:20.9
LIVERS Toni
27:06.9
COLOGNA Dario
26:05.5
FISCHER Remo
25:12.4
PERL Curdin
24:56.1
10
ESTONIA
EST
1:43:21.3
MAE Jaak
26:11.6
KAERP Algo
26:49.6
TAMMJARV Karel
25:19.4
REHEMAA Aivar
25:00.7
11
FRANCE
FRA
1:44:59.3
GAILLARD Jean Marc
26:48.0
MANIFICAT Maurice
27:10.9
VITTOZ Vincent
25:04.9
DUVILLARD Robin
25:55.5
12
CANADA
CAN
1:45:12.1
KUHN Stefan
27:50.8
VALJAS Len
27:27.2
BABIKOV Ivan
24:40.5
GREY George
25:13.6
13
KAZAKHSTAN
KAZ
1:45:20.9
CHEREPANOV Sergey
26:11.8
POLTORANIN Alexey
26:27.0
MATVIYENKO Gennadiy
26:59.2
VELICHKO Yevgeniy
25:42.9
14
UNITED STATES OF AMERICA
USA
1:47:05.0
NEWELL Andrew
28:16.7
FREEMAN Kris
27:07.8
HOFFMAN Noah
25:24.5
ELLIOT Tad
26:16.0
15
GREAT BRITAIN
GBR
MUSGRAVE Andrew
28:17.5
PLATT Simon James
31:11.6
SMITH Callum
28:06.8
YOUNG Andrew
16
AUSTRALIA
AUS
SIM Ben
29:17.3
WATSON Ewan
30:44.0
WATSON Callum
VAN DER PLOEG Mark
17
DENMARK
DAN
MOELGAARD Asger Fischer
30:47.7
WULFF Kristian
32:25.4
HULGAARD Jens
HULGAARD Lasse
Comments
comments