Norway, Switzerland take ski cross Junior Worlds titles, American Murphy fifth
Tweet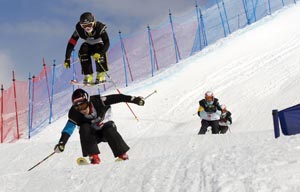 LAKE WANAKA, New Zealand (August 28, 2010) – The action was fast and furious in today's freestyle ski cross at Cardrona Alpine Resort in the 2010 FIS Junior World Championships (ages 13-20) with Swiss and Norwegian skiers taking home the top honors in the sport's first appearance at Junior Worlds.
The battle in the women's final was fierce with Fanny Smith (SUI) demonstrating how she has earned her top six World Cup ranking. After a bad start, she soon took the lead with Katrin Ofner (AUT) hot on her heals, a mistake on the second to last jump saw her lose her lead with Ofner taking full opportunity. Smith's experience kicked in and she reined in Ofner, taking a tight line on the last berm, putting her across the finish line in first place. Meanwhile the battle for second and third was taking place behind her with Ofner just taking silver ahead of Yulia Livinskaya (RUS) and Violetta Kovalskaya (RUS) caming in fourth.
"It was a great race and very tough," said Smith. "I didn't start as well as I could have but I came here to win and I knew that I must win so I did everything I could and it worked!"
Morganne Murphy (Truckee, CA) led the U.S. in fifth place after winning the small final. "I was bummed about the run," said Murphy. "I crashed in the semi finals which put me in the small finals. But I made the best pass of my life and am so stoked about finishing fifth."
The men's race was equally competitive with Norwegian Didrik Bastian Juell taking the title after qualifying in third. After a physical top third of the course where he worked his way up from fourth to first, his teammate, Morten Ring Christensen and Georgy Kornilov (RUS) were always close behind. By the second half of the course he had extended his lead slightly to give him a comfortable finish and the world junior championship title. Anton Grimus of Australia took fourth.
"My day didn't start out as well as it could have and that's why I'm so surprised to have won," said Juell. "But I got a few good starts in the heats which helps a lot. In the final, there was a bit of contact at the start but I came out of that OK and for the rest of the final I kept waiting for someone to overtake me but they never did! It's amazing and I never expected this – it's quite a shock!"
Ethan Fortney (Tenino, WA) was the top American man in seventh place, teammate Kyle Smaine followed in 11th.
"It was awesome competing in my first international ski cross event," said Fortney. "It was a non-stop, fun battle the whole time."
The course was adapted slightly from last Sunday's snowboard cross taking into account the skiers were travelling at higher speeds. The angles were decreased angles on the take-offs as so the skiers flew longer rather than higher
The freestyle ski action continues tomorrow in Cardrona's 22-foot superpipe starting at 10.00am. For further information and full results, please visit www.juniorworldsnz.co.nz.
Image: Junior World Champion, Fanny Smith (SUI) flys high over competition Katrin Ofner (AUT) (Bel Jones)
Comments
comments