Norway wins final nordic combined team event at home
Tweet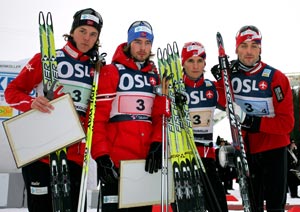 The nordic combined World Cup finals began today (March 13) in Oslo, Norway with a team event as the home team of Petter Tande, Mikko Kokslien, Jan Schmid, Magnus Moan took the win.
The Norwegian team (fifth at the Vancouver Games) overcame a 30-second penalty after finishing third in the jumping portion to beat the Olympic gold medal-winning Austrian team in second and Germany in third. The Germans led after the jumps but couldn't hang on through the four-man, 5km relay cross country race as each racer finished behind two others.
The Austrian team held the lead in the cross country through three racers until Norwegian anchorman Moan closed the gap and gave the home team the win.
"I had a very nice jump this morning and did my job on the hill," said Moan. "When it was my turn, I had to make up 24 seconds, but at the beginning of a race I always think that everything is possible. This victory came after a tragic Olympic campaign and brought as back were we belong."
Led by individual World Cup overall champion Jason Lamy Chappuis, the French team finished fourth.
The Olympic silver medal-winning U.S. team of Bill Demong, Johnny Spillane, Todd Lodwick and Nick Hendrickson in for Brett Camerota finished fourth in the jumping portion but slid to fifth in the cross country race. Lodwick had the longest jump of any competitor today with a 133-meter leap.
The nordic combined World Cup season concludes tomorrow with a individual competition.
Click the attachment below to see complete results.
Image of Norwegian team by Gepa
Comments
comments