Norway wins relay, Bjoergen her fourth gold of 2011 Worlds
Tweet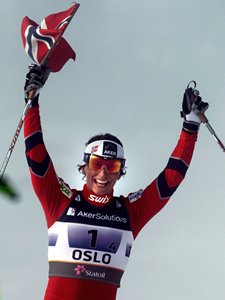 Sweden had to do without Maria Rydqvist, a last hour drop-out from it's women's cross country relay team, but one has to wonder if it would have really mattered. Norway took the event by more than 36 seconds with Marit Bjoergen having the leisure on her final ski to the finish to grab a Norwegian flag and wave it merrily to the 50,000 fans on Holmenkollen stadium.
It was the fourth gold medal of the 2011 Nordic World Championships for the 30 year old Bjoergen even after skipping the sprint team event, but the race was well in hand before she took to the tracks. Vibeke Skofterud, Therese Johaug and Kristin Stoermer Steira did much of the work.
Sweden strode home for the silver and Finland got bronze.
Skofterud was part of a four team breakaway on the first leg, with Sweden and Italy appearing to have the upper hand, but Italy's Antonella Confortolla Wyat skis had little glide as she took to the second leg and Finland's Aino Kaisa Saarinen and Johaug caught her and continued in pursuit of Sweden's Anna Haag. Johaug seemed to gain strength as Saainen lost hers, passed Haag and gave Stoermer Steira a lead of nine seconds at the exchange.
In the third leg Stoermer Steira took full control increasing the gap to 24 seconds and then to 34 at the exchange, leaving the only battle for second place. Charlotte Kalla earned the silver for Sweden by breaking away on the final uphill from the Finn Krista Lahteenmaki.
The U.S. team of Kikkan Randall, Holly Brooks, Elizabeth Stephen and Jessica Diggins finished ninth. Canada was 14th.
Place
Oslo
(NOR)
Discipline
Rel 4×5 km M
Date
03.03.2011
Category
World Ski Championships
Race codex
2124
Gender
L
Valid for FIS Points
NO – Waiting reports
TD Name
Pekk Tiit (EST)
Rank
Bib
Name
Nation
Time
FIS Points
1
NORWAY
NOR
53:30.0
SKOFTERUD Vibeke W.
13:58.8
JOHAUG Therese
13:47.7
STEIRA Kristin Stoermer
12:58.3
BJOERGEN Marit
12:45.2
2
SWEDEN
SWE
54:06.1
INGEMARSDOTTER Ida
13:49.3
HAAG Anna
14:05.9
JOHANSSON NORGREN Britta
13:24.3
KALLA Charlotte
12:46.6
3
FINLAND
FIN
54:29.8
MURANEN Pirjo
13:56.6
SAARINEN Aino Kaisa
14:03.6
ROPONEN Riitta-Liisa
13:20.3
LAHTEENMAKI Krista
13:09.3
4
ITALY
ITA
54:56.1
LONGA Marianna
13:47.9
CONFORTOLA WYATT Antonella
14:56.3
RUPIL Silvia
13:18.7
FOLLIS Arianna
12:53.2
5
GERMANY
GER
55:11.8
BOEHLER Stefanie
14:20.9
ZELLER Katrin
14:08.5
SACHENBACHER STEHLE Evi
13:23.5
FESSEL Nicole
13:18.9
6
RUSSIA
RUS
55:45.4
NOVIKOVA Valentina
14:26.6
IKSANOVA Alija
14:50.4
TCHEKALEVA Yulia
12:56.6
MIKHAILOVA Olga
13:31.8
7
SLOVENIA
SLO
55:53.0
ERZEN Anja
14:45.9
MAJDIC Petra
13:41.7
FABJAN Vesna
13:43.2
JEZERSEK Barbara
13:42.2
8
POLAND
POL
56:19.2
MARCISZ Ewelina
14:52.7
KOWALCZYK Justyna
13:34.7
MACIUSZEK Paulina
13:46.0
SZYMANCZAK Agnieszka
14:05.8
9
UNITED STATES OF AMERICA
USA
56:24.7
RANDALL Kikkan
14:28.1
BROOKS Holly
14:55.8
STEPHEN Elizabeth
13:35.2
DIGGINS Jessica
13:25.6
10
JAPAN
JPN
56:25.8
NATSUMI Madoka
14:28.8
ISHIDA Masako
14:13.5
KOBAYASHI Yuki
13:46.9
KASHIWABARA Michito
13:56.6
11
KAZAKHSTAN
KAZ
56:31.2
KOLOMINA Elena
14:14.5
JATSKAJA Oxana
14:30.0
ROSHINA Tatjana
14:21.5
MALAKHOVA-SHISHKINA Svetlana
13:25.2
12
UKRAINE
UKR
56:52.6
GRYGORENKO Kateryna
14:46.2
NESTERENKO Lada
15:17.1
SHEVCHENKO Valentina
13:14.7
ANTSYBOR Maryna
13:34.6
13
FRANCE
FRA
56:53.2
JEAN Aurore
15:15.0
BARTHELEMY Laure
14:45.3
BOURGEOIS Celia
13:18.2
VINA Emilie
13:34.7
14
CANADA
CAN
58:19.2
GAIAZOVA Daria
14:37.6
JONES Perianne
15:11.7
CRAWFORD Chandra
13:59.3
GOSLING Brooke
14:30.6
Comments
comments