Norwegian Jumper Gangnes Injured
Tweet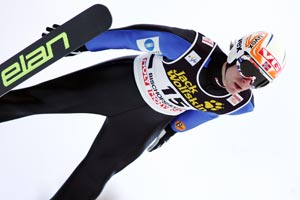 Twenty one-year-old Norwegian National Team ski jumper Kenneth Gangnes, suffered an injury this week while jumping on the very small K 35 meter hill in Drammen, Norway. The jumping was being done on short 190cm skis, which are used by youngsters. Ganges suffered a torn anterior cruciate ligament (ACL) to his right knee and will under go surgery soon.
In other nordic news, Askim, Norway will play host to the first race of the Norway Rollerski Cup this weekend. U.S. Ski Team star Kikkan Randall is expected to be on hand for the event.
Finally, as the FIS Congress moves into it's third day the nordic cities who are hoping to host the 2015 FIS World Nordic Championships are: Falun, Lahti, Zakopane or Oberstdorf. Zakopane last hosted the worlds back in 1962, some 53 years ago.
This Congress marks the 100th anniversary since the first ski congress, which took place in Kristiana, now a part of the city of Oslo.
Peter Q. Graves
Image by Gepa
Comments
comments