Norwegians Bjoergen, Hafsaas win XC opener
Tweet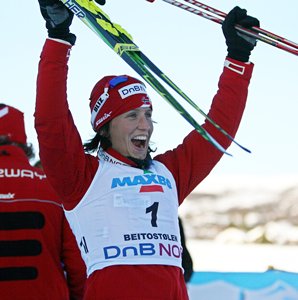 The Cross Country World Cup season kicked off this morning in Beitostoelen, Norway with women's 10 km and men's 15 km free individual races going to the home team, as Norwegians Marit Bjoergen and Ronny Andre Hafsaas took the wins.
With a crushing display of her renewed cross country skiing prowess, Bjoergen fired the first salvo of the season, winning the first World Cup event of the year in the women's 10km skate race. Bjoergen's top time was at 24:48.3, besting the talented Sweden Charlotte Kalla, who finished in 25:18. Yet another Swedish skier took the bronze with Anna Haag at 25.25.5. Norway's strong team then went forth to Kristin Stoermer Steira followed by Virbeke Skofterrud in fifth.
It was the 29-year-old Bjoergen's 31st World Cup Win, four of those coming at Beitostoelen. She was the overall World Cup champion in back-to-back years in 2005 and 2006, but slipped to tenth last season. Kalla, who collected her eighth World Cup podium today, was last year's overall runner up. The result was Haag's first World Cup individual top-three finish.
"This win hopefully confirmed that I have done all things right during preseason training," Bjoergen told the Associated Press. "It went very well today. Maybe I don't have to ski so much faster at the Winter Olympics."
Not many week's ago in an exclusive interview Norwegian coach, Vidar Lofshus told us that, "things have been looking especially good for Marit, who has gained alot since leaving the Helgerud style, which includes a great deal of intensity training, and has been on more of a lower-intensity program, that has been her main focus."
America's world championship silver medalist Kikkan Randall, known for her sprinting prowess finished in a fine 21st place, with a time of 26:52.1. American Liz Stephen finished the race in 48th place in 27:29.1, while Morgan Arritola was 72nd 28:11.8.
Canadian Chandra Crawford, an Olympic gold medalist from Torino, skied in her first World Cup in over a year, finishing 86th in today's race in her bid to gain a spot on Canada's Olympic team.
Last season's overall champion, Poland's Justyna Kowalczyk was also in the field, finishing 12th.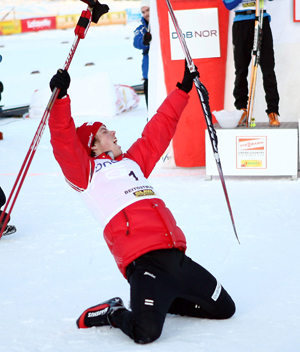 The men's race was much closer as biathlon specialist Hafsaas (34.42.1) grabbed the win only .2 seconds ahead of France's Vincent Vittoz (34:42.3) in second. Finland's Matti Heikkenen was third in 34:49.7, Fourth place went to Norwegian superstar Petter Northug, Jr. with a time of 34:53.8. Defending World Cup champion, Swiss skier Sario Cologna finished in 20th place with 35:30.3.
"I have worked very hard in preseason training to ski fast and it paid off today," Hafsas told the Associated Press while fighting back tears. "I finished the race very strongly. I have worked hard mentally the last few days to prepare myself for the last lap."
Before today's victory Hafsaas had only competed in one other cross country World Cup event in Davos, Switzerland in 2007, where he claimed 36th place. Vittoz claimed his 21st World Cup Podium, while Heikkenen, a two-time bronze medal winner at last year's World Championships, grabbed his first career World Cup podium.
The Top American man was Andover, New Hampshire skier Kris Freeman–coming off a tremendous weekend here last week with a pair of fifth-place finishes. Freeman skied to a strong 22nd place today in 35:32.1. Fellow American Lars Flora finished in 91st place.
"We had a pretty good day. For this time of year, you can't be unhappy with those type of results," said U.S. Cross Country Ski Team head coach Pete Vordenberg. "I feel like things are going well."
Canadian skier Ivan Babikov finished an impressive 28th, with Devon Kershaw in 37th, while Alex Harvey placed 43rd. Graham Nishikawa was 66th, Brian McKeever was in 80th.
World Cup racing in Beitostoelen continues tomorrow with a 4×5 km women's race and a 4×10 km men's race.
By Peter Q. Grave and Eric Williams
Images by Gepa
Rank
Bib
FIS Code
Name
Year
Nation
Time
FIS Points
1
83
1303777
BJOERGEN Marit
1980
NOR
24:48.3
0.00
2
80
3505217
KALLA Charlotte
1987
SWE
25:18.0
15.96
3
74
3505183
HAAG Anna
1986
SWE
25:25.5
20.00
4
88
3425003
STEIRA Kristin Stoermer
1981
NOR
25:39.8
27.68
5
55
1305426
SKOFTERUD Vibeke W
1980
NOR
25:45.6
30.80
6
81
1255374
ROPONEN Riitta-Liisa
1978
FIN
25:46.5
31.28
7
60
3485032
KOROSTELEVA Natalia
1981
RUS
25:57.8
37.36
8
84
1138877
FOLLIS Arianna
1977
ITA
25:59.2
38.11
9
90
1255665
SAARINEN Aino- Kaisa
1979
FIN
26:07.9
42.79
10
62
3485193
KHAZOVA Irina
1984
RUS
26:13.3
45.69
11
76
1207165
MEDVEDEVA Evgenia
1976
RUS
26:24.3
51.60
12
91
3435001
KOWALCZYK Justyna
1983
POL
26:27.6
53.38
13
89
1222200
LONGA Marianna
1979
ITA
26:33.4
56.49
14
64
1237817
OLSSON Anna
1976
SWE
26:36.5
58.16
15
82
1142563
SHEVCHENKO Valentina
1975
UKR
26:38.8
59.40
16
86
1166037
KUITUNEN Virpi
1976
FIN
26:39.8
59.93
17
85
3425301
JOHAUG Therese
1988
NOR
26:46.1
63.32
18
68
1005017
VALBUSA Sabina
1972
ITA
26:46.5
63.54
19
87
1276714
MAJDIC Petra
1979
SLO
26:51.1
66.01
20
63
3425410
OESTBERG Ingvild Flugstad
1990
NOR
26:51.5
66.22
21
41
1365857
RANDALL Kikkan
1982
USA
26:52.1
66.55
22
71
1274580
ISHIDA Masako
1980
JPN
26:52.8
66.92
23
57
3435014
JASKOWIEC Sylwia
1986
POL
26:53.6
67.35
24
59
1355769
STEMLAND Kristin Muerer
1981
NOR
26:54.8
68.00
25
51
3505069
LINDBORG Sara
1983
SWE
26:55.1
68.16
26
72
1247226
ZELLER Katrin
1979
GER
26:55.3
68.27
27
75
1256732
SACHENBACHER -STEHLE Evi
1980
GER
26:55.8
68.53
28
67
1367021
SIDKO Alena
1979
RUS
26:57.2
69.29
29
78
1220648
NYSTAD Claudia
1978
GER
26:59.7
70.63
30
49
3195126
BOURGEOIS Celia
1983
FRA
27:02.6
72.19
31
61
3425117
ELDEN Marte
1986
NOR
27:04.0
72.94
32
53
1182042
MALAHOVA-SHISHKINA Svetlana
1977
KAZ
27:05.3
73.64
33
77
1293107
BOEHLER Stefanie
1981
GER
27:07.8
74.98
34
50
3295015
RUPIL Silvia
1985
ITA
27:10.3
76.33
35
30
3155041
NYVLTOVA Eva
1986
CZE
27:10.7
76.54
36
29
3565002
FABJAN Vesna
1985
SLO
27:11.4
76.92
37
43
3515004
BUCHER Silvana
1984
SUI
27:13.5
78.05
38
52
3485170
ILJINA Natalja
1985
RUS
27:14.7
78.69
39
6
3425499
WENG Heidi
1991
NOR
27:15.5
79.12
40
69
1088922
SAVIALOVA Olga
1972
RUS
27:16.0
79.39
41
39
3195059
BARTHELEMY Laure
1988
FRA
27:21.5
82.35
41
15
3425394
TOFTDAHL Tuva
1990
NOR
27:21.5
82.35
43
38
3155008
JANECKOVA Ivana
1984
CZE
27:22.7
82.99
44
46
1289227
SANNIKOVA Alena
1980
BLR
27:26.3
84.93
45
70
1174670
RAJDLOVA Kamila
1978
CZE
27:26.7
85.14
46
21
1319976
KOLOMINA Elena
1981
KAZ
27:27.1
85.36
47
25
3505090
INGEMARSDOTTER Ida
1985
SWE
27:27.2
85.41
48
66
1101920
CONFORTOLA WYATT Antonella
1975
ITA
27:29.1
86.43
48
48
3535261
STEPHEN Elizabeth
1987
USA
27:29.1
86.43
50
47
1181848
JATSKAJA Oxana
1978
KAZ
27:30.6
87.24
51
42
3425275
BRUN-LIE Celine
1988
NOR
27:33.1
88.58
52
65
3425183
JACOBSEN Astrid Uhrenholdt
1987
NOR
27:33.3
88.69
53
17
3695007
ZAVALIJ Tatjana
1981
UKR
27:34.8
89.50
54
56
3185004
SARASOJA Riikka
1982
FIN
27:40.8
92.72
55
12
3665014
RUDAKOVA Ekaterina
1984
BLR
27:41.0
92.83
56
8
3425373
NORDSLETTEN Marie
1990
NOR
27:44.8
94.87
57
40
3195056
CUINET Aurore
1985
FRA
27:47.6
96.38
58
20
3425302
NYDAL Britt Ingunn
1989
NOR
27:48.6
96.92
59
73
1099204
LAURENT PHILIPPOT Karine
1974
FRA
27:51.4
98.42
60
79
1255471
MURANEN Pirjo
1981
FIN
27:55.4
100.57
60
37
1312216
BONER Seraina
1982
SUI
27:55.4
100.57
62
23
1316193
JAKIMCHUK Vita
1980
UKR
27:58.1
102.02
63
24
3425315
LAUVHAUG Hilde
1989
NOR
27:59.4
102.72
64
54
3495008
ORGUE Laura
1986
SPA
28:04.8
105.62
65
32
3435018
MAREK Kornelia
1985
POL
28:05.7
106.11
65
22
1335690
STRANDBERG Kristina
1975
SWE
28:05.7
106.11
67
10
1345390
VINA Emilie
1982
FRA
28:06.0
106.27
68
13
3435031
MACIUSZEK Paulina
1985
POL
28:06.3
106.43
69
18
3305024
OBAYASHI Chisa
1984
JPN
28:09.2
107.99
70
45
3485046
MIKHAILOVA Olga
1981
RUS
28:11.6
109.28
71
35
3535270
ARRITOLA Morgan
1986
USA
28:11.8
109.39
72
28
3155231
MORAVCOVA Klara
1983
CZE
28:12.8
109.92
73
31
3565014
JEZERSEK Barbara
1986
SLO
28:13.2
110.14
74
2
3675019
SLONOVA Anastasia
1991
KAZ
28:25.4
116.70
75
26
1250524
GENUIN Magda
1979
ITA
28:33.5
121.05
76
34
1194555
NESTERENKO Lada
1976
UKR
28:41.3
125.24
77
14
3125002
HONGXUE Li
1984
CHN
28:44.3
126.86
78
44
1191354
ROCHAT Laurence
1979
SUI
28:45.7
127.61
79
33
3785000
TERENTJEVA Irina
1984
LTU
28:48.0
128.84
80
16
3095010
GRIGOROVA-BURGOVA Antonia
1986
BUL
28:51.7
130.83
81
27
3665001
VASILJONOK Olga
1980
BLR
29:04.9
137.93
82
36
3205075
HERRMANN Denise
1988
GER
29:11.2
141.32
83
7
3305165
KASHIWABARA Michiko
1991
JPN
29:25.2
148.84
84
19
3425231
MYHRE Marthe Katrine
1985
NOR
29:43.8
158.84
85
9
3045009
WATSON Aimee
1987
AUS
30:10.8
173.35
86
1
3105013
CRAWFORD Chandra
1983
CAN
30:20.4
178.51
87
11
1105509
JOHANSEN Katarina
1976
SVK
30:20.7
178.67
88
3
3095004
MALCHEVA Teodora
1983
BUL
30:24.7
180.82
89
5
3705007
GARAJOVA Katarina
1987
SVK
31:02.7
201.25
90
4
3085002
MOURAO Jaqueline
1975
BRA
31:09.3
204.80
Did not finish
58
3425350
SLIND Astrid Oeyre
1988
NOR

Men

Rank
Bib
FIS Code
Name
Year
Nation
Time
FIS Points
1
36
3420283
HAFSAAS Ronny Andre
1985
NOR
34:42.1
0.00
2
94
1100077
VITTOZ Vincent
1975
FRA
34:42.3
0.08
3
88
3180053
HEIKKINEN Matti
1983
FIN
34:48.7
2.54
4
101
3420239
NORTHUG Petter jr.
1986
NOR
34:53.8
4.50
5
30
3420005
GAUSTAD John Anders
1980
NOR
34:55.2
5.03
6
65
1262358
AASEN OUREN Geir Ludvig
1974
NOR
34:58.4
6.26
7
97
3480016
LEGKOV Alexander
1983
RUS
35:02.9
7.99
8
98
1283892
OLSSON Johan
1980
SWE
35:05.0
8.80
9
89
3500139
HELLNER Marcus
1985
SWE
35:05.5
8.99
10
69
1363141
FISCHER Remo
1981
SUI
35:08.1
9.99
11
102
1139459
PILLER COTTRER Pietro
1974
ITA
35:09.5
10.53
12
78
1362656
LIVERS Toni
1983
SUI
35:09.6
10.57
13
1
3420076
BERGER Lars
1979
NOR
35:11.9
11.45
14
39
1306202
ANDRESEN Frode
1973
NOR
35:14.1
12.30
15
100
1344711
JAUHOJAERVI Sami
1981
FIN
35:23.7
15.98
16
22
1052159
KOZU Masaaki
1974
JPN
35:25.0
16.48
17
92
1067291
DI CENTA Giorgio
1972
ITA
35:27.9
17.60
18
24
3420605
ROETHE Sjur
1988
NOR
35:28.5
17.83
19
49
3480007
PANKRATOV Nikolay
1982
RUS
35:30.1
18.44
20
103
3510023
COLOGNA Dario
1986
SUI
35:30.3
18.52
21
29
3200229
TSCHARNKE Tim
1989
GER
35:31.8
19.10
22
68
1285347
FREEMAN Kris
1980
USA
35:32.1
19.21
23
93
3420228
JOHNSRUD SUNDBY Martin
1984
NOR
35:32.2
19.25
24
96
1178162
ANGERER Tobias
1977
GER
35:34.4
20.10
25
77
1125588
DOLIDOVICH Sergei
1973
BLR
35:39.6
22.09
26
32
1310470
KRECZMER Maciej
1981
POL
35:40.9
22.59
27
87
1221036
FILBRICH Jens
1979
GER
35:41.5
22.82
28
82
3100190
BABIKOV Ivan
1980
CAN
35:42.1
23.05
29
73
1101047
SOMMERFELDT Rene
1974
GER
35:47.8
25.24
30
31
3040011
SIM Ben
1985
AUS
35:49.2
25.78
31
55
1356545
DJUPVIK Roger Aa
1981
NOR
35:50.5
26.28
32
43
1377885
ANDREASSON Rikard
1979
SWE
35:50.7
26.36
33
99
1221327
TEICHMANN Axel
1979
GER
35:51.1
26.51
34
42
3420280
ELIASSEN Petter
1985
NOR
35:53.2
27.32
35
63
3190111
MANIFICAT Maurice
1986
FRA
35:53.5
27.43
36
62
1094839
HOFFMANN Christian
1974
AUT
35:56.7
28.66
37
91
3100006
KERSHAW Devon
1982
CAN
35:59.5
29.74
38
57
3670007
POLTARANIN Alexey
1987
KAZ
36:03.0
31.08
39
7
3660023
IVANOU Aliaksei
1980
BLR
36:04.3
31.58
40
66
1362947
PERL Curdin
1984
SUI
36:05.8
32.16
41
79
1175058
KOUKAL Martin
1978
CZE
36:08.9
33.35
42
74
3480081
SHIRIAEV Sergey
1983
RUS
36:09.5
33.58
43
86
3100110
HARVEY Alex
1988
CAN
36:10.8
34.08
44
59
3420002
DAHL John Kristian
1981
NOR
36:14.4
35.46
45
53
1327251
DIEZIG Thomas
1981
SUI
36:16.2
36.16
46
76
1175155
MAGAL Jiri
1977
CZE
36:16.9
36.42
47
72
1223849
CHECCHI Valerio
1980
ITA
36:17.0
36.46
48
83
3290016
CLARA Roland
1982
ITA
36:21.0
38.00
49
37
3420084
POST Arne
1983
NOR
36:23.6
39.00
50
90
3480013
VYLEGZHANIN Maxim
1982
RUS
36:24.7
39.42
51
51
1218902
KATTILAKOSKI Teemu
1977
FIN
36:27.5
40.50
52
67
3290007
HOFER David
1983
ITA
36:27.7
40.57
53
19
1093869
KREZELOK Janusz
1974
POL
36:28.1
40.73
54
50
1106091
BATORY Ivan
1975
SVK
36:29.8
41.38
55
70
1106867
BAJCICAK Martin
1976
SVK
36:30.8
41.77
56
60
3480314
CHERNOUSOV Ilia
1986
RUS
36:32.4
42.38
57
56
3290004
SCOLA Fulvio
1982
ITA
36:32.9
42.57
58
75
3670000
CHEBOTKO Nikolay
1982
KAZ
36:33.1
42.65
58
47
3420160
EILIFSEN Morten
1984
NOR
36:33.1
42.65
60
71
3180054
NOUSIAINEN Ville
1983
FIN
36:36.1
43.80
61
46
1108225
BURGERMEISTER Reto
1975
SUI
36:37.8
44.46
62
48
1344129
SPERL Milan
1980
CZE
36:40.1
45.34
63
33
3420317
RENNEMO Kristian Tettli
1984
NOR
36:40.7
45.57
64
64
1067485
ZORZI Cristian
1972
ITA
36:45.0
47.22
65
40
1277393
LEYBYUK Roman
1977
UKR
36:45.7
47.49
66
41
3100034
NISHIKAWA Graham
1983
CAN
36:46.3
47.72
67
35
3660013
LASUTKIN Alexander
1983
BLR
36:48.4
48.53
68
80
1177580
JONNIER Emmanuel
1975
FRA
36:52.2
49.99
69
25
3420577
DYRHAUG Niklas
1987
NOR
36:55.9
51.41
70
45
3150035
KOZISEK Dusan
1983
CZE
36:56.6
51.68
71
18
3500138
SOEDERHIELM Tiio
1984
SWE
36:58.6
52.45
72
21
3220002
MUSGRAVE Andrew
1990
GBR
36:59.1
52.64
73
58
3670006
CHEREPANOV Sergey
1986
KAZ
37:01.0
53.37
74
38
1357030
HOFF Erlend
1978
NOR
37:01.3
53.48
75
81
1323468
REHEMAA Aivar
1982
EST
37:02.5
53.95
76
20
1311925
VILARRUBLA Vicenc
1981
SPA
37:03.9
54.48
77
44
3300021
NARUSE Nobu
1984
JPN
37:07.6
55.91
78
14
3690000
PUTSKO Olexandr
1981
UKR
37:15.7
59.02
79
15
1315805
MALAK Michal
1980
SVK
37:26.3
63.09
80
11
1282146
MCKEEVER Brian
1979
CAN
37:28.7
64.01
81
16
3090024
TZINZOV Veselin
1986
BUL
37:30.0
64.51
82
27
3180000
OHTONEN Olli
1979
FIN
37:30.4
64.67
83
61
3480286
SORIN Egor
1985
RUS
37:31.4
65.05
84
84
1098137
MAE Jaak
1972
EST
37:34.6
66.28
85
54
1223752
KOSTNER Florian
1979
ITA
37:35.9
66.78
86
6
3560072
POTOCNIK Domen
1989
SLO
37:36.0
66.82
87
17
3430056
MICHALEK Mariusz
1987
POL
37:36.4
66.97
88
12
3390103
TAMMJARV Karel
1989
EST
37:51.0
72.58
89
26
3300190
YOSHIDA Keishin
1987
JPN
38:00.3
76.15
90
34
1233452
RUIZ Diego
1977
SPA
38:02.4
76.96
91
10
1196883
FLORA Lars
1978
USA
38:14.9
81.76
92
13
1320849
GOLOVKO Andrey
1980
KAZ
38:18.3
83.07
93
4
3390050
SIMONLATSER Timo
1986
EST
38:25.1
85.68
94
2
3040080
WATSON Callum
1989
AUS
38:28.3
86.91
95
8
3780005
NOVOSELSKI Aleksei
1985
LTU
38:49.8
95.17
96
28
3420822
BACH Ole-marius
1988
NOR
38:58.3
98.44
97
5
1291070
THOR OLSEN Jonas
1978
DAN
38:58.4
98.48
98
23
1276520
KANAMARU Tomio
1979
JPN
39:03.4
100.40
99
3
3170013
MOELGAARD Asger Fischer
1983
DAN
41:24.4
154.57
Did not start
95
1345875
GAILLARD Jean Marc
1980
FRA
85
1248293
SOEDERGREN Anders
1977
SWE
52
3190002
CHAUVET Benoit
1981
FRA
Did not finish
9
3660029
KARNEYENKA Leanid
1987
BLR
Comments
comments