Olympic medalist Nikolai Anikin dies
Tweet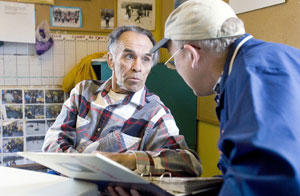 Longtime cross country skiing champion, Nikolai Anikin passed away at his home in Duluth, Minnesota last Saturday morning at the age of 77. Born in Siberia, Anikin earned a gold medal with the then Soviet Union team in the 1956 Olympic Games at Cortina. In fact, Anikin won three Olympic medals in his racing career. Following the end of his competitive career he spent some 27 years as a coach with the Russian National Cross Country Ski Team.
Following that he and his wife Antonina, moved to Duluth where he first spent several years coaching with the U.S. Ski Team and later helped found the Gitchi Gumi Sports Association.
Anikin helped generations of athletes grow and learn to love the sport. He coached among countless others, two-time U.S. Olympian, John Bauer, who attended Anoka, MN high school, but moved to Duluth to recieve coaching from Anikin and made the 1998 and 2002 Olympic teams.
Known for his generous sense of humor and his warmth of personality, Anikin was much loved in nordic sport circles. Anikin was diagnosed with cancer more than two years ago.
The Anikin's have one son, Nokolai Jr, of Duluth and a daughter Irina of Moscow. A celebration of Nikolai Anikin's life is planned for the Snowflake Ski Center, in Duluth for December 6th.
By: Peter Q. Graves
Image by Duluth News Tribune
Comments
comments