Olympic Trials Start Tommorow; Vancouver Team Spots Up for Grabs
Tweet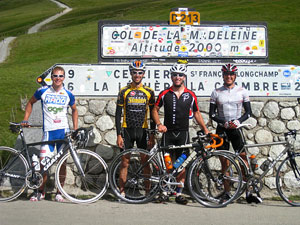 By this time tommorow night one spot will be filled on the U.S. Nordic Combined Olympic Team. For Wednesday will mark a unique disbursement of a berth, a winner-takes-all spot with one jump and a 10km race at historic Howelsen Hill in Steamboat Springs, Colo. Competition is set to get underway tommorow at 9 AM. Only 15 invitations were allowed for the nation's most elite nordic combined skiers.
Athletes were hampered today in their efforts to train due to lost baggage coming in from snowy Germany.
Steamboat natives Todd Lodwick and Johnny Spilane will highlight the quest along with top ranked Billy Demong from Vermontville, NY.
"It's a great chance for us to host this big event, with lots of media exposure and television on NBC Sports" said head U.S. coach Dave Jarret.
Following tommorow's event, the next nordic combined athletes to be named to the Olympic Team will be unveiled on Jan. 19th.
Check back with Skiracing.com for tomorrow's results.
NBC Sports will televise this event on December 26th at 2:30 PM
By: Peter Graves
Image: The U.S. Nordic Combined Team oils the wheels during summer training in France. (Dave Jarret)
Comments
comments