Olympics: Australian Lassila wins aerials gold
Tweet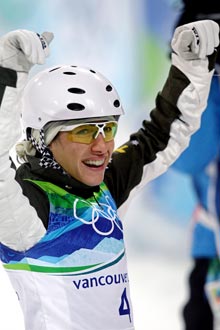 CYPRESS MOUNTAIN, BC (Feb. 24) – Though fans and TV cameras couldn't see through the dense fog at Cypress Mountain tonight, the jumps went on and Australian jumper Lydia Lasilla came away with the gold medal in the women's aerials event with the winning score of 214,74.
"I can't believe it's over, I'm relieved. It's been a long journey, so much hard work, especially in the last year," said Lassila. "I've only landed those two jumps one other time in competition this year. I'm ecstatic."
Chinese jumpers Li Nina (207.23), and Guo Xinxin (205.22) rounded out the podium, winning silver and bronze medals, respectively. Li, last season's world champion and this season's overall World Cup champion, successfully defended the silver medal she won at the Torino Games in 2006. It was Guo's first Olympic medal after three attempts.
"I'm not crying because I didn't win Gold. I'm crying because I landed four jumps and all these years of practice have paid off," said Li through tears. "Today I did my best, I could bring out my best jump. I feel amazing."

After months of warm weather and rain shrank the mountain's snow pack to next to nothing, course workers labored around the clock to haul in enough snow from upper elevations to build the course. Ironically, snow began to fall on Cypress during yesterday's women's ski cross debut and only let up early this afternoon. Fog then rolled in but didn't stop slow down the jumpers.
The Aussie fans were out in droves for to cheer on their three finalists. Inflatable kangaroos and Australian flags were scattered across the 8,000-person crowd. Rallying with the support, Lassila's high degree of difficulty jumps were rewarded by the judges. Lassila, who has 11 career World Cup victories, came into her third Olympics ranked fourth in the World Cup overall standings. Her second jump (a back, lay, double, full full) was the highest degree of difficulty jump the judges saw all night. It was enough to push her pass her Chinese rivals.
Australian teammates Jacqui Cooper and Elizabeth Gardener finished fifth and 12th, respectively.
First-time Olympian Lacy Schnoor led the American trio of finalists in ninth place with a combined score of 181.84 after landing both of her jumps.
I'm just psyched that I came out and landed two jumps. I couldn't ask for more," said Schnoor, a Draper Utah native. "I competed like it was a World Cup, I wasn't more nervous. I am just so excited to be here."
"It was definitely a little hard to qualify and then have three days off," Schnoor continued. "It's hard to put down four jumps for all of us. It doesn't happen very often so it is incredible to see all these athletes stomp their landings."
American youngster, Ashley Caldwell, 16, who took the 12th and final qualifying spot also landed both of her jumps for a 10th-place finish and was thrilled with her Olympic experience. Caldwell came to the U.S. Ski Team after only two years in the new Elite Air Program, designed to turn talented gymnasts into aerialists.
"I had no idea what to expect. Everything is bigger and way more awesome than I expected," said Caldwell of her first Olympic experience. "It's overwhelming just being out here."
With one Olympic appearance under her belt, Emily Cook was the most experienced American jumper on the team. The Massachusetts native failed to land her first jump, taking her out of contention for a medal in the tight field. She finished in 11th place.

"It's honestly been such a long road to get here," said Cook with a bit of emotion. "Obviously I'm disappointed with my first jump, but I'm very proud of the preparation that I've done. My heart and soul went into it."
"Right now I'm just going to take a little rest and reevaluate in a month or so," said Cook of her unsure future plans in the sport after 12 years on the U.S. Ski Team.
Top qualifier, Belarusian Alla Tsuper had two bad landings and was pushed to an eighth-place finish.
The only Canadian woman Aerialist to qualify for the Games, Veronica Bauer, was eliminated from competition after the qualifying round where she earned a 15th-place finish.
Olympic action continues at Cypress Mountain tomorrow night with men's aerials at 6pm local time.

Comments
comments