Olympics: Canadian Ricker wins board cross gold; Jacobellis fifth
Tweet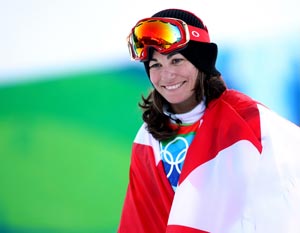 VANCOUVER (Feb. 16) – Vancouver's own Maelle Ricker won the host country's second gold medal of these Games today in the women's snowboard cross event at Cypress Mountain.
On a course that hides a lucky loony (Canadian dollar coin) Ricker, 31, outlasted the strong women's field to hang on for gold. French rider Deborah Anthonioz pulled in the silver medal ahead of Switzerland's Olivia Nobs with the bronze.
"It was really, really hard today to get a clean run all the way down the course, but I just held on and did my best," said Ricker. "Thank you so much Canada. We're having a lot of fun and absolutely enjoying every minute. I hope you are too!"
American Lindsey Jacobellis came to Vancouver looking for redemption after loosing her grip on the gold medal in Torino when she gave up a large lead on eventual winner, Tanja Frieden of Switzerland when she fell on the second to last jump after dong a grab. Media called the jump that did Jacobellis in overly stylish for a race and a premature celebration. The Stratton Montain, Vermont native and six-time X Games gold medalist was disappointed again today when she landed too close to Ricker at the top of the course in the semifinals. She overcorrected her line, plowed through a course gate and was demoted to the small final where she won and ended up fifth on the day.
American teammate Faye Gulini finished 12th.
Though many eyes were on Jacobellis Ricker came in as a favorite. With three World Cup wins this season Ricker has is leading in the overall standings. She had extra motivation to correct her Olympic course today following a disastrous trip to the Torino Games where she fell hard in the final and had to be airlifted off the course with a concussion. She was redeemed and then some with only the second Olympic gold won by a Canadian in Canada, the first going to moguls skier Alexadre Bilodeau two days ago.
The race, being held at Cypress Mountain where wet soggy weather has been the story for months, was in question as intermittent fog disrupted qualifying rounds. The delays were frustrating to the athletes.
"Why did I wake up at 5:30 and wait around for two hours, when I could
have been sleeping?" said Jacobellis. "It's not really fun to hang around and wait. You
don't know if it's going to happen or not."
Comments
comments