Olympics: Kearney leads moguls qualifying, Heil second; all Americans in
Tweet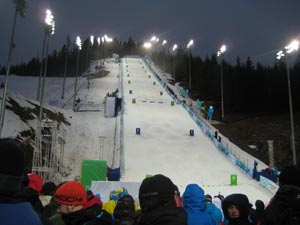 VANCOUVER (Feb. 13) – American moguls skier Hannah Kearney led the way in a women's moguls qualifying run tonight at Cypress Mountain as freestyle skiing competition kicked off at the Vancouver Games. Though the area has suffered consistent warm weather and rainfall, the course crew has worked day and night to ensure that this evening's qualifying round and medal competition went off without a hitch.
The result was particularly special for Kearney who didn't make the final at the 2006 Torino Games with a 22nd-place finish.
"The course seems a little faster than it was in training," said Kearney who came into the Games hot off a World Cup win in Lake Placid. "I think the moisture has packed it down a little so it was fast. I'm going to clean up the bottom air, that is my plan. The instant replay showed me a small mistake so I'm going to clean that up and just sell it."
Kearney, a Vermont native and defending World Cup champion bested local favorite and defending gold medalist, Canadian Jennifer Heil, who qualified second.
The Cinderella story continues for Park City skier Heather McPhie, an Olympic rookie who appeared relaxed in the finish area after qualifying third.
"I was really happy. I was struggling with the top air in training so I was really happy with how I hit it," said McPhie. "I am just playing and having so much fun, we've worked so hard. Our team is having a ball we are having so much fun together. I have laughed to the point of tears everyday."
Fellow Americans Michelle Roark and Shannon Barhke also made the 20-woman final with sixth and seventh-place qualifying runs, respectively.
"We're super psyched, so far we've had a pretty nice night out here and the girls ripped," said U.S. head moguls coach Scott Rawles. "It's been really good, right now [the course] is super soft, really slushy conditions so everyone can really let it rip so we're really looking forward to the finals it's going to me awesome."
The home team put all three of its starters in the final to the delight of the 12,000 fans that turned out to support their girls in the cold and rain. Behind Heil, Kristi Richards qualified fourth and Chole Defour-LePointe pulled in a ninth-place score to move on.
The loyal fans will endure two more hours of wet, cold waiting until the final medal round begins and 7:30 local time.
To read the final story click here.

Comments
comments