Olympics: Moguls skier Kearney brings U.S. first gold, Bahrke bronze
Tweet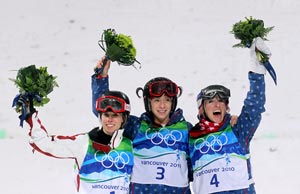 VANCOUVER (Feb. 13) – The rain falling on the Cypress Mountain moguls course only fueled American skier Hannah Kearney, who brought the country its first gold medal of the Vancouver Games.
After pulling in the best qualifying score earlier in the evening, Kearney was the last to be tested by the soggy course. Defending gold medalist, Canadian Jennifer Heil ran just before Kearney and drew a massive roar from the 12,000-person home crowed as she took the top spot with a near flawless run. The weather turned from bad to worse as rain intensified between final two competitors' runs. Kearney, a Vermont native, used the rain and cheers for apposing skiers to her advantage, sailing to her first Olympic medal with the fastest run of the night punctuated with stellar 360 and back layout airs, beating silver medalist Heil by just under a full point.
At the top, all Kearney was thinking was that she wanted the gold medal. "I heard Jenn's score, I heard the roar of the crowd, I knew I was going to ski well so I just went for it," the 23-year-old said.
Fellow American Shannon Bahrke became the first American to win two Olympic medals with a bronze medal performance near the end of what she has announced will be her final season on the U.S. Ski Team after a 12-year career.
"I knew that today was the day, today I was going to be ready to compete and we were just going to make it happen," said Bahrke, who won a silver medal at the Salt Lake 2002 Games. "This Olympic medal is a lot sweeter just because I've overcome a lot to get here, it's been quite a bumpy ride and it's taken a lot of people and preparations and hard work to get here so it really means the world to me."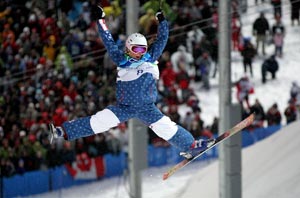 Kearney and Heil's rivalry has been tight over the last two seasons. Kearney came out of last season with the overall World Cup title but momentum shifted Heil's was this season when she won four consecutive World Cup contests. Tonight's results saw the duo swap positions from last season's World Cup dress rehearsal on this course when Heil took the gold.
"It's such a fierce competition, every time we click into our bindings it's so competitive," said Heil who brought the host country its first medal of these games. "I love that the other girls push me to be my best and today Hannah was the best. Of course I was going for the gold medal but I really do feel like I won the silver medal today."
"This medal is for Canada we are so well supported all the, all the Canadians are behind us and as I said I am just so proud to be Canadian," Heil announced over the PA system.
With the win Kearney will most certainly earn a spot in an Olympic video montage, a personal goal she admitted to media at a press conference following the competition. But public recognition isn't why Kearney is in the game. "I remind myself sometimes that I am skiing because I love to ski," said the half Canadian bumper (her mother is from Montreal). "I'm not skiing for airtime on NBC, I'm not skiing for the fans at the bottom. I'm skiing because it's what I want to be doing."
Kearney received some extra motivation this morning when her trainer handed her a card with a tally of a year's worth of training statistics. The list calculated the hours Kearney spent on a bike, the number of jumps she performed and how many stairs she climbed. "It was just to give me confidence that I had done everything I could and I was prepared for this," she said.
American Heather McPhie, who qualified third, looked podium bound until she over rotated while performing a back flip on the bottom air, and fell in front of the finish line.
The evening's results strongly resembled those of the Torino Games when Heil spoiled, then defending gold medalist, Norwegian skier Kari Traa's repeat.
Veteran American bumper Michelle Roark (at her second Winter Olympics) had a rough Games. After qualifying sixth, the 13-year U.S. Ski Team member threw a huge 720 on the top air and didn't quite regain her balance, falling in the middle section of moguls and landing in 17th place. Roark's troubles in Vancouver began much earlier in the week, however, when her husband was detained by VANOC security for attempting to enter a restricted area during training without a credential. He was banned from the facility.
"I've had a horrible experience from the moment I got here, today was the only day that I actually felt good," said Roark. "My husband was arrested/detained on the first day because they wouldn't let him up anywhere near the venue and he's always been my coach."
Roark was able to find the silver lining to a difficult week and four years of hard work.
"The whole reason I stayed in the sport for the last four years was to take my skiing to the next level and I've really done that," said Roark of her final push at an Olympic medal. "The 720 is the highest DD [degree of difficulty trick any girls are doing … and I took it down the hill."
Moguls competition at Cypress Mountain continues tomorrow with the men's event at 5:30 local time. – Eric Williams
Image by Gepa
Comments
comments