WHISTLER, B.C. – On a day when the layer of fog looked just as ominous as the day before, giant slalom racers reconvened in the start house to complete their Olympic race.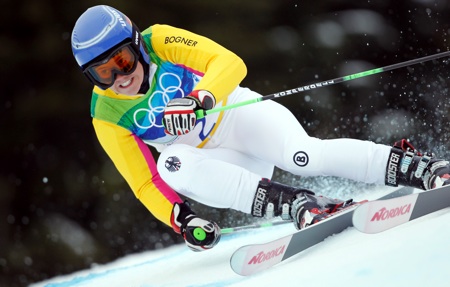 German racer and world juniors super G and GS champion Viktoria Rebensburg, who came into the run in sixth place with a 0.35-second deficit, walked away with the gold medal. Having just one World Cup podium under her belt coming into the Games, (second place in the most recent GS race in Cortina), the German won in a combined time of 2 minutes, 27.11 seconds.
Olympic super G silver medalist Tina Maze, who also took silver in last season's world GS championship, has a regular collection of that color now, finishing just 0.04 seconds behind Rebensburg.
Elisabeth Goergl, who had just a 0.02 second lead going into Thursday's second run, dropped speed at the top, got a few hundredths back in the middle, then charged the bottom where so many lost all their speed to reclaim precious tenths and her second bronze medal of these Games, 0.14 seconds back.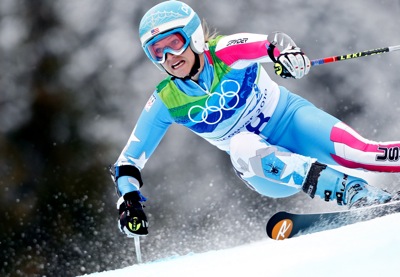 After Wednesday's drama ("Save the drama for your mama" she said on Thursday morning's Facebook post), Mancuso came out firing and dedicated her run to the late CR Johnson. She finished in the lead, held onto it for a handful of racers, but fell to eighth place when it was all said and done, with a combined time of 2 minutes, 27.66 seconds.
"I found the last hidden piece of energy in there to go lay one down," Mancuso said after the race. "I had nothing to lose."
Mancuso left the course of Wednesday's first run angry at how things were conducted when she was flagged off course after Lindsey Vonn, racing before her, crashed and Mancuso had to restart. Later, when she learned about Johnson, her friend from Squaw Valley who died at age 26 Wednesday from head injuries sustained in a fall while skiing at Squaw, Mancuso's world suddenly took on a different perspective.
"After everything yesterday, having to do two runs, and then getting home and finding out that my friend died, I remember how much fun skiing is," Mancuso said Thursday.
Sarah Schleper, racing in her fourth Games and standing out easily as the only racer toting a toddler around through the masses in the finish area, finished 14th in 2:28.36.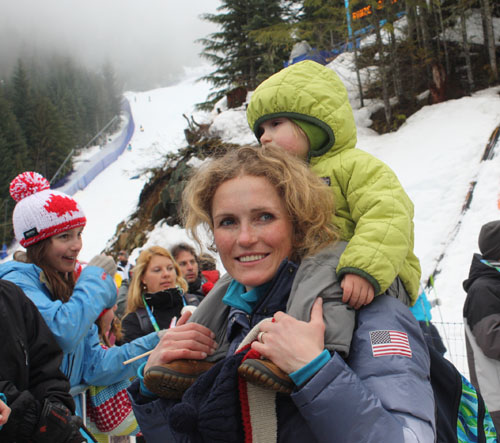 Though the weather conditions appeared the same for both runs, Schleper said warmer temperatures Thursday transformed the snow on course into the sugary soft variety, with bumps poking up underneath.
"It was softer for sure today," she said. "I skied it more like it was ice. I should have skied it like it was soft and gone straight at it."
Schleper said small mistakes before the course's two flattest sections were where she lost speed in what would have otherwise been a much faster run.
"The first interval I got totally twisted up and lost a little speed before the first flat," she said. "Coming into this last pitch I didn't arc a clean turn, I kind of skidded. So that slowed me down a lot, too."
The Vail native pointed out that taking a straight line is something she's noticed Rebensburg doing and that's what got the German the gold as several of giant slalom's top guns on the World Cup – world champion Kathrin Hoelzl, Kathrin Zettel, Tanja Poutiainen – couldn't put it together.
Rebensburg, who at 20 is the second youngest alpine skier from Germany (next to Heidi Biebl, 19, who won in 1960) to win Olympic gold and the first German woman to win in GS since Ossi Reichert in 1956, said taking risks was a key ingredient to success in the soft snow.
"If you don't take a risk you're not going to win anything," she said. "It was really, really hard [as in difficult] snow. It was risky. In the end I was able to accelerate in the last part."
Maze, who is the first Olympic alpine skier from Slovenia to win two medals, said she was prepared for the famously changing weather in Whistler.
"Since we arrived in Whistler, we have seen everything. There was snow, then rain, then a little sun … we knew the weahter was changing," she said. "I expected it all and I tried to race as I can. Conditions were really difficult today. It's great to race like this. I feel great with another silver medal. It's a big success for me and my country."
Considering the fog, the soft snow and the fact that 86 racers were on the GS start list (68 in the second run) the consent from most racers was that it was for the best that the race was split over two days, even from Goergl, who had to contemplate her first-run lead over night.
"That was no problem. It was no big deal for me," the Austrian said of the two-day format. "I was just fighting to the finish line. I was just focused on my job … and I got a bronze medal."
Megan McJames, racing in her first Olympic Games, ended up 32nd, starting after the top 30 flip having finished 31st in the first run.
"I could have skied better, but I did what I could today. The fog and conditions are warm, so that makes it bumpy, which is tough. You have to throw it down. The girls who did that were fast today," McJames said. "I think it was good experience. I have my first Olympic race under my belt."
Because Mancuso made the decision not to race in the Olympic slalom, McJames will get another experience on Friday. Vonn, who was second in the season opening slalom in Levi and Schleper, who will be gunning for a medal in her most successful discipline this season (she won two FIS slalom races in Jackson Hole a few days ago and put down a fifth in the World Cup slalom in Lienz in December) are the two racers to qualify for the U.S. slalom team . Hailey Duke, who scored slalom points in Are this season, will take the fourth spot.
Rebensburg, Mancuso and frontpage photos by GEPA
Schleper photo: Sarah Schleper and 2-year-old son Lasse check in with friends and fans after the race Thursday (SF).
- by Shauna Farnell

The SCOOP
By Hank McKee
Equipment
Women's Olympic GS, Whistler, BC, Canada, Feb. 25, 2010
Skier, skis/boots/bindings
1 Rebensburg, Nordica/Nordica/Marker
2 Maze, Stoeckli/Lange/Atomic
3 Goergl, Head/Head/Head
4 Suter, Stoeckli/Lange/Atomic
5 Zettel, Atomic/Atomic/Atomic
6 Hoelzl, Fischer/Fischer/Fischer
7 Brem, Atomic/Atomic/Atomic
8 Mancuso, Rossignol/Lange/Rossignol
9 Barioz, Rossignol/Rossignol/Rossignol
10 Riesch, Head/Head/Head
Women's Olympic Giant Slalom, Whistler, BC, Canada, Feb. 25, 2010. … It is the eighth of ten scheduled alpine Olympic races. … the fourth of five for women. … The race is held over two days with run one being completed Feb. 24. … It is the 32nd Olympic GS held.
It is the first Olympic medal for Viktoria Rebensburg and the third German Olympic medal in GS. … Markus Was Meier ('94-Lillehammer) was the most recent. … The only other German GS win was Ossi Reichert at Cortina in 1956. At 20 years, four month, 21 days she is well short of the Olympic alpine mark Laila Schou-Nilsen who won bronze at Garmisch in 1936 at age 16. … Rebensburg has never won a World Cup race but won five World Junior Championship medals, including three gold.
It is the second Olympic silver medal for Tina Maze, and the second of these Games having also won the super G Feb. 20. … Those are the only two silver medals Slovenia has ever won and the country has never claimed a gold medal in alpine racing. … Maze has not won a race this season, b
ut has been second four times, two of those at the Olympics.
It is the second bronze medal of these Olympic for Elisabeth Goergl, the other coming in downhill Feb. 17. … She has finished in the top five in three of four races. … It is the third Austrian medal of these Games, all from the women's team.
It is the ninth Olympic finish for Julia Mancuso. … It is her third best result at these Olympics and matches her best World Cup result of the season. … It is her best GS result since December of 2008.
It is the second best of four Olympic results for Sarah Schleper. … Her third best of five GS results this season. … It is the first Olympic result for Marie-Michelle Gagnon. … Her first GS result of the season. … It is the third Olympic result of these Games for Britt Janyk… her only GS result of the season. … It is the fourth Olympic result for Shona Rubens. … her best GS result of the season. … It is the first Olympic result for Marie-Pier Prefontaine. … And her second result of the seaon after a 25th in GS at Aspen. … It is the first Olympic result for Megan McJames. … She has scored in two World Cup GS races this season.
It is the best GS result in Olympic history for Lebanon for Chirine Njeim (Rowmark).