WHISTLER, B.C. – Maria Riesch, unrattled by the pressure of her first run lead among a field of possibly the strongest slalom skiers the Olympics have ever seen, smoothly tackled the second run course that slapped so many others around to finish her Olympic experience with a second gold medal.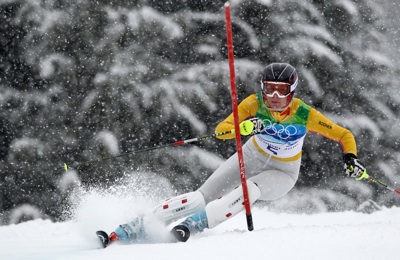 As big flakes of wet snow piled up on the course, the tall, graceful German won Friday's slalom race with a combined time of 1 minute, 42.89 seconds.
Marlies Schild put new climax on her amazing comeback season, crossing the finish line nearly a second ahead of the field, but 0.43 seconds behind Riesch for the silver medal, her third in the Olympic Games after her bronze in the Torino slalom and silver in the Torino combined.
Czech racer Sarka Zahrobska, who has struggled with knee problems the last few World Cup races, but who was second to Riesch coming into the second run Friday, ended up 1.01 seconds off the German's winning pace … enough for the bronze, her first Olympic medal and the first ever for her country in Olympic alpine racing.
Just more than a second off the pace coming into the second run and in contention for a medal, Sarah Schleper, marked with a deep gash on her chin from getting smacked by a gate in warm up that was filled with five stitches between runs, let loose her trademark roar and launched out absolutely smashing the gates in the second run. She led the field until the bottom split when she got tripped up on a flush and almost fell. Despite a miraculous recovery, the Vail native who just had her 31st birthday (Feb. 19) lost more than a second and ended up 16th.
"It happened just after the last hairpin coming into the pitch. There's a rut. I just got bounced out of the course," Schleper said, a blue egg forming under the gash on her chin. "I'm bummed. I wanted to give myeslf a chance. I would have liked to see how my time held up without a mistake. It was a pretty drastic mistake."
The 26th racer down the course in the first run, Schleper said the course then hadn't deteriorated too much and besides the one mistake, had what felt like a really fast run to conclude the race.
"I felt like I was charging up top," she said. "I felt like I was going pretty good. It's a bummer. But I'm still happy to be here. To be a part of this strong team has been a really cool. It's been a great Olympics."
Downhill gold medalist American Lindsey Vonn ended her race early, straddling a gate in the middle of the course in the first run.
"My outside ski got caught in the soft snow and I didn't make a recovery as quick as I would have liked to," she said.
While most racers – especially one of Vonn's caliber, would have departed after DNFing in the first run, Vonn stuck around and congratulated Riesch on her second gold.
"I thought because she has a brokekn finger she'd be in the lodge or wherever, not standing out here in the snow," Riesch said of her friend. "She was really nice to me. She said she's proud of me, it was nice tohave her there. It's unbelievable to get a second gold medal, and she has two medals, so I think we both had a really good Games."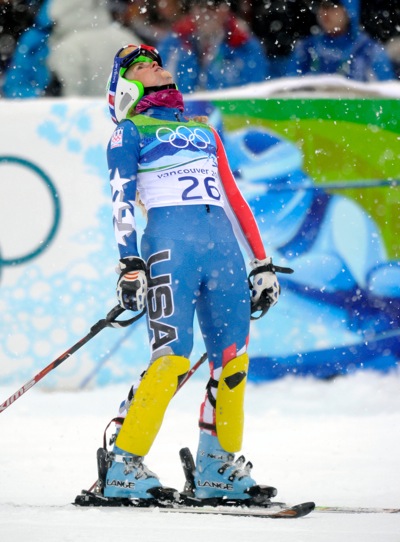 Vonn suffered a broken finger when she fell in the first run of the giant slalom Wednesday morning, but was still smiling when she walked through the finish area of her last Olympic race Friday. Though she had a very strong run in slalom last World Cup seasons with two victories, two podiums and two fourths, this season she's only finished three slalom races on the World Cup, taking second in the season opener, then eighth, then 18th immediately after fracturing her wrist in Lienz. Even though Friday's race ended earlier than she'd hoped, the American who's carried the weight of her entire country's hopes for medals going into these Games met her own expectations and got what she came here for … and more.
"I am going home happy, maybe a little more broken than before," Vonn said. "I got the gold medal that I came here for. Even though I didn't get all the medals that everyone else expected me to get, I accomplished all of my dreams, and that's what you have to keep in perspective."
Her friend's success is something she also sees in clear perspective.
"It's awesome. I'm so happy for her," Vonn said of Riesch. "She did an amazing job and to come down after the first run and really ski as well as she did under these conditions was really cool to watch."
It was clear in the second run – the final race of the women's alpine events – that none of the ladies were holding anything back.
Italian Denise Karbon came down fourth and shot nearly a second into the lead. Three racers later, her teammate Manuela Moelgg made the race more than a second faster.
Possibly the most astonishing result all day, double bronze medalist Elisabeth Goergl, who came into these Games not even planning to race slalom – her weakest discipline – shaved off another 0.34 seconds and nobody could catch her until French slalom aficionado Sandrine Aubert, a whopping 15 racers later. Goergl ended up seventh and Aubert fifth.
Swede Marie Pietlilae-Holmner held her fast pace (fifth going into the second run) but ended up just out of the medals in fourth while Susanne Riesch, fourth coming into the final leg of the race, held her lead in spite of an early stumble in the second run, but straddled a gate coming into the homestretch. Clearly upset, she sat on the snow and covered her face.
Americans Hailey Duke and Megan McJames both fought from the back field in their second runs. Duke, who started 32nd the second run ended up 30th and McJames, starting 35th, was throwing down a fast second run when she hit a bump and crashed coming into the homestretch.
Vonn said she will focus all her energy on the last two weeks of the World Cup. With one mission accomplished this season – and for life – in procuring her Olympic gold medal, the next goal is to win another World Cup overall title. Though she may be happy for Riesch's Olympic success, the next two weeks of racing will see the two going head to head. Vonn leads 1311-1174 in the Cup overall standings.
"Heck yeah … I'm ready to fight it out for the overall title," Vonn said. "You'll see me fighting 'til the bitter end."
Riesch, on the other hand, does not have the overall title so tightly locked onto her accomplishment radar.
"Another slalom title would be nice," she said Friday. "Of course the World Cup is not over yet, but the Olympic Games were the big event of this season. Now I don't think [a World Cup overall title] is too important. Two gold medals at the Olympics … nothing can be better."
- by Shauna Farnell
Photos by GEPA
The SCOOP
By Hank McKee
Equipment
Women's Olympic Slalom, Whistler, BC, Canada, Feb. 26, 2010
Skier, skis/boots/bindings
1 Riesch, Head/Lange/Head
2 Schild, Atomic/Atomic/Atomic
3 Zahrobska, Head/Head/Head
4 Pietilae-Holmner, Rossignol/Rossignol/Rossignol
5 Aubert, Fischer/Fischer/Fischer
6 Poutiainen, Volkl/Tecnica/Marker
7 Goergl, Head/Head/Head
8 Gius, Fischer/Fischer/Fischer
9 Maze, Stoeckli/Lange/Atomic
10 Zuzulova, Salomon/Salomon/Salomoon
Women's Olympic Slalom, Whistler, BC, Canada, Feb. 26, 2010. … It is the ninth of ten scheduled Olympic alpine races. … The fifth of five for the women. … It is the 33rd Olympic slalom, the 17th for women. … Race is held in a steady, wet snow with some fog.
It is the second Olympic gold medal for Maria Riesch, the other coming in super combined Feb. 18. … It is just the second Olympic gold in slalom for Germany, the other coming at Nag
ano in 1998 from Hilde Gerg, although Rosi Mittermaier won for West Germany in 1976. … It is the third Olympic gold of these Games for the German alpine team, the other coming from Viktoria Rebensburg in GS. … Riesch also won the World Championship slalom gold medal in 2009. … She won the 2009 World Cup slalom title and leads the slalom standings this season.
It is the third Olympic medal, but first of these Games for Marlies Schild. … She won silver in combined and bronze in slalom in the 2006 Games. … She also won the 2007 and 2008 World Cup slalom titles before missing the 2009 season to injury. … She recorded two World Cup slalom wins earlier this season at Lienz and Flachau.
It is the first Olympic medal for Sarka Zahrobska and the first for the Czech Republic (although Olga Charvatova won a bonze in downhill at Sarajevo in 1984 for Czechoslokavia representing the same area). … She owns a World Championship medal of each color in slalom having won gold in 2007, silver in 2009 and bronze in 2005. … She has won Cup win this season, at Aspen.
It is the third best of five Olympic finishes for Sarah Schleper. … It is her second best slalom result of the season. … Brigitte Acton matches her best Olympic slalom result. … It is the first career Olympic result for Anna Goodman. … Her fourth best of four international results this season. … It isi the first Olympic result and best international result of the season for Erin Mielzynski. … It is the first Olympic result for Hailey Duke and her third top 30 result of the season. … It is the second Olympic finish for Marie-Michele Gagnon having finished 21st in the GS Feb. 25. …
Veronika Zuzulova collects the best alpine result in Olympic history for Slovakia. … Elena Prosteva scores the best Olympic Russian slalom result. … Nevena Ignatovic scores the first Olympic slalom result for Serbia. … Maria Shkanova scores the first Olympic slalom result for Belarus. … Maya Harrisson ties the best Brazilian Olympic slalom result tallied by Hans Egger in 1992. … Cynthia Denzler scores the first ever alpine Olympic result for Columbia.