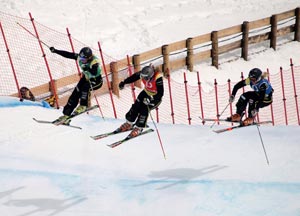 CYPRESS MOUNTAIN, BC (Feb. 21)- Swiss skier Michael Schmid became the first Olympic gold medalists in the sport of ski cross today at Cypress Mountain near Vancouver. The sunny Cypress skies shined bright on the World Cup overall leader all day long as he led the 33-man field with the fastest qualifying time this morning, he then won each of his four heats and the gold medal in the sport's Olympic debut.
"I couldn't make any mistakes at all," said Schmid who didn't see an opponent's back all day. "Sometimes over the bumps I could see a shadow. But it was a perfect day and everything went well."

The exciting final heat featured favorite, Canadian Christopher Del Bosco, who after a poor start, fought back to the bronze medal position. The bad luck that has plagued Canadian alpine skiers all season then struck Del Bosco as he went down hard on the second to last jump of the course, a feature that claimed several victims today. Austrian Andreas Matt, who closely followed Schmid the entire final run held strong for the silver medal, while Norway's Audun Groenvold took advantage of Del Bosco's mistake and cruised to the bronze medal. Matt and Groenvold's medals represent the first Olympic medals won by either country in the freestyle skiing disciplines.
"It was the best it could get. I'm more than happy," said Matt. "It was the best for that race."
After spending several minutes with medical personnel Del Bosco, a Vail, Colo. native and dual U.S./Canada citizen, skied across the finish line to claim his fourth-place finish. The audience erupted in a huge roar for the athlete that was once kicked off the U.S. Ski Team for testing positive for marijuana, but has since cleaned up his act.
"It was hard," said Del Bosco who showed up at the post-race press conference with a black eye and a cut across his nose. "I wasn't content with just third. It's alright for some people, but I wanted to give 100 percent for myself and for my country."
"I race to win and I didn't win," continued Del Bosco. "I think I would've been frustrated with second. I know what I'm capable of, I hold myself to a pretty high level, that's just who I am."
It was a bad day for North Americans across the board, as both U.S. entrants Casey Puckett and Daron Rahlves were taken out of contention in their first heats.
Puckett's sore shoulder (separated in early January) caused him to have a poor start and the 37-year-old never could build enough speed to pass on the technical course.
"It was a big factor," Puckett said of his lame shoulder. "Not that it hurt, not that it was killing me, I just didn't have the power. I'm proud of my effort, I'm proud of my run. I could have watched this from a couch but I'm here."

Rahlves, 36, who has also battled back from an injury over the last three weeks (dislocated hip), appeared to be heading to the quarterfinal round when, on the second to last jump, he tangled with French skier Ted Piccard and fell. The Tahoe, Cali. native jumped back to his feet but had lost all his speed and Sweden's Eric Iljans took the second advancing spot behind Schmid.
"I made a mistake, spreading one of the jumps too far. I rode it really tightly inside the turn," said Rahlves. "I got up as fast as I could, but I'm hurting."
Both Puckett and Rahlves will retire from ski cross after this season. What is next for Puckett? "Golf, something easier on my body," he said.
Trukee, Cali native and Jamaican representative, Errol Kerr qualified eighth and looked strong as he won his first heat. A bad start pushed him to the back of his quarter final heat and he wasn't able to play catch up behind the eventual gold and silver medalists.
"I missed the landing on the first feature and lost speed," said Kerr who had thousands of supporters watching him on TV at parties in Jamaica. "Speed is my bread and butter every time."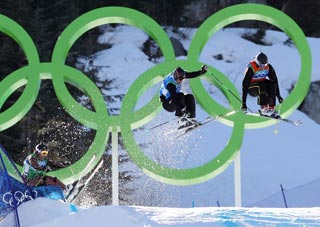 The Canadian fans (4,000 in the stands) did have reason to celebrate as third-string racer Davey Barr made it all the way to the semifinal then took second in the small final for a sixth-place finish on the day. Barr was called into action yesterday when teammate Dave Duncan's replacement, Brady Leman also came up lame. Duncan was taken off the list after injuring his shoulder while training at Cypress on Friday, Leman then re-aggravated a stress fracture in his leg after crashing while training on Saturday.

"The last 24 hours have been pretty insane. I found out after yesterday's training," said Barr who spent last night not sleeping in the athlete village. "All I got were three runs this morning and qualifiers was like a training run."

The work that went into to preparing the complicated course is apparent as all the slopes surrounding the track are bare of snow. Course workers have been working for weeks to haul in enough snow from higher elevations to build the course.
Loads of snow were brought in by truck and helicopter and larger features were constructed out of soccer bleachers and hay bails. The slim snow conditions also forced organizers to cancel almost half of the venue's tickets. More than 4,000 standing room tickets were canceled when conditions became too dangerous and officials feared people could slip through the underlying hay bales near the finish area.
Olympic freestyle action continues at Cypress tomorrow with men's aerials qualification. The ski cross women will be tested Tuesday, Feb. 23.
Click the attachment below to see the complete bracket.
Look for much more on this race and all the Olympic skiing action in our next digital issue.
Images by Gepa