Olympics: Spillane second after nordic combined jumps; Gruber leads
Tweet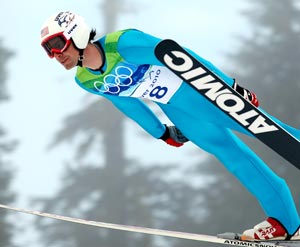 WHISTLER OLYMPIC PARK, BC (Feb. 25) – Only two days after the U.S. Nordic Combined Team took the silver medal in the team relay event, they are back at it today in the individual long hill event at Whistler Olympic Park.
This morning's jumping portion of the event saw Austria's Bernhard Gruber, part of Tuesday's gold medal winning Austrian relay team, take the advantage into this afternoon's 10km cross country race with a 134-meter leading jump.
"I had good conditions and a good jump, but I suffer for my other teammates, because they did not have such good conditions," said Gruber.
Two-time silver medalist at these Games (individual normal hill and team relay), American Johnny Spillane will be 34 seconds behind Guber in the cross country race after securing the second-best jump with 129 meters.
"I was happy with the jump," said Spillane. "Now I'm just getting geared up for the Cross-Country."
Teammate Bill Demong will be 46 seconds behind the leader as he stands in sixth after the jumps but will surely climb the ranks with his usual strong skiing.
Fellow American Todd Lodwick, who just missed the bronze medal with a fourth-place result in the first individual event, stand's 13th and will have 1 minute and 13 seconds more work to do to catch up.
World Cup Leader and winner of the first individual event, France's Jason Lamy Chappuis, stands 29th after the jump, 2:22 off the pace.
The 10km cross country race that will decide the medals will be ran at 2pm local time.
Click here for complete results.
Comments
comments