WHISTLER, B.C. – Alpine ski racers are no strangers to weather-related cancelations and postponements. This time, however, U.S. athletes are actually enjoying the down time at the Olympics … though of course they are still hoping that temperatures drop soon.
As rain poured from the sky on Saturday night, organizers and officials were very skeptical that Sunday's women's downhill training would happen. Still, U.S. coaches said most athletes would spend some time on snow Sunday and temperatures are forecasted to drop well below freezing by Sunday night.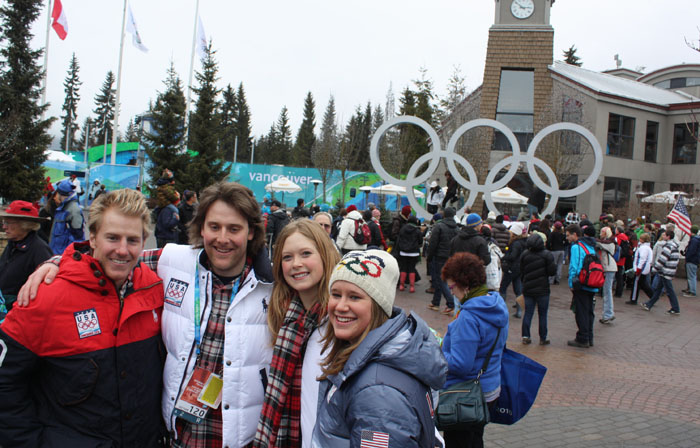 Lindsey Vonn spent Saturday baking banana bread, working out and rehabbing her shin in Whistler while others strolled around the Village soaking up the scene, unabated by the constant drizzle.
A throng of people, the majority decked out in maple leaf wear, marched around Whistler Saturday as Olympic ski jumping, biathlon and speed skating blared from jumbotrons scattered around town.
Defending Olympic super-combined gold medalist Ted Ligety strolled around taking it all in … saying it almost felt like vacation.
"The weather's been a bummer but it's no big deal, everyone has to deal with it," Ligety said. "The worst part of it is for someone like me who's competing throughout the Games, you go up to train and it's super slushy – you can stick your pole into it and it goes all the way down. That's not idea. At the same time I'm getting used to the snow a little bit and enjoying the time. Our condo's here and it's a nice atmosphere. It's almost like a little ski vacation."
Ligety spent some time slalom training Friday while some of the women's speed team managed some super G training Saturday.
"It was OK … a little soft and foggy, but it was good to get out and get your legs moving, make some turns," said Alice McKennis, who, at 20, is the youngest member of the U.S. Olympic alpine team. "The snow wasn't too great so hopefully it will change around and get some good weather. It's very wet."
Though the on-snow time has been less than expected the last couple days, McKennis is also making the most of her time – describing her Opening Ceremonies experience as "amazing" and said that nobody has been close to bored.
"There is a lot of downtime, but we've been pretty busy," she said. "Checking out Whistler Village and the Olympic Village … just checking everything out and taking it all in."
As for the snow, Kaylin Richardson was slalom training Saturday – on a lower part of the mountain where the snow was reportedly the softest – but said conditions were great thanks to salt treatment.
"It was the wet snow, but they salted it and it sat for a half hour and it hardened up. I took four runs and it was like no one else had skied on it. It was awesome," she said. "If the stars align in our favor and we could have something like that it would be amazing."
Even if things stay soggy, Will Brandenburg, hailing from Spokane, Wash., is ready.
"I know what to do with this kind of snow," he said. "I might have a little bit of an advantage if the snow is like this."
- by Shauna Farnell
Photo: Ted Ligety, Will Brandenburg, Kaylin Richardson and Alice McKennis share a moment in Whistler Village on Saturday.