Olympics: Wescott defends board cross gold medal
Tweet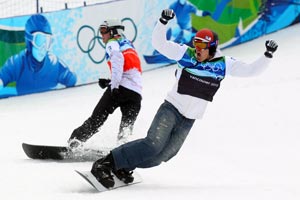 VANCOUVER (Feb. 15)- American snowboard cross rider Seth Wescott has successfully defended the gold medal he won at the sport's Olympic debut during the Torino 2006 Games. Although there were times many doubted the site of the snowboard events (Cypress Mountain), which has battled warm temperatures and months of rain, would be able to host the event, the course held up to see an excellent competition today.
Canada's Mike Robertson claimed the silver medal, while Frenchman Tony Ramoin held on for the bronze. It was the first Olympic medal for both riders.
American Nate Holland (fourth) made the four-man final big got spun around half way down the course, which features jumps, rollers, large banks and tabletops. Holland won his fifth consecutive X Games gold medal two weeks ago, ahead of Wescott in second at the Aspen event.
"The trials didn't go so well. I knew I would be fighting from the bad gate. I was in fourth. Nate went down; I reeled in Tony, drove his inside. Mike braked, and I went in," said Westcott who had some support in the stands. "My sister and my mom and my dad are all here. I ran into them on the way into the venue. So much of our competitive lives is [spent] away, and is traveling. To be able to compete in front of them is amazing."
The Sugarloaf, Maine native brought a special American flag with him for the winner's spot on the podium.
"It was my late grandfather's service flag from World War II. I brought it, I boxed it, packed it. I carried it here myself. I told my dad I'm going to need it at the finish line."
With the win Wescott became only the second person to win back-to-back Olympic Gold medals in a snowboard discipline and the fourth American Olympian to win back-to-back gold medals. He is also the oldest snowboard gold medalist at 33.
The women snowboard cross riders will have their turn at Cypress tomorrow, Feb. 16.
Comments
comments