Outtrim closes moguls season with first win; Heil, Begg-Smith take titles
Tweet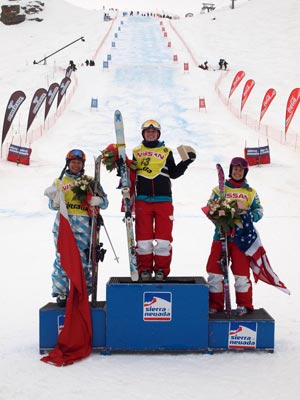 It looked like the running of the North Americans in Sierra Nevada, Spain today at the final moguls World Cup competition of the season as first-time World Cup winner, American Eliza Outtrim led the way.
"It's pretty incredible. I honestly couldn't believe it. It was so surreal for so long," said Outtrim of her victory on the brand new World Cup course. "I really did not expect this at all. I was really just hoping to get a top five, so this win is unbelievable."
Four more North American women stood in the top six even as this season's World Cup title winner and Vancouver Games silver medalist, Canadian Jennifer Heil and American bronze medalist Shannon Bahrke did not start.
American's Heather McPhie and last season's overall victor Hannah Kearney finished 3, 4 ahead of Canadians Kristi Richards and Chloe Dufor-LaPointe in fifth and sixth, respectively. Austrian Margarita Marbler took second place.
Outtrim stood third after today's qualifying run behind Olympic gold medalist Kearney in the lead and Marbler in second. With perfectly executed 360 and back lay airs and a speedy 24.40-second time, Outtrim out lasted the podium regulars with a total score of 24.38.
"The course got better throughout the day. We had bad weather and poor visibility in the morning, and by the afternoon it had cleared out and the snow got better," said Outtrim, a Steamboat Springs, Colo. native. "I came off the top air and went fairly large, and from there I tried skiing fast and I nailed my bottom air. They were probably my best two jumps this year."
Today's result marked the 24-year-old Outtrim's first career World Cup podium. She tied her previous high just last week in Are, Sweden with her second career fourth-place finish.
McPhie, who also earned her first World Cup podium earlier this season with a victory at Deer Valley, went on to rack up three more top-three results this season as well as an Olympic team berth.
"I had to dig deep after the Olympics. Being on the road since the first and being disappointed in how I did there, it was fun to finally ski how I know I can again," McPhie said. "I was psyched to lay down a top to bottom run in semis. Finals was really good. I didn't do as well as I would have liked in the bottom section but everything else about it was really good."

McPhie's best season yet earned her the runner-up spot in the overall standings behind Heil with 616 points. Kearney landed third.
"This is the best it could have gone. I was psyched to ski under pressure during the day," McPhie said. "It's so surreal. I think I was 38th or something in the World Cup last year, so it's definitely been a huge leap this year and I'm thrilled."
The strong results of the U.S. women all season long also earned them the coveted Freestyle World Cup Nation's Cup title.
On the men's side, Frenchman Guilbaut Colas grabbed his third World Cup victory of the season and some redemption after finishing sixth at the Olympic Games after qualifying first.
Vancouver Games silver medalist, Australian Dale Begg-Smith again took the runner-up spot today along with the overall title with 693 points to Colas' 615. It is the 25, year-old, Canadian-born athlete's fourth overall title. He won his previous three overall titles from 2006-2008, then suffered a season-ending knee injury last season at Deer Valley, only to bounce back with this season's globe.
Frenchman Pierre Ochs finished third today for his second career World Cup podium.
Canadian Mikael Kingsbury just missed the podium in fourth place, .09 points behind Ochs to lead the North American men. Teammate Vincent Marquis was right behind in fifth.
World Cup rookie Jeremy Cota, 21, led the U.S. men in 10th place. Joe Discoe followed in 11th while Olympic bronze medalist Bryon Wilson finished 16th. Wilson was the highest-ranking American in the overall season standings in fifth with 306 points. His previous highest-ranking season was 17th in 2008.
Defending world champion, American Patrick Deneen, who did not start today, finished the season in seventh overall with 263 points.
The U.S. moguls skiers and aerialists will now heads to Squaw Valley, California to close out the year at the Sprint U.S. Freestyle Championships March 26-28.
World Cup action continues in Sierra Nevada Saturday with the season's final men's and ski cross races.


Women's Results

Men's Results

Comments
comments