ST. MORITZ, Switzerland – Anja Paerson had wanted to make a mark at St. Moritz before the Olympics and she began on Friday, winning the women's World Cup super-combined race.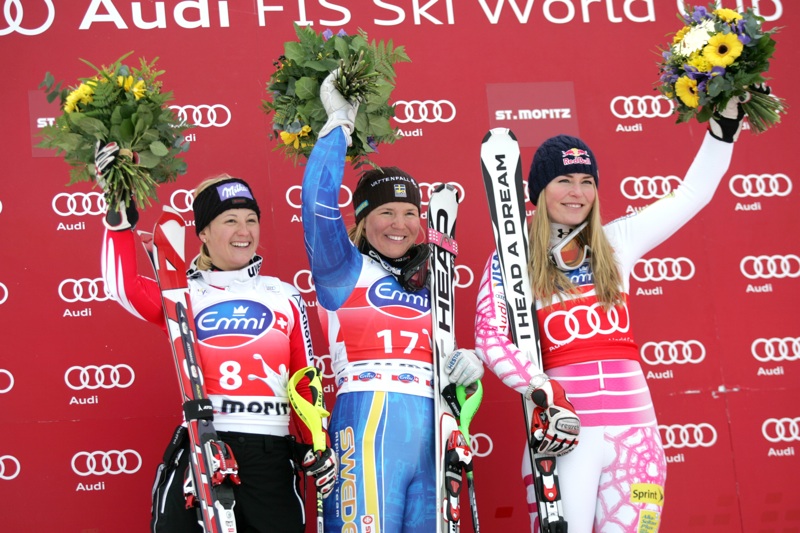 The Swede, who was ninth after the super G portion of the race and who had not won a World Cup in more than a year, was so thrilled with the victory that she threw off her skis at the finish line, made a mad dash and belly flopped into her trademark penguin slide.
Her combined time was 2 minutes, 0.54 seconds. Austrian Michaela Kirchgasser, who was 12th after the first run, was second, 0.43 back and Lindsey Vonn, second after the SG and taking things gingerly but solidly in the slalom, was third, 0.92 back.
Vonn, who has struggled in slalom since a bad crash at the end of December that left her with a deep bone bruise in her left arm, broadened her lead over Maria Riesch in the World Cup overall standings with 1166 points to Riesch's 1050. Paerson slipped into third in the standings after Friday's win with 836 points.
"I was more concentrated on making it down to the bottom and not really risking anything," Vonn said. "It's so easy in slalom to go out and a lot of the girls had problems, especially at the top. It wasn't my best run but it was solid and that's all I was hoping for."
Single, big mistakes have riddled Riesch's last few super G races. She skied off course at the end of her SG run on Friday.
"If [Maria] would have finished and been competitive in the super G, I would have risked a lot more," Vonn said. "It made it a little less stressful for me, but at the same time it's stressful because you know you have to make it down just to seize the opportunity. Things worked out for me today and I'm really, really happy with the result."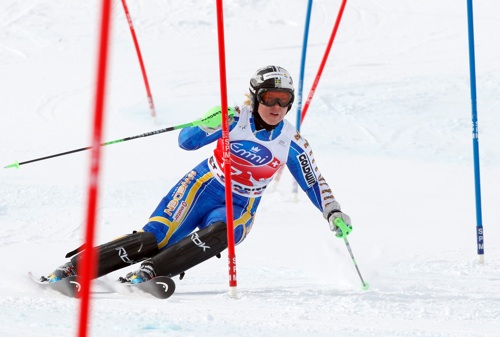 Swedish coaches set the slalom course and according to U.S. women's head coach Jim Tracy, the set was "tight," matching what Paerson and the Swedish team had been training on.

Paerson had the fastest slalom run of the day in 43.11 seconds. Elisabeth Goergl, 23rd after the SG portion of the race, was also very fast, finishing fourth (2:01.51) with a 43.13-second slalom run. Racers with tech talents certainly separated themselves. Tina Maze, who was 35th after the first run, finished eighth with a 43.29-second slalom run and Canadian Shona Rubens landed the first top 10 of her World Cup career, skiing from 29th after the first run to 10th place after putting down the fifth fastest (43.78) slalom run. Vonn's slalom run (44.85) was the second slowest of the top 10 finishers but one of the strongest she's had since her injury.

"She wanted to make sure there was a decent super G run," Tracy said of Vonn. "In the super G itself, there's parts where she really gunned it. There's parts where she just didn't gun it quite as much as she could have. It was good skiing. In the slalom she's still trying to figure things out a little bit. At the bottom she skied well. The top wasn't her style of skiing. It was a really tight course. The swedish guys set for Anja."

Julia Mancuso, who was third going into the slalom, had no big mistakes in her slalom run, but ended up 14th.

"You're not gonna get slalom back just like that," Tracy said. "It's not going to just materialize and you'll be on the podium. It takes a lot of work."

Last weekend, Mancuso mentioned that she is having problems getting her equipment dialed in. Tracy points out that this can be a time-consuming, intricate process.

"There's some thinking going on with her boot setup a little bit," Tracy said. "Getting the right setup is really important, getting the right feel. It's just not going to come together as fast as some people think it should. It's just one step at a time."

Kirchgasser had not landed on a World Cup podium since her second in the 2009 Cortina GS, and only had one previous super-combined podium to her name, dating back to 2006.

Canadian speed specialist Emily Brydon had a solid race Friday. She finished 20th after a 22nd-place finish in the SG.

Women's racing continues in St. Moritz with downhill Saturday and super G Sunday. Watch it live on universalsports.com.

"I love the course here," Vonn said. "The snow is great, it's really aggressive but really fun to ski. You can't make a mistake on this course. It's a really easy course so any mistake is going to cost you a lot of time. I'll try to have a clean run and do my best."

by Shauna Farnell

Photos by GEPA

The SCOOP
By Hank McKee

Equipment

Women's combined, St Moritz, Switzerland, Jan. 29, 2010
Skier, skis/boots/bindings
1 Paerson, Head/Head/Head
2 Kirchgasser, Atomic/Atomic/Atomic
3 Vonn, Head/Head/Head
4 Goergl, Head/Head/Head
5 Suter, Stoeckli/Lange/Atomic
6 Marchand-Arvier, Rossignol/Rossignol/Rossignol
7 Schnarf, Volkl/Tecnica/Marker
8 Maze, Stoeckli/Lange/Atomic
9 Stechert, Volkl/Tecnica/Marker
10 Rubens, Rossignol/Rossignol/Rossignol

Women's combined, St Moritz, Switzerland, Jan. 29, 2010. … It is the 24th race of the women's 33 race 2010 World Cup schedule. … It is the second of three schedule combined events. … The first of three for St Moritz. … It is the 32nd World Cup event to be held at St Moritz, 24th women's race and third combined, all women's. … No American has won a World Cup at St Moritz since Tyler Palmer won a slalom in 1971, the first season the site hosted a Cup race.

It is the 41st career win for Anja Paerson. … her first since winning the Zauchensee DH Jan. 18, 2009. … She is ranked fourth all-time among women for World Cup victories. … and second among all Swedes behind Ingemar Stenmark's 86. … It is her third combined win, the first coming at the end of 2008. … It is her fourth Cup win at St Moritz and second at St Moritz in combined the others coming in downhill and super G.

It is the seventh career World Cup podium for Michaela Kirchgasser. … her second in combined with the remainder all GS's. … It is her first podium of the season though she has six top 10 finishes including a fourth in the other combined, at Val d'Isere Dec. 18. … She is the tenth Austrian to podium this season.

It is the 59th career World Cup podium for Lindsey Vonn. … Her eighth in combined. … It is her 12th podium of the season, eight of those victories. … It is her fourth career Cup podium at St Moritz and second in combined at St Moritz. … She has yet to win at the site.

It is a career best World Cup result for Shona Rubens. … Four of her 10 career scoring results have come this season. … It is her second score at St Moritz having placed 18th in the 2006 DH. … It is the 103rd top 15 career Cup result for Julia Mancuso. … Her ninth of the season. … It is her sixth best of seven career scoring results at St Moritz. … It is the 123rd career scoring result for Emily Brydon. … Her seventh best of 10 scores this season. … It is her 13th career combined score.

Vonn pads her lead of the World Cup overall standings to 1166-1050 over Maria Riesch (DNF SG). … Paerson moves to third at 836. … Brydon is the top Canadian overall in 21st with 265pts. … Vonn maintains the lead of the combined standings 160-150 over Paerson with Kirchgasser third at 130pts. … Brydon leads the Canadians in 10th with 47pts. … Austria leads the women's Nations Cup standings 2879-2735 over Germany. … France is third at 1836 and the U.S. fourth at 1812. … Canada is ninth at 720pts.

Results:


er="0" cellpadding="1" cellspacing="0" width="100%">

Rank
Bib
FIS Code
Name
Year
Nation
Run 1
Run 2
Total Time
FIS Points
1
17
505483
PAERSON Anja
1981
SWE
1:17.43
43.11
2:00.54
0.00
2
8
55759
KIRCHGASSER Michaela
1985
AUT
1:17.68
43.29
2:00.97
4.42
3
21
537544
VONN Lindsey
1984
USA
1:16.61
44.85
2:01.46
9.46
4
16
55576
GOERGL Elisabeth
1981
AUT
1:18.38
43.13
2:01.51
9.98
5
18
515766
SUTER Fabienne
1985
SUI
1:17.50
44.63
2:02.13
16.36
6
20
196460
MARCHAND-ARVIER Marie
1985
FRA
1:17.38
44.83
2:02.21
17.18
7
9
296427
SCHNARF Johanna
1984
ITA
1:18.29
43.93
2:02.22
17.28
8
3
565243
MAZE Tina
1983
SLO
1:18.94
43.29
2:02.23
17.39
9
1
206175
STECHERT Gina
1987
GER
1:17.19
45.06
2:02.25
17.59
10
35
106666
RUBENS Shona
1986
CAN
1:18.54
43.78
2:02.32
18.31
11
6
225206
ALCOTT Chemmy
1982
GBR
1:18.12
44.29
2:02.41
19.24
12
26
55750
FISCHBACHER Andrea
1985
AUT
1:16.28
46.17
2:02.45
19.65
13
19
55947
FENNINGER Anna
1989
AUT
1:17.87
44.64
2:02.51
20.27
14
50
537545
MANCUSO Julia
1984
USA
1:17.15
45.60
2:02.75
22.73
15
28
515806
KAMER Nadja
1986
SUI
1:17.39
45.37
2:02.76
22.84
16
13
155415
ZAHROBSKA Sarka
1985
CZE
1:18.95
43.85
2:02.80
23.25
17
12
565320
FERK Marusa
1988
SLO
1:17.32
45.75
2:03.07
26.03
18
5
515849
DETTLING Andrea
1987
SUI
1:18.00
45.27
2:03.27
28.08
19
30
55806
ALTACHER Margret
1986
AUT
1:18.43
44.86
2:03.29
28.29
20
10
105997
BRYDON Emily
1980
CAN
1:18.35
44.96
2:03.31
28.50
21
29
505632
LINDELL-VIKARBY Jessica
1984
SWE
1:18.02
45.30
2:03.32
28.60
22
37
196968
BAILET Margot
1990
FRA
1:18.83
44.68
2:03.51
30.55
23
14
296008
MERIGHETTI Daniela
1981
ITA
1:19.14
44.49
2:03.63
31.79
24
47
425887
LOESETH Mona
1991
NOR
1:19.09
44.64
2:03.73
32.82
25
40
297134
BORSOTTI Camilla
1988
ITA
1:19.18
44.68
2:03.86
34.15
26
25
515997
FEIERABEND Denise
1989
SUI
1:19.02
45.01
2:04.03
35.90
27
34
515782
ABDERHALDEN Marianne
1986
SUI
1:18.94
45.10
2:04.04
36.00
28
58
465059
MIKLOS Edith
1988
ROU
1:18.58
45.58
2:04.16
37.24
29
32
205993
HOELZL Kathrin
1984
GER
1:19.22
45.03
2:04.25
38.16
30
24
206323
STIEPEL Isabelle
1990
GER
1:18.75
45.87
2:04.62
41.97
31
33
515587
PUENCHERA Jessica
1982
SUI
1:19.48
45.16
2:04.64
42.18
32
51
55766
MADER Regina
1985
AUT
1:18.47
46.24
2:04.71
42.90
33
42
485563
PROSTEVA Elena
1990
RUS
1:19.16
45.64
2:04.80
43.82
34
48
538038
MARSHALL Chelsea
1986
USA
1:18.87
45.96
2:04.83
44.13
35
49
425880
SEJERSTED Lotte Smiseth
1991
NOR
1:19.27
45.61
2:04.88
44.65
36
38
197009
GEROUDET Jeromine
1990
FRA
1:19.48
45.67
2:05.15
47.42
37
45
537582
COOK Stacey
1984
USA
1:18.23
46.94
2:05.17
47.63
38
27
55818
KOEHLE Stefanie
1986
AUT
1:18.50
47.25
2:05.75
53.60
39
54
538284
MCJAMES Megan
1987
USA
1:19.48
46.60
2:06.08
56.99
40
52
505886
KLING Kajsa
1988
SWE
1:19.49
46.77
2:06.26
58.84
41
46
155333
HRSTKOVA Lucie
1981
CZE
1:19.57
47.12
2:06.69
63.27
Did not start 2nd run
63
55970
SCHMIDHOFER Nicole
1989
AUT
62
515170
STYGER Nadia
1978
SUI
55
495318
RUIZ CASTILLO Carolina
1981
SPA
31
296729
FANCHINI Nadia
1986
ITA
23
195671
JACQUEMOD Ingrid
1978
FRA
4
538305
SMITH Leanne
1987
USA
Did not start 1st run
44
195983
ROLLAND Marion
1982
FRA
Did not finish 2nd run
61
35089
SIMARI BIRKNER Macarena
1984
ARG
57
196573
REVILLET Aurelie
1986
FRA
43
537626
RICHARDSON Kaylin
1984
USA
15
195972
AUBERT Sandrine
1982
FRA
11
515692
GRAND Rabea
1984
SUI
2
196812
PELLISSIER Marion
1988
FRA
Did not finish 1st run
60
105920
SIMMERLING Georgia
1989
CAN
59
296476
ALFIERI Camilla
1985
ITA
56
225308
THORBURN Pamela
1986
GBR
53
375018
COLETTI Alexandra
1983
MON
41
55913
MOSER Stefanie
1988
AUT
39
105269
GAGNON Marie-Michele
1989
CAN
36
205218
REBENSBURG Viktoria
1989
GER
22
206001
RIESCH Maria
1984
GER
7
55898
BREM Eva-Maria
1988
AUT