Photo finish decides Nordic Combined lg hill team gold
Tweet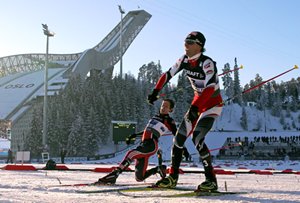 It took a photo finish to decide, but Austria won the large hill event over Germany to win both Nordic Combined gold medals at the Nordic World Championships today (March 4).
Mario Stecher edged Tino Edelmann at the line for the narrow margin of victory. Norway added a medal to their haul winning bronze.
France, which led after the ski jump, finished fourth, 51.9 seconds off the pace.
The result mirrored the small hill team competition: Austria-Germany-Norway, right down to Stecher out-sprinting Edelmann in the final leg.
The U.S. team of Bill Demong, Bryan Fletcher, Johnny Spillane and Todd Lodwick finished sixth.
Gepa image
Place
Oslo
(NOR)
Discipline
Team HS134/4×5 Km
Date
04.03.2011
Category
World Ski Championships
Race codex
4031
Gender
M
TD Name
Heilig John R. (CAN)
Rank
Bib
Name
Nation
Result
1
Austria
AUT
47:12.3
GRUBER Bernhard
KREINER David
GOTTWALD Felix
STECHER Mario
2
Germany
GER
+47:12.4
RYDZEK Johannes
KIRCHEISEN Bjoern
FRENZEL Eric
EDELMANN Tino
3
Norway
NOR
+47:52.9
KOKSLIEN Mikko
KLEMETSEN Haavard
SCHMID Jan
MOAN Magnus-H.
4
France
FRA
+48:04.2
LACROIX Sebastien
LAHEURTE Maxime
BRAUD Francois
LAMY CHAPPUIS Jason
5
Japan
JPN
+48:43.7
WATABE Akito
KATO Taihei
MINATO Yusuke
KOBAYASHI Norihito
6
United States
USA
+48:56.3
DEMONG Bill
FLETCHER Bryan
SPILLANE Johnny
LODWICK Todd
7
Italy
ITA
+49:57.9
MICHIELLI Giuseppe
BAUER Armin
RUNGGALDIER Lukas
PITTIN Alessandro
8
Switzerland
SUI
+50:17.1
HEER Ronny
HURSCHLER Seppi
HUG Tim
SCHMID Tommy
9
Czech Republic
CZE
+50:17.5
DVORAK Miroslav
SLAVIK Tomas
VODSEDALEK Ales
CHURAVY Pavel
10
Slovenia
SLO
+51:14.1
ORANIC Mitja
JELENKO Marjan
KAMENIK Joze
BERLOT Gasper
11
Russian Federation
RUS
+53:52.2
PANIN Ivan
MATVEEV Dimitry
NABEEV Niyaz
MASLENNIKOV Sergej
Comments
comments