Project X gets off to mixed Cup start
Tweet
By Peter Q. Graves
For the Utah-based U.S. jumping group known as Project X, the opening of the World Cup jumping season last weekend in Kuusamo, Finland, offered mixed results.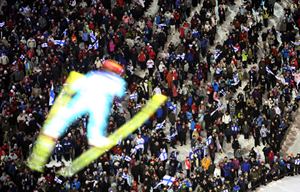 The hill at Kuusamo is good but tricky, given to wind gusts and it sure helps when you head down that in-run that you have favorable air to fly on. Updrafts are fine; they help you fly. But gusts and cross-wind at the take off can prove challenging for even the best jumper.
Nick Alexander qualified for the World Cup event, while a number of top flight flyboys – like Okabe and Malysz – failed to make the cut. In the team competition Project X jumpers finished 13th out of 14 teams, finding themselves ahead of the Ukrainne and just four points behind France.
In the individual competition Alexander finished 44th, and did not go to the final round, which is for the top thirty. Even some of the world's elite like Ahonen, Harri Olli and Kuettel caught the second round action from the sidelines.
Both Nick Alexander and Nick Fairall have gone to Lillehammer, site of the next World Cup, while the remainder of the team – Chris Lamb, Peter Frennette and Anders Johnson will go to Rovaniemi to train and await Continental Cups.
GEPA photo
Comments
comments