Puckett blogs about injured shoulder
Tweet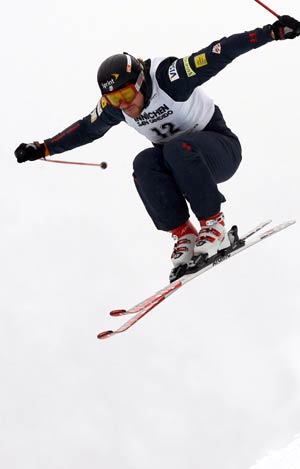 In his Universal Sports blog, American ski cross racer Casey Puckett announced today (Jan. 13) that he sustained a separated shoulder in a crash during a Jan. 10 World Cup race in Les Contamines, France.
"Two days ago I was one turn away from my first World Cup Ski Cross win when I lost my balance, got tripped up by a gate panel and found myself in yet another ugly/spectacular fall," read Puckett's blog. "The result of the fall is an AC joint separation, which means my shoulder separated from my clavicle. Clearly this is not an ideal situation 30 days before the Olympics."
The 37-year-old father of two has been racing on the ski cross World Cup since 2008 after retiring from an alpine racing career. His intriguing life story and drive to make it to the Vancouver 2010 Games was recently documented in a film titled "Appointment in Vancouver," now his Olympic future is in question.
"I have never in my life experienced such a dramatic change of fortunes in such a short amount of time," wrote Puckett.
The blog entry, released this morning, takes readers through the X-Games gold medalist's thought process as he went from the start gate, to nearly winning his first World Cup, to being on the ground watching the rest of the finalists fly by.
"I try to move and feel a sharp pain in my shoulder," wrote Puckett. "Suddenly a wave of terrible thoughts enters my mind. 'Oh my god, I think I just broke my clavicle… I'm done for the year…my run at the Olympics is over.' I sit up and look at my ski, which is almost broken in two. It was one of my fastest pairs of skis. I let out three primeval screams when I realize that I just went from the top of the world to nothing, in a tenth of a second."
Puckett flew home to the Steadman/Hawkins medical clinic in Vail, Colo. where after an MRI doctors gave Puckett some hope.

"I'm actually optimistic after talking to Dr. Millet," wrote Puckett. "He thinks I may still have a shot. I know I'm in for some intense therapy and rehab. I will be missing some races. But my dreams of a fifth Olympic appearance are still alive."
Check back for more news on Puckett's recovery.
Image by Gepa
Comments
comments