Puckett stars in documentary film
Tweet
By Eric Williams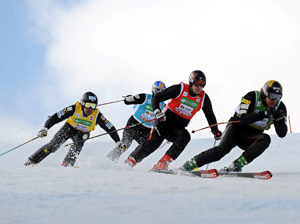 American ski cross racer Casey Puckett is a busy man. So busy, in fact, the former alpine great sets his appointments several years in advance. Now the 36-year-old, father of two is trying his hand at film making, staring in the up-coming documentary "Appointment In Vancouver."
Film crews have followed the Aspen, Colo. native on and off the course en route to his fifth Olympic appearance for the last two years, since Puckett crossed paths with the film's director Anna Christopher at a wedding on Maui in 2006.
"He sort of had a celebrity status at the wedding; everyone was excited to talk to him," says Christopher. "I got his story from a few friends and went up to talk to him. I immediately thought his story was great, that Casey is a great guy and would be a really interesting subject for a film."
Filming started three months later and tape has been rolling ever since.
While the film offers audiences all the thrilling helmet-cam footage, training shots and intensity of the all-important staring gate, it's the athlete's human side that filmmakers hope draws viewers.
"I think the thing that audiences are really going to respond to is that this is an extremely intimate documentary," says producer Seth Caplan. "We're with him in training, both on and off the mountain, right up close with Casey seeing where his technique and ability as a professional skier came from as a child, all the way through to his fifth Olympics."
Puckett's drive to not only compete at his fifth Olympics, but win a gold medal, inspired the film's producers to get his story out there.
"We were drawn to Casey's trajectory, someone with so much promise that had been to so many Olympics, but, quite frankly, had left empty handed," says Caplan. "We felt like it was someone whose story had not been fully realized yet and the best was still in front of him and the potential and drive was still there. That's why we had to tell his story."
The film also chronicles the origins of ski cross, early competitions, techniques, team dynamics and coach relationships. Filmmakers hope viewers tune in to watch Puckett in February having a deeper knowledge of his journey to get to Vancouver.
"The thing that I've learned from following Casey for a few years is what the Olympics means to an athlete," says Caplan. "In the documentary people will see that the Olympics is when your sport, the thing that you are the best at, is on a world stage and everyone is watching. That kind of exposure is very rare in life and the way people respond to that kind of pressure tells a lot about a person's character."
The film will first be released as a half-hour TV version in November, then as an hour-long DVD and online feature.
The film's producers foresee the Vancouver Games as a lunching pad for the popularity of the sport and hope to take advantage of the excitement the Olympics generate.
"The Olympics will be ski cross's chance as a sport to be on a world stage, to capture everyone's attention," says Caplan. "I believe the sport is going to break through and reach a new level of popularity worldwide and in the United States."
Click here to watch the "Appointment in Vancouver" trailer. You can also visit the film's website by clicking here.
Image by GEPA
Comments
comments