Randall, Hamilton win U.S. cross country titles
Tweet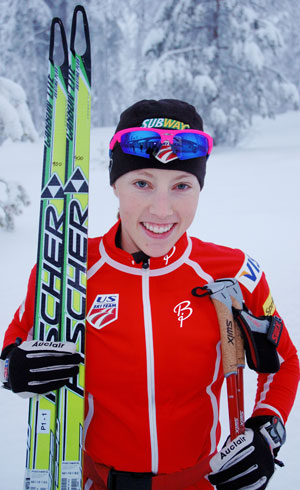 ANCHORAGE (Jan. 2) – Kikkan Randall was nothing short of a crowd pleaser Saturday as the hometown hero took the freestyle sprint title at the 2010 ConocoPhillips U.S. Cross Country Championships in Anchorage. Randall was joined on the top of the podium by Aspen's Simeon Hamilton, who took the men's U.S. title.
"It was really fun to win today. My family was here and everything. So, it was nice," said Randall of winning her 11th national title in her hometown. "It's always good to get out there, race hard and feel solid."
Joining Randall on the podium was Rebecca Dussault (Gunnison, CO) in second and Laura Valaas (Anchorage) in third.
According to the World Championship silver medalist, being able to maintain her strength in a sprint was key to her win.
"I started off with a solid qualifying round. I knew it was a sprint and anything could happen, so it was just nice to feel strong through all the rounds," Randall said.
Given her strength throughout the racing, Randall is hoping her win will provide some continuity throughout the week.
"I felt strong. I was able to control each one of my heats. Overall I think the skiing was good and I hope it will just continue to get better through the week," Randall said.
In the men's race Hamilton, a former Middlebury College All American who is now training in Sun Valley with coaches Rick Kapala and Travis Jones, led the charge to his first U.S. title. He was followed in second by Mike Hinckley (Anchorage) in second and Garrott Kuzzy (Hayward, WI) in third.
The 2010 ConocoPhillips U.S. Cross Country Championships is off to a solid start this season in comparison to 2009 when multiple races were postponed due to weather constraints.
But, according to Randall, the good weather is a chance for the fans to really get a look at Anchorage.
"Compared to where we were at this point last year, it was so much nicer. It was great for Anchorage to get to showcase what it can do," Randall said.
For info on the Cross Country Championships click here.
The racing resumes Monday with men's 15K and women's 10K freestyle.

Image by Pete Vordenberg
OFFICIAL RESULTS
2010 ConocoPhillips U.S. Cross Country Championships
Anchorage, AK – Jan. 2, 2010
Freestyle Sprint
Men
1. Simeon Hamilton, Aspen, CO
2. Mike Hinckley, Anchorage, AK
3. Garrott Kuzzy, Hayward, WI
4. Tyler Kornfield, Fairbanks, AK
5. Chris Cook, Rhinelander, WI
6. Mark Iverson, Anchorage
7. Peter Kling, Anchorage
8. Brian Gregg, Winthrop, WA
9. Leif Zimmermann, Bozaman, MT
10. Erik Bjornsen, Winthrop, WA
Women
1. Kikkan Randall, Anchorage
2. Rebecca Dussault, Gunnison, CO
3. Laura Valaas, Anchorage
4. Holly Brooks, Anchorage
5. Caitlin Compton, Minneapolis, MN
6. Beth Reid, Palo Alto, CA
7. Katie Ronsse, Anchorage
8. Ida Sargent, Orleans, VT
9. Kristina Trygstad-Saari, Bozeman, MT
10. Kasandra Rice, Anchorage
USSA Release
Comments
comments