Randall Leads U.S. in Tour de Ski Stage Seven
Tweet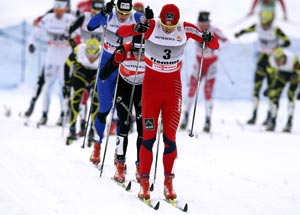 VAL DI FIEMME, Italy (Jan. 8) – The U.S. Ski Team's Kikkan Randall (Anchorage) and Kris Freeman (Andover, NH) continued their march through the Tour de Ski. Despite wax challenges in a rainy, wet round seven of the eight stage Tour de Ski. Randall was 27th and Freeman 38th in a mass start classic technique race in Val di Fiemme, Italy. Freeman and Randall are poised to become the first Americans to ski the entire tour, now in its fifth year.
Tour leader Justyna Kowalczyk won the women's 10k. In the men's 20k, Norway's Petter Northug edged by Tour leader Dario Cologna of Switzerland by 1.8 seconds. Northug, however, won several strategic bonus sprints to move with 1:18 of the tour leader with one stage remaining
Temperatures just above freezing and a cold rain made it a tough day for skis.
"We had a rough day waxing," said Cross Country Head Coach Chris Grover. "Kris was ready to have a good race but we made a critical last minute error on waxing – there's no other way to get around it. It really took him out of it in a place where's he had some success."
The 20k classic was perfectly suited to Freeman, but he struggled from the start with his skis.
"Kikkan didn't feel 100% on her game today and we also didn't hit a home run with her skis," added Grover. "But that's the ebb and flow of the Tour. On a given day, people are moving up and moving down. It's all about managing your energy day to day.
Heading into the final event, Grover was happy with the Team's debut in the Tour. "Overall it's been a really good experience for us. We've never made it this far through the tour. And everyones healthy! That's not been the case for a lot of athletes on a lot of teams. We've had good prepartion and living conditions.
"Our focus now is to see how good a race they can put together tomorrow."
Sunday's finale is the Tour de Ski's version of the Tour de France's Alpe d'Huez. The stage starts with a show lap in the Lago di Tesero stadium, then heads down the Marcialonga ski track before heading straight up an alpine hill. It's a similar course where nordic combined star Billy Demong won a year ago. While the Americans aren't battling for titles, Grover is looking for strong finishing performances for World Cup points.
Randall stands 22nd in the Tour, with Freeman 33rd. American Andy Newell (Shaftsbury, VT) dropped out after the final sprint race earlier in the week.
OFFICIAL RESULTS
Tour de Ski
Val di Fiemme, Italy – Jan. 8, 2010
Stage Seven
Men 15k
1. Petter Northug, Norway, 57:17.2
2. Dario COlogna, Switzerland, 57:19.0
3. Devon Kershaw, Canada, 57:19.4
-
38. Kris Freeman, Andover, NH, 1:05:22.7
Women 10k
1. Justyna Kowalczyk, Poland, 30:27.6
2. Therese Johaug, Norway, 30:33.9
3. Marianna Longa, Italy, 31:23.3
-
27. Kikkan Randall, Anchorage, 34:22.4
Men's Overall Standings
1. Dario Cologna, Switzerland
2. Petter Northug, Norway
3. Martin Jaks, Czech Republic
-
33. Kris Freeman, Andover, NH
Women's Overall Standings
1. Justyna Kowalczyk, Poland
2. Marianna Longa, Italy
3. Arianna Follis, Italy
-
22. Kikkan Randall, Anchorage
Comments
comments