ST. MORITZ, Switzerland – It was Maria Riesch who broke her best friend's winning streak on Saturday, putting down what looked like a flawless run in the women's World Cup downhill race in St. Moritz.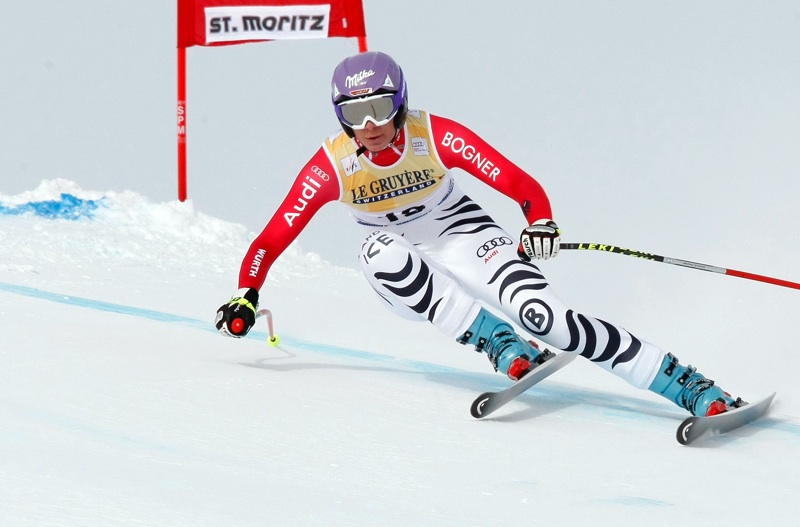 The German won handily in 1 minute, 41.31 seconds. The only racers to come within a second of her were French racer Ingrid Jacquemod, who was second, 0.79 seconds back, Switzerland's Fabienne Suter in third, 0.96 seconds back and Anja Paerson in fourth, 0.97 seconds back.
A big, left-footed turn about two-thirds of the way down the course where several racers went wide appeared to be where Vonn lost precious tenths. She ended up fifth, 1.21 seconds back. It was the first downhill race she didn't win since last February's 12th place in Bansko, Bulgaria.
"It was some pretty tough snow conditions," said U.S. women's alpine head coach Jim Tracy. "One gate caught quite a few girls. It had a pretty big, nasty hole. A bunch of girls hit that thing and couldn't make the next gate. It's where Lindsey's left ski got caught. Good thing is that she didn't get hurt."
Still, Vonn was disappointed.
"It was just really unfortunate," she said. "I knew the hole was there. I'd gotten it from the coaches and from Thomas. But when I was on-course, the light was so flat I couldn't see anything. My ski just hit it at the exact wrong place, the exact wrong time. I'm lucky, honestly to have made the course. I was pretty close to going out there."
Riesch, who has finished second or third to Vonn several times this season, had only one victory to her name before Saturday (the opening slalom in Levi) and hadn't won a downhill since 2006 in Lake Louise. Saturday's win is only the third in downhill of her entire Cup career.
"It's cool for Maria," Vonn said. "For her to come back and have the win today was really cool. I have to stay focused on the weekend. It's really important for the overall. Obviously Maria is going to be a really tough competitor 'til the end so I have to keep skiing well otherwise I'm not going to be a happy camper at the end of the season."
All in all, it was one of the best days for the U.S. Team as a whole in quite some time. In addition to Vonn's fifth, Alice McKennis, the third racer on course, put down a career best ninth place (1:42.90) and Chelsea Marshall also landed the second top 10 of her Cup career in 10th (1:43.05). Then, Stacey Cook was 12th, Leanne Smith 18th, Julia Mancuso 22nd and Laurenne Ross, wearing bib No. 46 and racing on what was visibly a deteriorated, bumpier course, came in 28th. Ross has five NorAm victories this season, but hasn't been seen on the World Cup since early this season in Lake Louise (where she finished down the line, out of the scoring results). In addition to the chattery snow on the course, the light was flat all morning Saturday.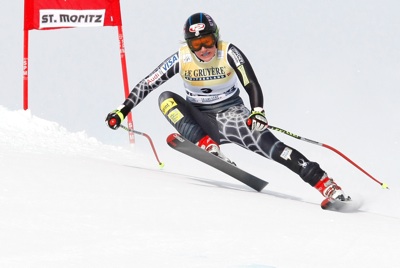 "Everyone did a really good job," Tracy said of his team. "It was tough with the snow conditions, but most of them powered through it. To have that many in the top 30 and top 10 is really great."
Vonn still leads the World Cup overall standings with 1211 but Riesch, who took a DNF in Friday's super-combined in St. Moritz, is once again closing the gap with 1150.
"It always seems to be something funny here going on at St. Moritz," Vonn said. "I haven't been able to do so well here in the past. Hopefully tomorrow I'll break that series."
The FIS Audi women's World Cup wraps up Sunday in St. Moritz with super G. Watch in live on universalsports.com.
by Shauna Farnell
Photos by GEPA
The SCOOP
By Hank McKee
Equipment
Women's Downhill, St Moritz, Switzerland, Jan. 30, 2010
Skier, skis/boots/bindings
1 Riesch, Head/Lange/Head
2 Jacquemod, Salomon/Salomon/Salomon
3 Suter, Stoeckli/Lange/Atomic
4 Paerson, Head/Head/Head
5 Vonn, Head/Head/Head
6 Recchia, Volkl/Tecnica/Marker
7 Rolland, Rossignol/Rossignol/Rossignol
8 Revillet, Salomon/Salomon/Salomon
9 McKennis, Atomic/Atomic/Atomic
10 Marshall, Dynastar/Lange/Look

Women's Downhill, St Moritz, Switzerland, Jan. 30. 2010. … It is the 25th race of the women's 33 race 2010 World Cup schedule. … the sixth of eight scheduled downhills. … It is the 33rd Cup race held at St Moritz and the 19th downhill, 12th for women.
It is the 13th career World Cup win for Maria Riesch. … her third in downhill and her first since Dec of 2006 at Lake Louise. … It is her second win of the season, the other in slalom at Levi Nov. 14. … She had been second in DH twice previously this season. …
It is the sixth career World Cup podium for Ingrid Jacquemod. … the fifth in DH. … It is her third podium of the season, second in DH. … It is the 14th French podium of the season.
It is the 11th career World Cup podium for Fabienne Suter. … Her third in DH. … It is her second at St Moritz having placed 2nd in SG in December 2008. … It is her second podium of the season having been 2nd in SG at Cortina Jan. 22.
It is the 80th time Lindsey Vonn has placed in the top five of a World Cup race. … The 13th time this season. … The seventh time at St Moritz without a win. … Vonn had not lost a DH previously this season. … It is a career best result for Alice McKennis of six career scoring results all from this season. … Five of the six have come in DH. … It is the second best career result for Chelsea Marshall topped only by an eighth in DH at Sestriere Feb. 9, 2008. … It is the seventh best of 43 career scoring finishes for Stacey Cook. … and her third best of the season. … It is the third best career and second best seasonal result for Leanne Smith. … It is the 13th time Emily Brydon has been 21st or better at St Moritz. … It is the seventh best of eight St Moritz results for Julia Mancuso. … Her 12th scoring result of the season. … It is the first career World Cup scoring result for Laurenne Ross in her third career start. … It is the first time since 2002 the U.S. had pushed seven skiers into scoring position in a downhill. … That was at Lake Louise Dec. 6 when Kirsten Clark finished third, Caroline Lalive fourth, Jonna Mendes ninth, Mancuso 21st, Bryna McCarty 25th, Libby Ludlow 27th and Kathleen Monahan 28.
Vonn maintains the lead of the World Cup overall standings 1211-1150 over Maria Riesch. … Anja Paerson (4th in race) is third with 886pts. … Brydon is the top Canadian overall in 19th with 275pts. … Vonn leads the downhill standings 545-416 over Riesch with two races remaining. … Paerson is third with 325pts. … Brydon leads the Canadians in fifth with 234pts. … Ausdtria leads the women's Nations Cup standings 2907-2895 over Germany. … France is third at 1984 with the U.S. making up ground in fourth at 1959.
Results: