HAUS IM ENNSTAL, Austria – The best part of Lindsey Vonn making yet another mark in history is that she deserves every drop of success she finds … not just because she's an amazing skier but also because she's a stand-up human being.
The other day, before the races that Vonn eclipsed in Haus, one of the major Austrian newspapers ran a prominent story saying how much of an advantage Vonn and Maria Riesch have in the speed events because of their size. It ran three large photos of Vonn, Riesch and Austrian speed skier Andrea Fischbacher, with their height and weight included. Vonn is 5′ 10" and weighs around 160 pounds, Riesch is close to 6 feet tall and weighs about 168 pounds and Fischbacher, one of the local favorites in Haus, is just under 5′ 5″ and weighs around 130.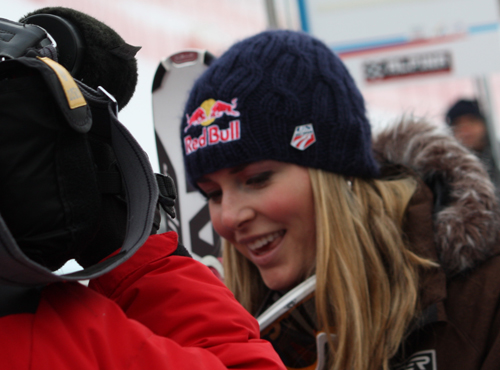 The last couple weeks have also found many of the European rags suggesting that Vonn has an unfair advantage in the speed events because she races on men's skis.
Sorry to all of you trying to find more reasons for why Vonn is so dominant, but there is only one. She's just good. Really, really good.
As for the height and weight idea, even if it works in favor of big racers like Vonn and Riesch in speed events, how do these people explain how both of these girls are so good in slalom, a discipline that much better lends itself to smaller, lighter skiers? The German slalom team, for example, is the best on the circuit and all of its top racers are tanks. Big, tall girls like Riesch and her sister, Susanne.
Even with some of this BS floating around here in Europe, Vonn – and Riesch, too – could not be more gracious. When the kids at the race finish areas never stop screaming "Lindsey!" or "Maria!" (and they don't, believe me. It was an incessant chorus after every race), both take the time - even as they're being hounded by the press – to wave at the kids and tell them they'll be over to sign autographs in a minute. When people are demanding questions of Vonn in German, she skillfully answers in kind – in German. I hope the European ski industry – press, race organizers, everyone – appreciates what a rare skill it is for an American to speak German fluently (although it doesn't serve those of us who don't speak a lick of it … maybe people see and hear Lindsey and assume all of us can casually launch into German).
Many racers who reach Vonn's star status would let it go to their heads, but not Lindsey. She is quick to return a high five and embark on what always feels way more like a natural conversation than an interview (it's better if you can catch her at a time when a million other people aren't trying to talk to her … which isn't very often around here). She always stops to say hello to people she recognizes and acknowledges the needs of people around her. She really couldn't be warmer or more approachable.
Today, while taking photos during the super G inspection, a British photographer was telling me a story about a time he did a yard sale on the inspection course – last year in Semmering – right in front of Lindsey and Thomas Vonn. It's common knowledge that during inspection racers are in deep concentration and can often be annoyed at photographers and non-racers on the course. But when this guy went down and his skis went everywhere, Lindsey went to the trouble of stopping whatever she was focused on and picking up one ski and bringing it down to him while Thomas picked up the other. Not everyone would be so nice.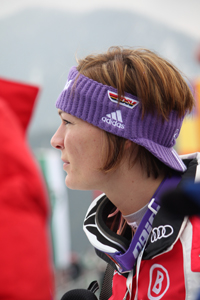 Also today, even though she was disappointed in her run and a little sad that the weekend didn't go better for her after she dominated during the tour's last stop in Haus in 2004, Maria Riesch (who won a downhill and the SG in 2004) was as nice as ever. When I asked her for an interview, she asked if she could just watch her teammate for a second. On course was giant slalom champion Kathrin Hoelzl, who Riesch said was racing in just her second World Cup super G. Riesch winced at Hoelzl's finish time – she ended up 45th – pointing out that Hoelzl is very light and small for SG (for the record, Hoelzl is one of the smallest racers out there, measuring under 5′ 4" and weighing around 125 pounds). Still, it's heartening that Riesch – like Vonn – will stop everything to support her teammates.
Probably the most touching moment I've ever witnessed in 10 years of watching ski races was at last season's world championships when Hoelzl won GS gold in Val d'Isere. Riesch was at that point (before she won gold in slalom the following day) having a very hard time at worlds. She crashed during downhill training and, shaken and in pain, still came close to medaling in super-combined with a fourth place, but finished eighth and 10th, respectively, in DH and SG. Admitting that the championships weren't going as she had hoped, Riesch cordially answered questions about how well Vonn was doing, always saying nothing but complimentary things about her friend … and biggest rival. Then in the GS, Riesch had another bad race and was second to last. However, she stuck around waiting for Hoelzl, who had only ever podiumed twice on the World Cup before worlds. When Hoelzl landed the gold, Riesch tackled her in the finish area and paraded around with Hoelzl on her shoulders as if she were her little sister. In ski racing – or in any other individual sport – it's highly unusual to be so selfless.
I had a very candid discussion with Austria's Liz Goergl the other day, and she said exactly that, that in ski racing, even if you're friends with teammates or others on the circuit, it's still every person for her or himself.
But when racers do well, you can't help but feeling that much better for them knowing that they're good people.
So as Vonn leaves Haus im Ennstal even more established as the most successful woman in American ski racing history (with four more wins she'll beat Bode as the most successful American in general), it's that much sweeter knowing she's right up there already … one of the nicest racers on the World Cup.
- Shauna Farnell
Photos: Vonn is always smiling no matter how many cameras she has in her face. Riesch watches her teammate on the SG course in Haus on Sunday.