Rolland Takes Second Consecutive X Games SuperPipe Gold
Tweet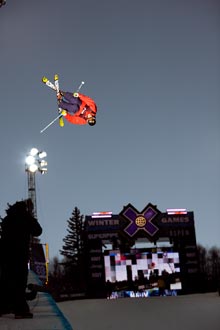 French freeskier Kevin Rolland pulled in his second consecutive X Games SuperPipe gold medal last night (Jan. 28) in dramatic fashion as he secured the winning score during his third and final run after falling in his previous two.
Like he hadn't fallen in a week, Rolland masterfully perfumed a Double 1260, an Ali-oop 360 and a Switch 900 to score a 93.66 and take the win ahead of Aspen local Torin Yater-Wallace in second place with 92.66 points.
"Greatest night of my life," said Rolland, who also took the victory in last week's Dew Tour stop in Killington, Vermont. "I won last year but this is better cause I fell on my first two runs but the last run I landed on my feet. This is crazy."
At 15-years old, Yater-Wallace became the youngest male competitor to win a medal at Winter X Games. "I don't even believe this is real," Yater-Wallace said of his silver medal performance.
Bethel, Maine native Simon Dumont's second run score of 90.33 earned him the bronze.
"I got a lower score than I expected but I feel pretty good," Dumont said. "I think I had all I needed to bring home the gold but I just didn't do it."
Skiing competition at the Winter X Games 15 continues today with the men's slopestyle final this afternoon and the skiing big air finals under the lights tonight.
Images by Nate Abbott/ESPN Images
| | | | | |
| --- | --- | --- | --- | --- |
| | Name | Bib No. | Hometown | |
| 1. | Kevin Rolland | 227 | La Plagne, France | 93.66 |
| 2. | Torin Yater-Wallace | 230 | Aspen, Colo. | 92.66 |
| 3. | Simon Dumont | 110 | Bethel, Maine | 90.33 |
| 4. | Duncan Adams | 234 | Breckenridge, Colo. | 86.00 |
| 5. | Thomas Krief | 238 | Alpe D'Huez, France | 83.33 |
| 6. | Justin Dorey | 226 | Vernon, BC, Canada | 65.33 |
| 7. | David Wise | 225 | Reno, Nev. | 56.66 |
| 8. | Xavier Bertoni | 240 | Tignes, France | 40.66 |
Comments
comments