Ruka hosting the gauntlet of Nordic events this weekend.
Tweet
By Peter Q. Graves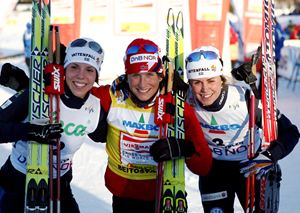 The small winter sports resort of Ruka, Finland, just 25 kilometer's north from the town of Kuusamo, will play host to a trio of nordic World Cup events this weekend, marking the only time cross-country, ski jumping and nordic combined will all be at the same venue until the Olympic Games open in Whistler.
Countless fans are expected to flock in to watch 350 athletes from more than 30 countries ski and jump. On tap will be two ski jumping competitions, a team and individual on the HS142 jump, and two nordic combined events, and finally two cross country events, a sprint event for men and women.
There will be nearly 700 volunteers who will help make this super-sized event go smoothly and abundant after-hours night clubs that play the latest tuneage with plenty of volume.
The Norwegians have come out of the gates locked and loaded winning last week's mens relay and the individual 15km with a great show put on by biathlete Ronny Andre Hafsaas. Petter Northug was fourth and John Anders Gaustad was fifth. Many were relieved to hear Hafsaas say that he preferred to try and make Norway's Biathlon team. France's Vincent Vittoz was a strong second.
While the Swedes took top honors in the women's relay, led by Charlotte Kalla, Kalla finished second to Norway's Marit Bjoergen on the 10km skate. Anna Haag of Sweden was third, while a pair of Norwegian's took fourth and fifth respectively with Kristin Stoermer Steira and Vibeke Skofterud.
Finland will rest many nordic hopes on Matti Heikkinen in cross-country, the returning jumping wonderkind Janne Ahonen and Harri Olli. The xc women of Finland feature great depth with Aino-Kaisa Sarrinen, Riitta-Liisa Roponen. In combined Hannu Mannaninen returns following a period of retirement and they also have last year's World Cup winner in combined Anssi Koivuranta. The cheering crowds will likely be on their side on home snows.
The U.S. Nordic Combined team will not compete in Finland this weekend, but will join the tour on stop three in Trondheim, Norway. The U.S. cross-country squad will be headlined by Kris Freeman and Kikkan Randall along with top sprinters including Randall and men Andy Newell and Torin Koos.
Canada in cross-country will be led by Sara Renner and Devon Kershaw. Remember how well the men from Canada did in the relay at Liberec, with Babikov, Harvey, Grey and Kershaw finishing fifth. 26-year-old Graham Nishikawa is also on hand.
Canada's greatest hope in combined currently rests with Jason Myslicki.
Japan will have improving skiers in the cross country and a team that won the world championships title last winter at nordic worlds in a dramatic sprint to the finish in Liberec and several outstanding ski jumpers.
Austria will feature the return of 33-year-old Felix Gottwald, who had two gold medals in Torino in combined and a strong jumping team, with young sensation and World Cup title holder Gregor Schlierenzauer. The great flyer set a new record last year in the numer of wins in a season with 13, plus an additional 10 podium finishes. He is sided with abundant talent including Wolfgang Loitzl who won the Springer Tournee last winter and Olympic champion Thomas Morgenstern.
In ski jumping Norway will feature Anders Jacobsen with a strong team and the always solid combined skiing of Magnus Moan and Petter Tande.
World Cup title holders Dario Cologna, the Swiss xc skier is still coming back from Fall injuries to his hamstring, while Polish skier Justyna Kowalczyk and Slovenia's Petra Majdic, who is a terrific sprinter, will fight off Italian Arianna Follis.
Finally, as we in the U.S. celebrate the wonderful holiday of Thanksgiving to honor what's important in life; family, friends and those dear to us. Be grateful for what we have been given. In our 24/7 world news cycle, electronic this and that, I plan on turning the cell off and promise not to call, either coach or athlete no matter what happens. Take a moment to remember the richness and friendships of our sport.
Photo of women's podium, from left Charlotte Kalla, Marit Bjoergen and Anna Haag by GEPA
Comments
comments