Schirman named U.S. freestyle director
Tweet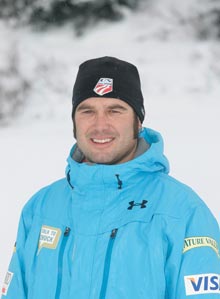 PARK CITY, UT (July 8) – Former U.S. Ski Team athlete and coach Todd Schirman has been named freestyle program director for the U.S. Ski and Snowboard Association. After coaching the U.S. Freestyle Ski Team's moguls squad for the last four years, Schirman will expand his field, working directly with organization's moguls and aerials programs.
"Todd has been successful at every level of the sport, as a World Cup athlete, a club leader, and as an Olympic coach in a program that had huge success in Vancouver," said USSA Vice President, Athletics Luke Bodensteiner. "With excellent relationships, and a high degree of respect throughout the freestyle community from local-program volunteers to our elite athletes, Todd will bring great performance-based leadership to our team."
Schirman brings a great wealth of knowledge about the sport of freestyle. He has been involved in the freestyle and the skiing industry since a very young age. He competed in domestic events until eventually being named as a member of the U.S. Ski Team competing on the World Cup tour.
He made a successful jump from athlete to program director for the Park City Freestyle Team before making the switch to U.S. Ski Team coach where he received USSA's 2007 International Coach of the Year Award. At the Olympic Games in Vancouver he received an Olympic Order of Ikkos award presented by medalist Shannon Bahrke. He also acted as assistant and chief of course for over 17 events spanning from NorAms to the 2002 Winter Olympic Games in Salt Lake City.
Schirman's freestyle background provided the skill and passion to excel as the director of the Park City Freestyle Team and as a U.S. Ski Team moguls coach. According to Bodensteiner, his experience in these previous positions allows him to bring a fresh and positive outlook to the Team and make better decisions based on the many different perspectives he's encountered in freestyle.
His entrance into this position comes at a perfect time to maximize preparations for the Olympics in Sochi and to capitalize on the success of the Team in Vancouver.
"We are taking advantage of our Olympic success in Vancouver, looking for new ideas to grow awareness for our sports and athletes," said Schirman. "One of my main priorities will be the continuing development of communication to our clubs in the domestic program, this is essential in the development of new talent."
"This is an exciting time for U.S. freestyle skiing," said Schirman. "As freestyle director, I will focus on the support system that will take us into the next generation of U.S. Freestyle Ski Team athletes."
Schirman, who lives in Park City, started his new position July 1.
Image by Brian Robb/USSA
Comments
comments