Schlierenzauer grabs two ski jumping titles
Tweet
By Peter Q. Graves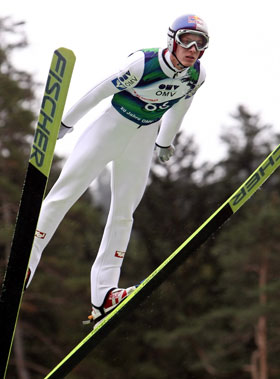 After several weeks of declaring national championship titles, the Austrians finally held their own last weekend. Most, ski fans would not be hard pressed to come up with the winning lotto ticket on this one; Gregor Schlierenzauner.
Both day's of competitions were held at the famous Innsbruck-Bergisel Jumping complex that towers over the city of Innsburck, with both normal and large hill events.
The 19 year-old Schlierenzauer won the day one event with leaps of 109.5 m and 118 meters, good for 267.0 total points. Andreas Kofler was second with 250 points while the rebounding Thomas Morgenstern was third and Davide Zauner fourth.
Daniela Iraschko scored 238.2 points to take the women's crown, while Jacqueline Seifriedsberger was second and Katharina Keil was third.
On the big hill last year's overall FIS World Cup winner did it again, with jumps of129.5 and 125m, for total points of 259.6. On this day, the former darling of Austria's flying eagles relegated last season to a rather dismal year, Thomas Morgenstern was second with 246.6 points. Andres Kofler was third with Stefan Thurnbichler fourth.
Schlierenzauer told reporters after the competition that "winning these two championships is a big success for me and confirmation of the work during the past months. The world cup is right around the corner….fortunately, I have no big worries in view of the winter and can concentrate on fine tuning."
Afterward Kofler said, " For me this weekend was an important confirmation. I jumped really well in training recently, but to show in in competition, that's a different story."
Comments
comments