Schlopy, Segal become first slopestyle World Champions
Tweet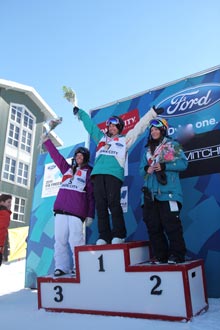 They were all World Championship rookies today (Feb. 3) as the inaugural skiing slopestyle event was held at the FIS Freestyle World Championships in Park City, Utah. American Alex Schlopy and Australian Anna Segal made history as the discipline's first gold medalists.
As IOC officials looked on, the world's best thrill seeking skiers took to the Park City Mountain Resort course to prove their sport belongs on the schedule at the 2014 Sochi Games.
Schlopy, a Park City local, came home hot off of his Big Air win at last weekend's Winter X Games to made a great argument to earn a trip to Russia. He took the men's win with a 41.80-point score on his second run of a best-of-two-run format.
Schlopy, who was a gymnast as a child, was joined on the podium by U.S. teammate Sammy Carlson (last weekend's slopestyle X Games winner) in second,.30 points behind Schlopy. Top qualifier, Australian Russ Henshaw earned the bronze medal with a 41.20-point second run.
"Being able to do well in my home town at a big event like this is the best thing I could ever ask for," said Schlopy, who laded a huge double cork 1260 of the final jump of the course. "My fist run I was still really tired but my second run was like 'alright, it's time to lay it down and not be so sloppy.'"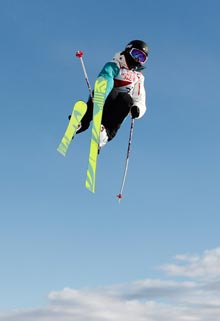 "This is one of the fastest, most progressive sports out there, people love it," said Scholpy whose mother Holly Flanders is a two-time Olympian and three-time World Cup downhill winner. "It's so fun to watch that I think it would be a big hit at the Olympics."
Norway's Thomas Dolplands just missed the medals in fourth with 40.60 points.
Segal scored a 43.40-point winning run in her first run and held on for victory.
"It's definitely a different feeling, the X Games has always been the biggest event in free-skiing so far but this is a new event and it's more fulfilling in term of representing my country rather that just skiing as an individual," said Segal of the sport's Worlds debut. "With this event I really feel a camaraderie with the other freestyle athletes, everyone is here to support each other, so it's good to have a support base."
Canadian Kaya Turski, slopestyle X Games gold medalist, kept her medal streak alive with the silver medal today, scoring 41.70 points in her first run. American Keri Herman took the bronze medal, scoring 41,00 points on her second run.
"I stepped up my rails from yesterday," said Herman, who grabbed an X Games silver medal last week after getting into freeskiing in college. "I'm just supper psyched that I stomped a run and it was my best skiing."
World Championship competition continues tomorrow afternoon with men's and women's ski cross final and men's and women's aerials finals tomorrow night.
Canadian Kim Lamarre just missed the podium in fourth place followed by Americans Devin Logan in fifth and Ashley Battersby in sixth.
Men's Results

Rank
Bib
FIS Code
Name
Year
Nation
Result
Level
Points
1
7
2529239
SCHLOPY Alex
1992
USA
41.8
1000.00
2
6
2529241
CARLSON Sam
1989
USA
41.5
800.00
3
2
2485280
HENSHAW Russell
1990
AUS
41.2
600.00
4
48
2529130
DOLPLADS Thomas
1989
NOR
40.6
500.00
5
50
2529155
WESTER Jacob
1987
SWE
37.7
450.00
6
27
2529242
STRENIO John
1989
USA
37.3
400.00
7
44
2526267
AURDAL Aleksander
1988
NOR
37.1
360.00
8
31
2526922
WOODS James
1992
GBR
35.0
320.00
9
40
2528724
HUNZIKER Jonas
1994
SUI
34.9
290.00
10
53
2528863
KENWORTHY Gus
1991
USA
19.5
260.00
11
24
2529185
TUDOR-OLDS Dane
1989
AUS
37.7
240.00
12
3
2528726
AMBUEHL Elias
1992
SUI
37.2
220.00
13
38
2525940
WELLS Josiah
1990
NZE
36.5
200.00
14
37
2526841
WELLS Byron
1992
NZE
36.0
180.00
15
25
2529222
IRVINE Jamieson
1995
CAN
35.2
160.00
16
52
2526435
HARSHEIM EIDSVOLD Elvis
1991
NOR
35.1
150.00
17
26
2485264
KEMPPAINEN Antti-Jussi
1989
FIN
33.0
140.00
18
35
2526436
KOSKELAINEN Henri
1989
FIN
32.9
130.00
19
28
2529181
KITTLER Roy
1988
GER
32.1
120.00
20
47
2484400
COSCO Ian
1987
CAN
32.1
110.00
21
54
2528790
MCDOUGALL Hamish
1990
NZE
31.5
100.00
22
18
2527405
JORDAN DAVID Scott
1993
AND
31.1
90.00
23
13
2528996
DALECKY Roman
1985
CZE
29.5
80.00
24
16
2528807
JOHNSON Matt
1990
NZE
28.7
70.00
25
34
2529193
GEIGER Sebastian
1992
GER
28.1
60.00
26
14
2527180
HEARD Max
1992
CAN
26.1
50.00
27
43
2529154
SAKKINEN Sami
1991
FIN
26.0
45.00
28
51
2529223
PHAM Zhachary
1993
GBR
25.9
40.00
29
32
2526205
ZALOHAR Bine
1986
SLO
25.4
36.00
30
39
2529221
LANGE Julien
1991
FRA
25.4
32.00
31
20
2528999
HOLUB Robin
1990
CZE
25.3
28.00
32
45
2529182
TRITSCHER Tobias
1990
AUT
24.3
26.00
33
23
2529209
GEYER Florian
1989
GER
24.0
24.00
34
22
2529168
STUDER Fabio
1986
AUT
23.6
22.00
35
46
2529072
HANNESBO JOERGENSEN Dennis Dyg
1989
DAN
22.3
20.00
36
12
2529071
JOERGENSEN Rasmus Dalberg
1988
DAN
22.2
19.70
37
10
2528214
SCHNEIDER-CLARK Jaeden
1993
CAN
21.2
19.40
38
55
2529115
SCHERLIN Oscar
1991
SWE
19.7
19.10
39
42
2528998
TARABA Filip
1988
CZE
16.0
18.80
40
9
2526262
BRANDT OLSEN Hans-Jakob
1986
DAN
11.0
0.00
41
33
2478189
MAYR Benedikt
1989
GER
10.2
0.00
42
41
2529036
LOVKO Matic
1993
SLO
7.6
0.00
43
29
2529153
RONKAINEN Jarkko
1991
FIN
6.9
0.00
Did not start
2527732
FINNE Klaus
1990
NOR
2529136
MATTHEW Andrew
1990
GBR
2424548
KRIEF Thomas
1993
FRA
Women's Results

Rank
Bib
FIS Code
Name
Year
Nation
Result
Level
Points
1
7
2345395
SEGAL Anna
1986
AUS
43.4
1000.00
2
12
2529233
TURSKI Kaya
1988
CAN
41.7
800.00
3
5
2529231
HERMAN Keri
1982
USA
41.0
600.00
4
2
2529234
LAMARRE Kim
1988
CAN
39.1
500.00
5
1
2527818
LOGAN Devin
1993
USA
36.8
450.00
6
6
2529211
BATTERSBY Ashley
1988
USA
35.9
400.00
7
8
2529131
ELIASSEN Grete
1986
NOR
34.1
360.00
8
16
2529125
SJAASTAD CHRISTIANSEN Tiril
1995
NOR
32.3
320.00
9
4
2529240
OLENICK Megan
1987
USA
31.1
290.00
10
24
2529244
WARLL Jessica
1988
CAN
260.00
11
20
2529086
SUMMERHAYES Katie
1995
GBR
28.8
240.00
12
9
2529151
BAGGE Maria
1986
SWE
28.5
220.00
13
19
2529152
DAHLSTROM Emma
1992
SWE
27.9
200.00
14
21
2529119
SLEPECKA Natalia
1983
SVK
27.0
180.00
15
23
2529194
SCHOEPF Caja
1985
GER
24.4
160.00
16
11
2529183
STOFFEL Lena
1984
GER
24.2
150.00
17
25
2528791
AUSTIN Mikayla
1993
NZE
21.5
140.00
18
13
2529128
RUSTEN ANDERSEN Nina
1988
NOR
21.5
130.00
19
18
2528740
BATTERSBY Rose
1993
NZE
9.5
0.00
Did not start
2529235
RAYMOND Maude
1987
CAN
Comments
comments