Second Straight Cross Country World Cup Podium for Randall
Tweet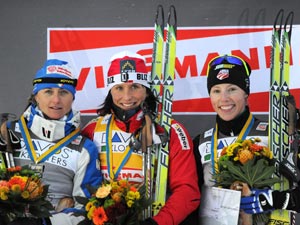 DAVOS, Switzerland (Dec. 12) – The U.S. Ski Team's Kikkan Randall (Anchorage) turned in another top result in the Davos World Cup individual sprint finishing third and leading the U.S. in performances Sunday. It was the second straight podium finish for Randall, who was second in the Duesseldorf, Germany city sprint a week earlier.
Three Americans made it through qualifying to the quarterfinal heats. Andy Newell (Shaftsbury, VT) qualified fourth and Simi Hamilton (Aspen, CO) 11th.
Marit Bjoergen of Norway continued her hot streak, playing another strong hand to take the win. She narrowly edged out Italian sprinter Arianna Follis. U.S. Ski Team Head Coach Chris Grover knew it would be a good day for Randall, coming off her podium performance in Duesseldorf.
"Anytime she can qualify within the top 10, I know she'll be a contender," said Grover.
Randall went head-to-head with Polish skier Justyna Kowalczyk in the quarterfinals, winning by four-tenths. Kowalczyk would go on to become Randall's nemesis in each of the heats. In the semifinals, Randall beat the Polish skier again, but by only one-tenth.
In the finals, Kowalczyk beat Randall across the line for third, relegating the American to a spot just of the podium. Kowalczyk, though, drew an immediate penalty, relegating her back into sixth.
"It was a totally unnecessary lane change by her," said Grover. The Polish team is currently considering appeal.
"She came right over the top of me, pushing me almost to the fencing," said Randall. "It was frustrating because I thought I could really fight for second. It was an aggressive move. But that's the way sprint racing goes sometimes."
In the men's sprint Newell lead the U.S. in 13th , while Sweden's sprint star Emil Joensson took the victory over Russian sprinter Alexei Petukhov. Local Davos favorite, and still overall World Cup leader, Dario Colona was third. Italian newcomer Federico Pellegrino opened eyes with his number one qualifying time, which brought him all the way to the final heat.
Newell led much of his quarterfinal heat before getting nipped at the line. Grover said that the difference between second and third was about a quarter of a boot length.
"I don't have a whole lot to say about today's race because it was another unexpectedly short day for me," said Newell. "I felt great and strong warming up, during the qualifier and also in the quarterfinal. The pace was no problem. I came into the finish straight ready to sprint and when we lunged I thought for sure I got it, but then the replay came on the big screen and Scola must have outlunged me by a centimeter. So it was a bummer, especially because I am feeling so good."
Grover said Hamilton's finish was very encouraging. "He was a big story today for us, " said Grover. "In only his fifth World Cup race, he finished fourth in the quarterfinal and that was fantastic for him. He just needs more time and experience."
Next up for the U.S. Ski Team will be a Dec. 18-19 World Cup in La Clusaz, France, the cross country site for the French candidate (Annecy) for the 2018 Olympic Winter Games. The U.S. squad will travel to France on Wednesday, taking advantage of the good snow conditions in Davos for more training.
Fans can follow the U.S. Cross Country Ski Team on Facebook at facebook.com/ussa.nordic.
OFFICIAL RESULTS
FIS World Cup
Davos, Switzerland
December 12, 2010
Men's Sprint
1. Emil Joensson, Sweden
2. Alexei Petukhov, Russia
3. Dario Cologna, Switzerland,
4. Fulvio Scola, Italy
5. Nikolay Morilov, Russia
-
13. Andy Newell, Shaftsbury, VT
16. Simi Hamilton, Aspen, CO
66. Chris Cook, Rhinelander, WI
74. Kris Freeman, Andover, NH
Women's Sprint
1. Marit Bjoergen, Norway
2. Arrianna Follis, Italy
3. Kikkan Randall , Anchorage
4. Petra Majdic, Slovenia
5. Astrid Jacobsen, Norway
-
57. Elizabeth Stephen, E. Montpelier, VT

For complete results: www.fis-ski.com
Comments
comments