Shouldice, Cheng take Worlds Aerials titles
Tweet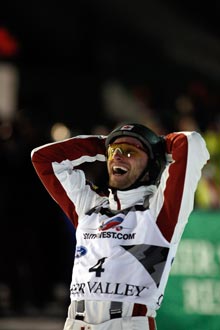 The world's best aerialists took to the skies tonight (Feb. 4) at the 2011 FIS Freestyle World Championships in Deer Valley, Utah tonight in front of a crowd of thousands. Canadian Warren Shouldice and Chinese Cheng Shuang took home the gold medals.
Cheng scored a combined score of 188.40 after two jumps to take the win ahead of teammate Xu Mangtao in second with 188.23 points. Ukrainian jumper Olga Volkova rounded out the podium in third with 178.59 points. Mengtao also won a silver medal at the 2009 Worlds.
"This is very exciting, I'm very satisfied with this result," said Cheng. "I was glad to be the third Chinese girl to win a World Championship, it's very good for us. This is the best hill in the world. Every time I come here I get a good result, I love it here."
Americans Ashley Caldwell and Emily Cook finished fourth and seventh, respectively.
"My first jump was sweet, I was really happy with it. I stayed straight and landed and it was awesome," said an energetic Caldwell, who won her first World Cup two weeks ago in Lake Placid. "My second jump wasn't as good but I got business done."
Cook was the top qualifier and held the lead after the first round of final jumps. A slight mistake during her second jump forced her to slap her back on the landing.
"It's a really challenging sport and that's why we love it. Every jump counts and I had great jumps until that last one," said the 13 year U.S. Ski Team veteran on her sixth trip to Worlds. "Unfortunately it cost me the good finish that I wanted."
Shouldice secured the men's victory after performing the highest scoring jump of the night with a 139.50 leap on his second attempt. He took the win with a combined score of 253.66. Current World Cup overall leader, China's Qi Guangpu earned the silver medal with a 250.95-point score ahead of Belorussian Anton Kushnir in third with 249.63 points.
Shouldice had to fight from behind after finishing the first round of jumps in seventh place.
"Obviously I was pretty far behind after my first jump I knew these two put up some big scores and to be honest, I was hoping to maybe put a little pressure on them and maybe squeak in for third, but I had the jump of my life and was able to just beat these guys," said, Shouldice, who counseled with his sports psychologist between jumps. "I just tried to keep my head in the game and I knew that if I landed a good jump anything could happen."
World Championship competition continues tomorrow with ski halfpipe competitions in the morning and dual moguls in the afternoon.
Image by Gepa
Women's Results

Rank
Bib
FIS Code
Name
Year
Nation
Result
Level
Points
1
2
2438807
CHENG Shuang
1987
CHN
188.4
1000.00
2
1
2526230
XU Mengtao
1990
CHN
188.23
800.00
3
3
2406021
VOLKOVA Olga
1986
UKR
178.59
600.00
4
11
2526863
CALDWELL Ashley
1993
USA
173.73
500.00
5
17
2529016
KONG Fanyu
1993
CHN
168.80
450.00
6
8
2416400
ZHAO Shanshan
1987
CHN
161.05
400.00
7
10
2180102
COOK Emily
1979
USA
159.15
360.00
8
12
2484885
POLYUK Olga
1987
UKR
157.33
320.00
9
15
2485033
HUSKOVA Hanna
1992
BLR
152.99
290.00
10
16
2526217
LEE Crystal
1988
CAN
143.36
260.00
11
18
2527930
PEEL Laura
1989
AUS
142.19
240.00
12
7
2484528
SCHAERER Tanja
1989
SUI
118.80
220.00
13
20
2526676
AINSWORTH Sarah
1985
GBR
121.56
200.00
14
9
2379055
DIDENKO Nadiya
1986
UKR
121.42
180.00
15
13
2526216
GUERIN Sabrina
1985
CAN
110.45
0.00
Did not start
2192518
TSUPER Alla
1979
BLR
Men's Results

Rank
Bib
FIS Code
Name
Year
Nation
Result
Level
Points
1
4
2304166
SHOULDICE Warren
1983
CAN
253.66
1000.00
2
1
2526229
QI Guangpu
1990
CHN
250.95
800.00
3
5
2193294
KUSHNIR Anton
1984
BLR
249.63
600.00
4
3
2330841
ULRICH Renato
1983
SUI
244.34
500.00
5
25
2360140
OSIPAU Denis
1983
BLR
240.8
450.00
6
20
2525948
GERRITS Travis
1991
CAN
230.45
400.00
7
6
2472951
ABRAMENKO Oleksandr
1988
UKR
227.12
360.00
8
12
2330938
HAECHLER Christian
1983
SUI
226.90
320.00
9
21
2074178
KRAVCHUK Stanislav
1978
UKR
193.95
290.00
10
14
2192615
ABLAEV Enver
1979
UKR
187.13
260.00
11
9
2484526
GUSTIK Maxim
1988
BLR
178.1
240.00
12
33
2485223
BROWN Nevin
1989
USA
163.61
220.00
13
23
2484953
ANDRE Jean-Christophe
1989
CAN
211.06
200.00
14
15
2485099
MORRIS David
1984
AUS
209.76
180.00
15
16
2526057
BELANGER Remi
1987
CAN
204.03
160.00
16
32
2527534
BUROV Ilya
1991
RUS
203.41
150.00
17
11
2306688
ISOZ Andreas
1984
SUI
202.97
140.00
18
26
2527536
KROTOV Pavel
1992
RUS
201.45
130.00
19
24
2529015
ZHOU Hang
1993
CHN
200.33
120.00
20
8
2438904
WU Chao
1987
CHN
199.03
110.00
21
7
2263813
ST ONGE Ryan
1983
USA
193.26
100.00
22
10
2312217
LAMBERT Thomas
1984
SUI
189.18
90.00
23
13
2398843
BAHRKE Scotty
1985
USA
189.13
80.00
24
30
2527790
MEDULICH Petr
1991
RUS
181.31
70.00
25
17
2343160
FERGUSON Dylan
1988
USA
180.51
60.00
26
22
2416788
LI Ke
1985
CHN
177.09
50.00
27
28
2485224
DEPETERS Matthew
1987
USA
136.40
45.00
28
27
2484608
DOBRANSKY Roman
1992
CZE
126.60
0.00
29
29
2064090
GETTY Clyde
1961
ARG
85.80
0.00
Did not start
2526134
LYSIANSKYI Sergii
1985
UKR
Comments
comments