Ski Cross: Schimd, Holmlund win final World Cup; David seals title
Tweet
Like she's done the past six consecutive years, French ski cross racer Ophelie David clenched the overall title today (March 19) with a second-place result at the season's final race in Sierra Nevada, Spain. Though it was his weeks ago, Switzerland's Michael Schmid was awarded the men's overall globe today following his season-closing victory. Sweden's Anna Holmlund took today's victory in the women's race as well as a third-place overall ranking.
Today's races, originally scheduled for tomorrow, were pushed up a day due to poor weather forecasts.
The real story of the day was in the women's overall standings. Since winning an Olympic gold medal at the sport's debut at the Vancouver Games, Canadian Ashleigh McIvor has been threatening to dethrone David and take the overall title – something no one has been able to do since 2003. McIvor was 73 points behind David coming into today's race, meaning a win by McIvor and anything less than a ninth-place finish for David would have put the globe in the 26-year-old Canadian's hands.
Though she had a bad day at the Olympics (fell during her quarterfinal heat) David, the reigning four-time X Games gold medalist, had her eyes on the prize as soon as she landed in Spain. The 33-year-old mother of one put down the fastest qualifying time and won each of her heats until falling behind Holmlund in the final. Today's second-place result scored David her final 80 points bringing her season total to 735.
After qualifying third, McIvor fell in her quarterfinal heat, landing in 10th today and falling 127 points behind David to end the season in the runner-up spot with 608 points. Her previous best overall result was fifth last season.
Holmlund amassed 522 points this season to claim third place overall. The 23-year-old has been a quick study in this her first year on the ski cross World Cup circuit. She grabbed four wins this season, including victories in the last two races.
Norway's Marte Hoeie Gjefsen, another World Cup rookie, pulled in today's third place honors for third career podium.
Canadian, Kelsy Serwa (ninth today) finished the season in fourth overall with 487 points and three victories.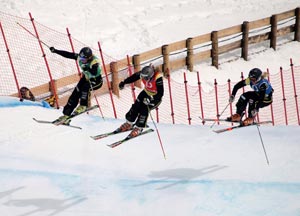 Olympic gold medalist Schmid owned the men's event today. He secured the fastest qualifying time then went on to win all but his quarterfinal heat. Second place today went to Olympic bronze medalist Audun Groenvold while Switzerland's Andreas Steffen repeated his third-place performance on the same hill in 2008.
This season's X Games gold medalist, Canadian Christopher Del Bosco was last to cross the finish line in the final for a fourth-place finish. Teammate Stanley Hayer, who had been on the Sierra Nevada podium each of the three previous World Cup stops on the hill, wasn't able to keep up with Del Bosco and Groenvold in a semfinal heat and finished fifth after winning the small final.
Schmid was in control of the standings all season long with five World Cup wins and never finishing lower than fifth through 11 races this season. This is his first overall title, his previous best overall result came in 2007 with a fourth-place ranking.
Del Bosco had the second most overall points with 547, ahead of Groenvold with 530.
Though he retired from World Cup ski cross racing following the Vancouver Games, American Daron Rahlves ended the season in 15th overall to lead the US. Teammate Casey Puckett, who also called it quits last month, finished 18th overall. No Americans raced in either of today's races.
The Canadian team, which put racers on the podium at almost every race this season (20), was named the top ski cross nation in the world for the third consecutive year, though this is the first year an award was presented.

"Today was a bit bittersweet, we didn't have any athletes on the podium today but it was good for the whole team to get the opportunity to take the stage when we were awarded the top nation in the world," said Canadian head coach Eric Archer.

For a full list of this season's rankings click here.

Click the attachments below to see the race brackets.
Look for a World Cup Ski Cross season wrap up in the next digital issue of Ski Racing.
Women's Results

Men's Results

Comments
comments