Steinbock Racing; A New XC Team With Something to Prove
Tweet
By Peter Q. Graves
Good news recently coming out of Park City, Utah, this time doesn't involve the National Ski Team, but a new up start racing program called Steinbock Racing and they are proud to announce the arrival of North America's newest professional cross-country race team.
Steinbock Racing is a small team with big ambitions. Athletes Chris Cook, Zack Simons, and Andrew Johnson have a combined 12 years of U.S. Ski Team experience, three Winter Olympics, five National Titles, and a win in virtually every major ski race in America, including the Birkebeiner, Boulder Mountain Tour, and the Owl Creek Chase. These guys are good and they're well worth watching this winter.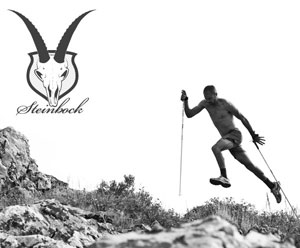 Steinbock Racing athletes will focus on the SuperTour and marathon schedules this winter, as well as the 2010 Vancouver Winter Olympics. Steinbock Racing will be a presence at nearly all major races in America. "Between Chris Cook, Andrew Johnson and myself, we have the horsepower to be a real force in any race we enter," says Steinbock Racing co-founder and director Zack Simons.
"Steinbock Racing sprung out of a desire to build a team and support structure in which we will have total independence. Zack, Chris, and I have all skied for lots of different teams at a lot of different levels; being able to race, train, and live in the ways that we know works best for us is vital at this point in our careers," says co-director Andrew Johnson. Zack Simons echoes these sentiments: "When AJ and I started talking this spring we realized that we both wanted to control our own destinies within the sport. Ultimately, our goals are to win ski races and provide a continually valuable product to our partners."
Johnson, a Vermont native told Ski Racing this afternoon, that the team will be the real deal. "We are racing for real, we want to do it, and we want to do it well. The three of us may have slightly different goals at the start, but we train together and love the independence and freedom we have, as for me I have been away from the sport for a year and a half, but my goal is still to ski as fast as I can," Johnson added.
Chris Cook (28) has spent most of the summer training in his hometown of Rhinelander, Wisconsin. Zack Simons (27) lives in Park City, UT and his summer was spent road bike racing. Andrew Johnson (31) is from Greensboro, VT, and lives in Park City, UT. The Steinbock Team will train together in Park City starting later this month in preparation for the fall race schedule. "I'm real excited for the season to get underway and to race with Steinbock. A new team, a new attitude, and new look for 2010. I'm looking forward to getting back out to Park City to train and get ready for the fall SuperTour schedule," said Chris Cook, from a training camp in Lake Placid.
Steinbock Racing is proud to be partnered with premier nordic companies Rossignol Ski Company, Toko clothes and wax, Rudy Project Eyewear, Podiumwear and Boulder Nordic Sport. Through a variety of unique marketing strategies Steinbock Racing will provide valuable marketing tools for its partner companies. Steinbock Racing still has room for a title sponsor and will entertain all possibilities. Contact Andrew Johnson at aj@steinbockracing.com for more information.
Right now, it's full steam ahead for this dedicated trio, armed with a good idea.
Comments
comments