Sweden, Norway take Cup relay wins
Tweet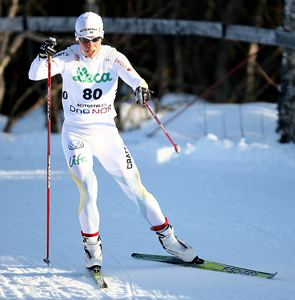 The Swedish team of Anna Olsson, Sara Lindborg, Anna Haag and Charlotte Kalla claimed the opening relay win of the World Cup Cross Country season in Beitostolen, Norway with a late round rally that moved them past Norway I and Finland for the victory Sunday (Nov. 22).
Norway's I squad took the first leg lead behind Vibeke Skofterud, dropped to fifth during the second leg by Therese Johaug then rallied for second in each of the final legs with Kristin Stoermer Steira and Marit Bjoergen.
The Finns controlled the middle of the race with Virpi Kuitunen and Riitta-Liisa Roponen winning legs two and three, but finished third under the surge by both the Swedes and Norwegians.
There was no U.S. team entry. The Canadians finished 14th of 14 teams.
The homestanding Norwegians roared back in the men's race. Eldar Roenning got them out of the blocks second behind a strong Russian team. Martin Johsrud Sundby and Ronny Andre Hafaas kept the team in touch with the field and Petter Northrug anchored the group to the win with a well paced five second edge over the Russians.
Germany kept it rolling for third, coming from well back in the pack with Finland fourth.
The Canadian had a fast start with Devon Kershaw pacing the way to third after the first leg, but dropped back to finish tenth.
Team USA finished up 19th with Kris Freeman powering to sixth in the opening salvo but the rest of the squad unable to maintain the momentum.
"Freeman's goal of the day was to work on classic racing in a head to head mass
start situation and I think he had a good race, finishing sixth in the first
leg," said U.S. coach Pete Vordenberg.
The U.S. relay team also consisted of Andy Newell, Torrin Koos and Lars Flora.
Vordenberg said the race was also a good
showing by the rest of the men, but the team wasn't necessarily looking for the
top results as much as they were warming up for the season ahead.
"Andy
had a really solid race and it showed a lot of athleticism. Torin raced solid
and Lars finishing 15th in his leg was a good showing," Vordenberg said. "The
finish for a team is not a goal for us yet. We don't have a team yet where we
can look for those results."
Photo of Charlotte Kalla by GEPA
Men
Place
Beitostoelen
(NOR)
Discipline
Rel 4×10 km M
Date
22.11.2009
Category
World Cup
Race codex
2738
Gender
M
Valid for FIS Points
NO – Waiting reports
TD Name
Lickert Karl-Heinz (GER)
Rank
Bib
Name
Nation
Time
FIS Points
1
NORWAY I
NOR
1:48:50.7
ROENNING Eldar
28:46.4
JOHNSRUD SUNDBY Martin
28:29.0
HAFSAAS Ronny Andre
26:02.9
NORTHUG Petter
25:32.4
2
RUSSIA I
RUS
1:48:55.8
VYLEGZHANIN Maxim
28:41.6
PANKRATOV Nikolai
28:39.9
LEGKOV Alexander
25:46.3
CHERNOUSOV Ilia
25:48.0
3
GERMANY
GER
1:49:02.5
FILBRICH Jens
28:52.2
TEICHMANN Axel
28:25.4
SOMMERFELDT Rene
25:50.5
ANGERER Tobias
25:54.4
4
FINLAND
FIN
1:49:06.2
NOUSIAINEN Ville
28:48.2
JAUHOJAERVI Sami
28:28.8
KATTILAKOSKI Teemu
26:21.4
HEIKKINEN Matti
25:27.8
5
NORWAY III
NOR
1:49:07.6
OESTENSEN Simen
28:50.2
DJUPVIK Roger Aa
28:34.1
AASEN Geir Ludvig
25:55.2
ANDRESEN Frode
25:48.1
6
SWEDEN
SWE
1:49:08.1
SOEDERHIELM Tiio
29:18.1
OLSSON Johan
28:32.1
ANDREASSON Rickard
26:04.0
HELLNER Marcus
25:13.9
7
SWITZERLAND
SUI
1:49:10.6
LIVERS Toni
28:54.9
PERL Curdin
28:56.4
FISCHER Remo
25:56.9
COLOGNA Dario
25:22.4
8
RUSSIA II
RUS
1:50:05.3
SORIN Egor
28:58.0
ROTCHEV Vassili
28:18.3
SHIRIAEV Sergej
26:10.6
KUZNETSOV Alexander
26:38.4
9
BELARUS
BLR
1:50:26.7
DOLIDOVICH Sergei
29:00.0
LASUTKIN Alexander
29:18.0
IVANOV Aleksey
25:32.2
KARNEYENKA Leanid
26:36.5
10
CANADA
CAN
1:50:26.8
KERSHAW Devon
28:46.7
BABIKOV Ivan
28:35.6
HARVEY Alex
26:16.9
NISHIKAWA Graham
26:47.6
11
KAZAKHSTAN I
KAZ
1:50:27.1
KOSCHEVOY Yevgeniy
29:45.1
POLTARANIN Alexey
27:46.0
CHEREPANOV Sergey
26:22.7
CHEBOTKO Nikolay
26:33.3
12
ITALY I
ITA
1:50:27.6
CHECCHI Valerio
29:35.2
DI CENTA Giorgio
28:42.0
PILLER COTTRER Pietro
25:36.2
ZORZI Cristian
26:34.2
13
NORWAY II
NOR
1:50:27.7
SVARTEDAL Jens Arne
28:59.1
HJELMESET Odd-Bjoern
28:15.8
GAUSTAD John Anders
26:35.0
RENNEMO Kristian Tettli
26:37.8
14
CZECH REPUBLIC
CZE
1:50:51.5
KOUKAL Martin
29:04.1
MAGAL Jiri
28:28.4
SPERL Milan
26:15.1
RAZYM Ales
27:03.9
15
NORWAY IV
NOR
1:51:14.1
AUKLAND Anders
28:56.0
ELIASSEN Petter
28:47.2
GJERDALEN Tord Asle
26:45.9
ROETHE Sjur
26:45.0
16
KAZAKHSTAN II
KAZ
1:52:25.4
GOLOVKO Andrey
29:11.7
VELICHKO Yevgeniy
28:52.4
GRIDIN Andrey
26:44.3
MATVIYENKO Gennadiy
27:37.0
17
SLOVAKIA
SVK
1:52:51.2
BAJCICAK Martin
28:51.6
BATORY Ivan
28:48.2
MALAK Michal
26:58.9
MLYNAR Peter
28:12.5
18
ESTONIA
EST
1:52:58.0
REHEMAA Aivar
29:08.4
MAE Jaak
28:30.6
TAMMJARV Karel
28:07.1
SIMONLATSER Timo
27:11.9
20
ITALY II
ITA
1:53:17.8
SCOLA Fulvio
29:51.5
PASINI Fabio
29:38.7
GULLO Giovanni
26:52.0
KOSTNER Florian
26:55.6
21
POLAND
POL
1:53:40.5
KRECZMER Maciej
28:54.8
KREZELOK Janusz
28:38.6
MICHALEK Mariusz
27:56.7
GAZUREK Sebastian
28:10.4
22
JAPAN II
JPN
1:54:25.0
HONDA Shohei
29:17.1
YOSHIDA Keishin
30:09.4
KIMURA Masaya
27:20.6
NOGAMI Takahisa
27:37.9
23
JAPAN I
JPN
1:55:15.0
ONDA Yuichi
30:23.0
KOMAMURA Shunsuke
30:12.9
KOZU Masaaki
27:23.9
NARUSE Nobu
27:15.2
24
SPAIN
SPA
1:59:35.9
VILARRUBLA Vicente
30:17.1
GUTIERREZ Javier
32:03.0
RUIZ Diego
28:08.7
ROJO Ioseba
29:07.1
Women
Place
Beitostoelen
(NOR)
Discipline
Rel 4×5 km M
Date
22.11.2009
Category
World Cup
Race codex
2737
Gender
L
Valid for FIS Points
NO – Waiting reports
TD Name
Lickert Karl-Heinz (GER)
Rank
Bib
Name
Nation
Time
FIS Points
1
SWEDEN
SWE
58:37.1
OLSSON Anna
15:18.5
LINDBORG Sara
15:43.5
HAAG Anna
13:52.6
KALLA Charlotte
13:42.5
2
NORWAY I
NOR
58:53.8
SKOFTERUD Vibeke W.
15:16.9
JOHAUG Therese
15:52.8
STEIRA Kristin Stoermer
13:44.3
BJOERGEN Marit
13:59.8
3
FINLAND
FIN
58:59.1
MURANEN Pirjo
15:17.4
KUITUNEN Virpi
15:27.4
ROPONEN Riitta-Liisa
14:05.6
SAARINEN Aino Kaisa
14:08.7
4
RUSSIA I
RUS
59:22.8
KHAZOVA Irina
15:17.5
SIDKO Alena
15:54.0
MEDVEDEVA Evgenia
14:10.9
KOROSTELEVA Natalia
14:00.4
5
GERMANY I
GER
1:00:08.6
BOEHLER Stefanie
15:21.2
ZELLER Katrin
15:49.1
SACHENBACHER STEHLE Evi
14:31.5
NYSTAD Claudia
14:26.8
6
RUSSIA II
RUS
1:00:10.9
SAVIALOVA Olga
15:34.4
ROTCHEVA Olga
15:26.5
ILJINA Natalja
14:16.4
SAPRONOVA Diana
14:53.6
7
ITALY
ITA
1:00:30.0
VALBUSA Sabina
15:46.7
LONGA Marianna
15:45.1
RUPIL Silvia
14:44.0
FOLLIS Arianna
14:14.2
8
KAZAKHSTAN I
KAZ
1:00:30.0
KOLOMINA Elena
15:23.7
ROSHINA Tatjana
16:16.7
JATSKAJA Oxana
14:36.0
MALAHOVA-SHISHKINA Svetlana
14:13.6
9
SLOVENIA
SLO
1:00:42.2
ERZEN Anja
16:23.9
MAJDIC Petra
15:24.3
FABJAN Vesna
14:20.1
JEZERSEK Barbara
14:33.9
10
NORWAY III
NOR
1:00:43.0
BRUN-LIE Celine
15:33.2
WENG Heidi
16:10.8
TOFTDAHL Tuva
14:33.0
SLIND Astrid Oeyre
14:26.0
11
NORWAY II
NOR
1:00:49.3
JACOBSEN Astrid Uhrenholdt
15:35.8
OESTBERG Ingvill Flugstad
15:26.0
MUERER STEMLAND Kristin
15:07.0
ELDEN Marte
14:40.5
12
POLAND
POL
1:01:28.4
MAREK Kornelia
16:26.3
KOWALCZYK Justyna
15:05.0
MACIUSZEK Paulina
15:04.1
JASKOWIEC Sylwia
14:53.0
13
CZECH REPUBLIC
CZE
1:01:56.2
NYVLTOVA Eva
15:36.8
RAJDLOVA Kamila
16:04.3
JANECKOVA Ivana
14:32.4
SKALNIKOVA Eva
15:42.7
14
FRANCE
FRA
1:02:20.0
LAURENT PHILIPPOT Karine
16:03.6
CUINET Aurore
16:33.4
BOURGEOIS Celia
14:46.1
BARTHELEMY Laure
14:56.9
15
BELARUS
BLR
1:02:21.1
SANNIKOVA Alena
16:00.0
DUBAREZAVA Nastassia
16:41.0
RUDAKOVA Ekaterina
14:41.1
VASILJONOK Olga
14:59.0
16
JAPAN
JPN
1:02:26.8
NATSUMI Madoka
16:55.2
ISHIDA Masako
15:41.8
FUKUDA Nobuko
14:45.4
OBAYASHI Chisa
15:04.4
17
GERMANY II
GER
1:02:42.7
FESSEL Nicole
16:23.2
HERRMANN Denise
16:18.3
SIEGEL Monique
14:42.2
ANGER Lucia
15:19.0
18
NORWAY IV
NOR
1:03:05.6
FALLA Maiken Caspersen
16:37.4
NYDAL Britt Ingunn
16:05.0
LAUVHAUG Hilde
15:15.4
NORDSLETTEN Marie
15:07.8
19
UKRAINE
UKR
1:03:16.7
ZAVALIJ Tatjana
16:38.2
NESTERENKO Lada
16:50.2
JAKIMCHUK Vita
15:14.7
SHEVCHENKO Valentina
14:33.6
20
KAZAKHSTAN II
KAZ
1:03:35.4
SEMYONOVYHK Yekaterina
16:49.9
MATROSOVA Marina
15:53.0
SLONOVA Anastasia
15:19.1
SAKHNOVA Yelena
15:33.4
Comments
comments