Talking About Austrian Ski Jumping
Tweet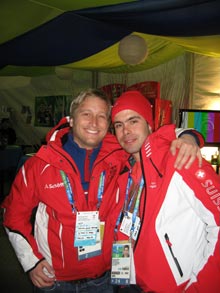 In early August, Ski Racing's Peter Graves had the chance to connect with the Press Chief of the Austrian Ski Jumping Team, Florian Kotlaba, on his team and the outlook for Austria this coming season.
PG: So, Florian what has the Austrian Ski jumping team been doing this summer up till now ? (Interview conducted prior to start of the Summer Grand Prix).
FK: The team started it's preparations middle of May. We met near Kitzbühel at famous Hotel Stanglwirt. There we did a lot of the planning for the summer training, had some physiological tests and did some lessons with our psychologist.
There we also met boxing heavyweight World Champion Wladimir Klitschko, an impressive sportsman.
After that we met different times in Villach, Ramsau am Dachstein, Innsbruck and Bischofshofen. At this training camps jumping training got more and more specific and a lot of physical sessions were done. So the boys' engines are built up and the physical fundamental for the upcoming season is laid.
Next weekend, the Summer Grand Prix will start in Hinterzarten and I'm sure our guys are ready to perform well. We plan to start with a really young team at the first competitions. Thomas Morgenstern is the dedicated leader of an Austrian Team completed by David Zauner, Lukas Müller, David Unterberger and Andreas Strolz. The rest of the team plans to step into Summer GP in Wisla/ POL.
PG: Give me a breakdown, on how the top team is doing?
FK: Thomas Morgenstern: Highly motivated as every summer. He invested a lot of time into the enhancements of his technical equipment. Maybe the most consistent jumper till now.
Andreas Kofler: Had to do a two-month internship in his training to become a police officer in May and June. In this period there was only work, sleeping and training. He enjoyed the different challenge, but now Ski jumping is his only focus.
Gregor Schlierenzauer: This is his first summer without exams at school. So there was more time for high-quality preparation. Last season there also was a handicap from his injury, so everything went perfect till now.
Martin Koch and Wolfgang Loitzl: The two most experienced jumpers in the team traditionally take a slower start into the summer season. Both work a lot on getting a solid technical base for the winter season. Wolfgang is currently building a new house for his family, which should be ready to move in this autumn.
PG: Looking back on last season, OSV jumpers did perform very well.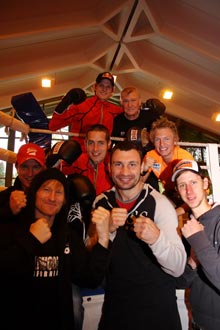 FK: The whole team was very satisfied with last year's performance. We managed to be among the top favorites in each competition and were able to celebrate a lot of great victories. For sure there is always room for more, but that's the nature and challenge in sports.
PG: Has there been any surprises training this summer ?
FK: Nothing surprising to us! But the concepts of the last years have been improved and upgraded in some points. Beside sports, we produced some new commercials with our sponsor Volksbank. And to be honest, I was really surprised by the acting talents of the whole team. The spots will be shown at SkijumpingAustria@facebok.com our English fanpage. As a highlight the jumpers were dressed up as grandpas who looked at their future.
PG: What are your training plans…will you go to Egypt again ?
FK: The next big block are the summer competitions. After that, we plan to do a training camp in Norway. Shortly before the start of the season we plan to travel south to catch some sun again.
PG: Ammann was so good last year, do you expect the same things for him this coming winter?
FK: Its always the big names you have to account for. And Simon is the top name. But I think it's too soon to place your bet for the winter season. Now each athletes focus has to rely on himself.
PG: How is the talent beyond the top team….do you have some great kids coming up the pipeline that we might see this winter?
FK: David Zauner and Lukas Müller already showed some of their talent last season. They managed to make it into the "National Team" which means maximum support by the federation. Also their training performances are quite promising. Further David Unterberger and Andreas Strolz competed very well in the first summer CoC events. That's why they got their ticket for the summer GP. And there are still some other guys who have the abilities to deliver a good performance.
PG: Are there many changes since Toni left the program? He was there so long as Nordic Director of OSV?
FK: For sure, Toni left a big hole and everyone has to work hard to make up for what he gave us. But the leave of Toni wasn't the only change since the end of the season. There had bean some other changes in the system, which brought up some new possibilities. I think only future can show where the journey will end. Everyone wishes Toni all the best in his new life. He was an important component of Austrian Ski jumping Culture.
Besides, we have a new second Coach with Alexander Diess, the former Headcoach of the Austrian Nordic Combined Team. Further, we hired a female physiotherapist. Her name is Silvia Stöttinger and I'm sure her female point of view will add to our team spirit.
PG: How is your summer going and what do you do?
FK: Summer is naturally the more relaxing times in the year. But as I join the team for the training camps, I don't loose contact. After the summer GP, I will pack my van and search some waves. That's my way to recharge and get ready for the upcoming tasks. From October it is time to start our countdown to the World Cup Opening.
Comments
comments