Teller, Serwa take X Games Skier X Gold
Tweet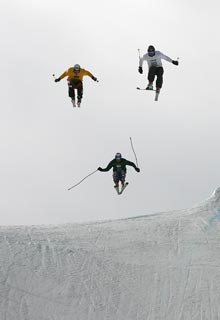 North Americans ruled the Skier X course today (Jan. 30) at Winter X Games 15 in Aspen, Colorado as American John Teller and Canadian Kelsey Serwa took home the wins.
Teller, who became the first American to win a World Cup ski cross race in early January, battled through three rounds of competition to secure his first X Games gold ahead of defending winner, Canada's Chris Del Bosco in second. American ski cross pioneer Casey Puckett (X Games gold medalist in 2004 and 2007) grabbed the bronze medal at 38 years of age after wining his semifinal heat.
"In semi finals I was behind Del Bosco and I planned spaces where I could pass," said Teller, who finances his competition schedule by working part time as an auto mechanic. "So in the finals I did exactly that. I was on autopilot. This all goes to show hard work pays off. But pinch me because I still think I'm dreaming."
Teller, a product of the newly formed American Ski Cross Association (ASCA), stuck around all day, not wining a heat until it mattered most in the six-man final. Del Bosco, who hadn't seen a competitor's back all day, had the early lead in the final heat until Teller made a brilliant pass in the middle of the course and held on for a photo finish.
"I tried to stay as tight as I could getting into the finish jump and I kind of skipped off the top a little bit," explained Del Bosco. "I gained a little bit but there's just no room after the finish jump once you hit the jump and basically landing to cross the finish line, so I just kind of ran out of room."
Puckett, co-founder and Executive Director of ASCA, stepped back on the X Games podium after not being on a ski cross course since the Olympics last February.
U.S. ski racing legend, Daron Rahlves was also in the field today but was eliminated in his semifinal run after finishing second in his quarter final heat. He finished ninth.
On the women's side, Serwa, 21, took the win from four-time X Games winner Ophelie David of France in second. Swiss Fanny Smith rounded out the podium in third.

"I knew the girls were close behind," said Serwa. "I knew if I sent it off the jump I would cross the finish line on my back. I went for it and I am stoked to take away the gold medal."
Send it Serwa did as the women's final ended with a brutal crash off of the courses final jump – the Money Booter – that left both Swera and David bloody in the finish area after they both tumbled across the finish line. It was Serwa's first X Games win after taking bronze last year.
"Of course missing out on winning five-in-a-row is really disappointing," said David. "The final was really intense and the others competitors are great – they ski so well and so fast with no fear.
Olympic gold medalist Ashleigh McIvor of Canada was taken out of contention early in the week when she injured her knee during a training run.

Top ski cross athletes will now head to Deer Valley, Utah for the 2011 FIS World Championships. Ski cross competition are scheduled for Feb. 4.
Images by Gabriel Christus/ESPN Images
Women's Results
| | | | | |
| --- | --- | --- | --- | --- |
| | Name | Bib No. | Hometown | Time |
| 1. | Kelsey Serwa | 196 | Kelowna, BC, Canada | 1:28.830 |
| 2. | Ophelie David | 187 | Alpe D'Huez, France | 1:29.162 |
| 3. | Fanny Smith | 197 | Villars-Gyron, Switzerland | 1:29.367 |
| 4. | Danielle Poleschuk | 195 | Calgary, AB, Canada | 1:31.588 |
| 5. | Julie Jensen | 191 | Oslo, Norway | 1:33.704 |
| 6. | Hedda Berntsen | 184 | Oslo, Norway | 5:00.000(DNF) |
Men's Results
Final
| | | | | |
| --- | --- | --- | --- | --- |
| | Name | Bib No. | Hometown | Time |
| 1. | John Teller | 181 | Mammoth Lakes, Calif. | 1:21.167 |
| 2. | Chris Del Bosco | 131 | Vail, Colo. | 1:21.197 |
| 3. | Casey Puckett | 146 | Aspen, Colo. | 1:21.979 |
| 4. | Stan Rey | 148 | Whistler, BC, Canada | 1:23.236 |
| 5. | Errol Kerr | 138 | Truckee, Calif. | 1:23.908 |
| 6. | Brian Bennett | 128 | Quesnel, BC, Canada | 1:24.478 |
Consolation:
| | | | | |
| --- | --- | --- | --- | --- |
| 7. | Davey Barr | 127 | Whistler, BC, Canada | 1:23.148 |
| 8. | Jouni Pellinen | 144 | Helsinki, Finland | 1:23.362 |
| 9. | Daron Rahlves | 147 | Truckee, Calif. | 1:23.918 |
| 10. | Kenji Kono | 140 | Nozawa Onsen, Japan | 5:00.000 |
Comments
comments